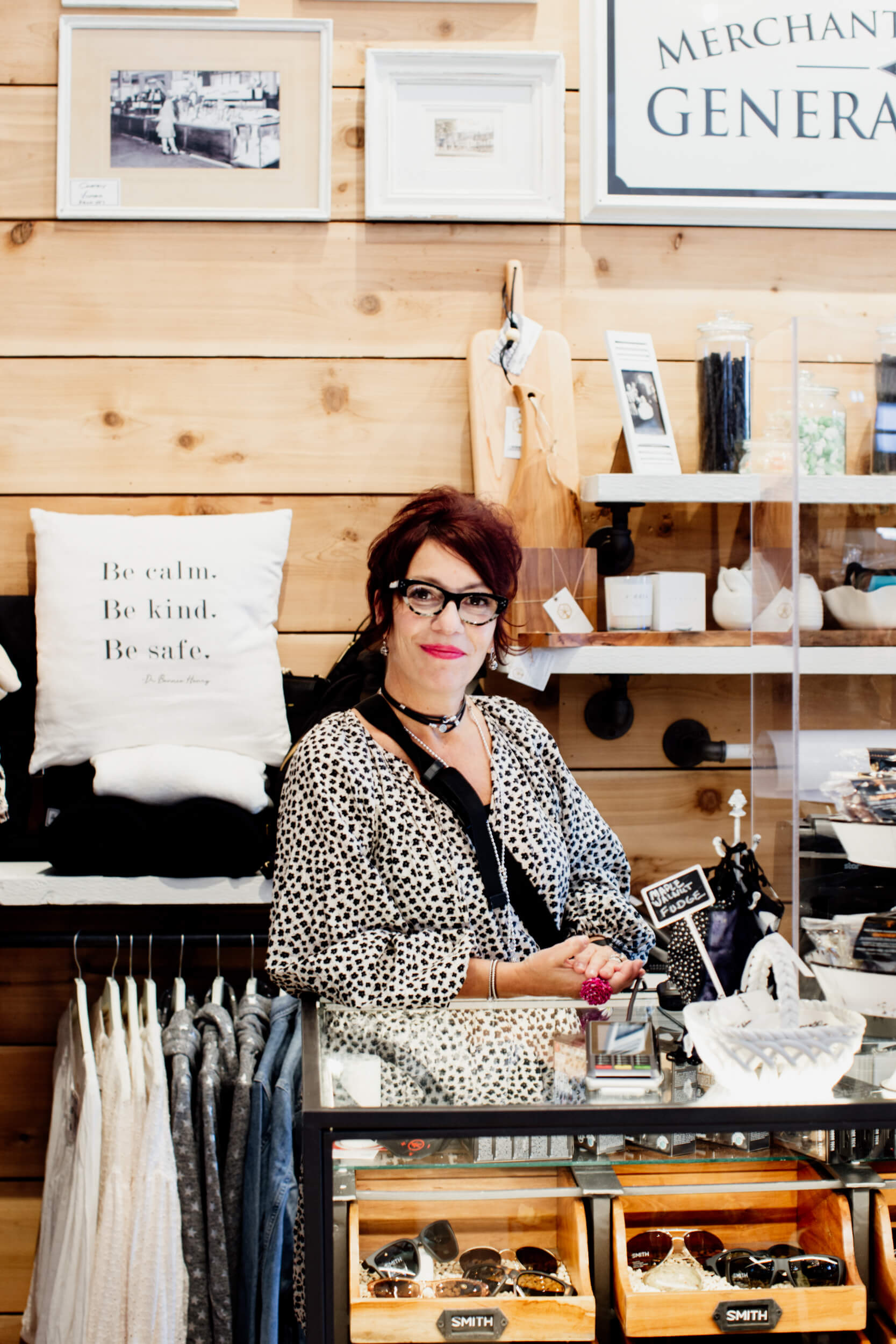 In Conversation with Sandy, Cathy & Karen // Merchant Quarters General Store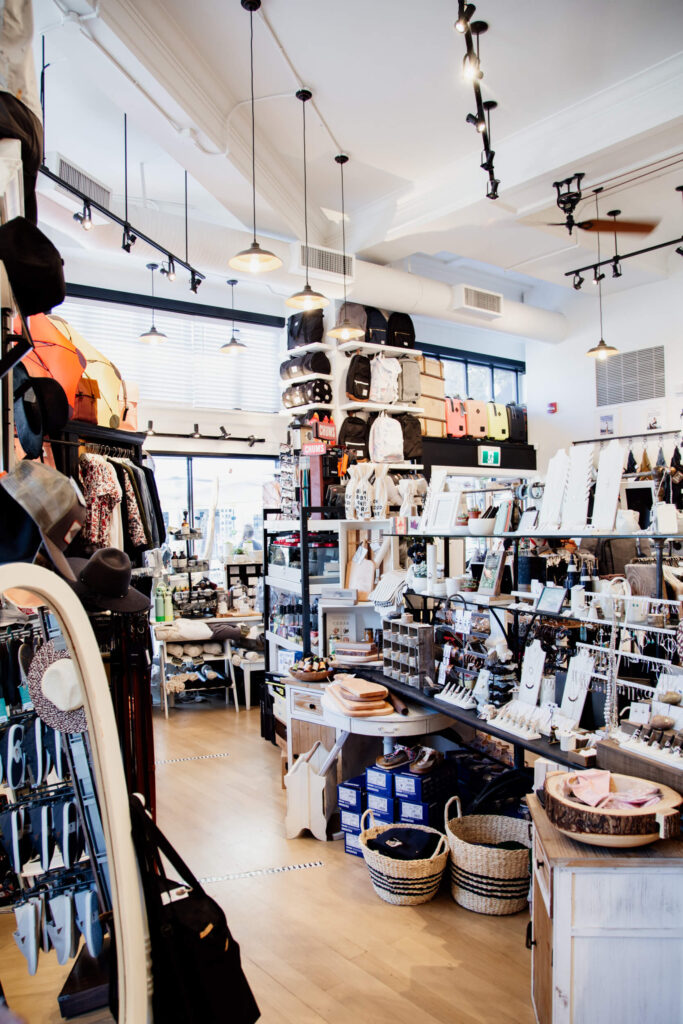 What is Merchant Quarters General Store?
Think of us as a modern general store offering functional, quality and inspired goods, fashioned after the early general stores of the 1800s. Those early stores were actually the homes or quarters of farming families. Usually a room would be filled offering everything from horse harnesses to chewing tobacco, from flannel shirts to cheddar cheese — in short, almost anything not produced on the farm. Well . . . we have done away with the harnesses and tobacco but we do still have the flannel shirts and cheese and added everything from Birkenstocks to Ray-Bans! As much as possible, we sell products produced here in B.C. by local artisans and makers and we seek out companies who are socially responsible with a mindful and fair trade philosophy.
Cathy & Sandy: We know you owned many successful shops in Whistler before moving to Victoria. Can you tell us more about this? What prompted you to sell it all and move to the Island?
We had 13 stores in Whistler — all of which were reliant on strong snow seasons. Whistler Blackcomb at the time was a public company in acquisition mode and were interested in buying us. With each passing season, we were more and more concerned with global warming (bad snow years) and our kids lived on the island, so we decided to sell and retire here.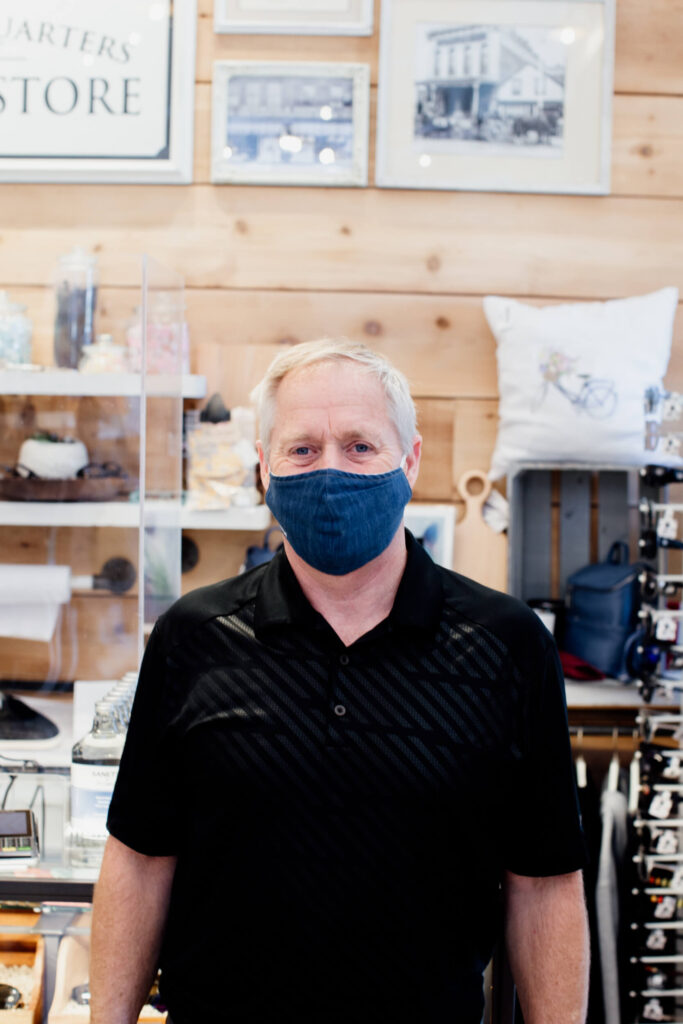 Karen: You've had a great top-level career with some major retailers. Can you tell us more about your background? What made you decide to manage Merchant Quarters?
I have had a long career in retail and have done everything from operating single-unit jewelry stores to district-managing multiple Gap stores. At this stage in my career, I really wanted to be part of something from the ground-level with a focus on beautiful merchandise and guest relationships. I have definitely found this at Merchant Quarters General Store. The concept, the location, the merchandise all spoke to me and I knew that I could make a difference here and cultivate a vibe that was fun and animated for my team, resulting in unreal service. I love working downtown in this location and running this wonderful store!
If you had to describe your shop to someone who hasn't seen it, how would you describe it? What makes it unique?
A cute little store on the corner that sells everything from Free People and Tofino Towels to Birkenstocks to cheese.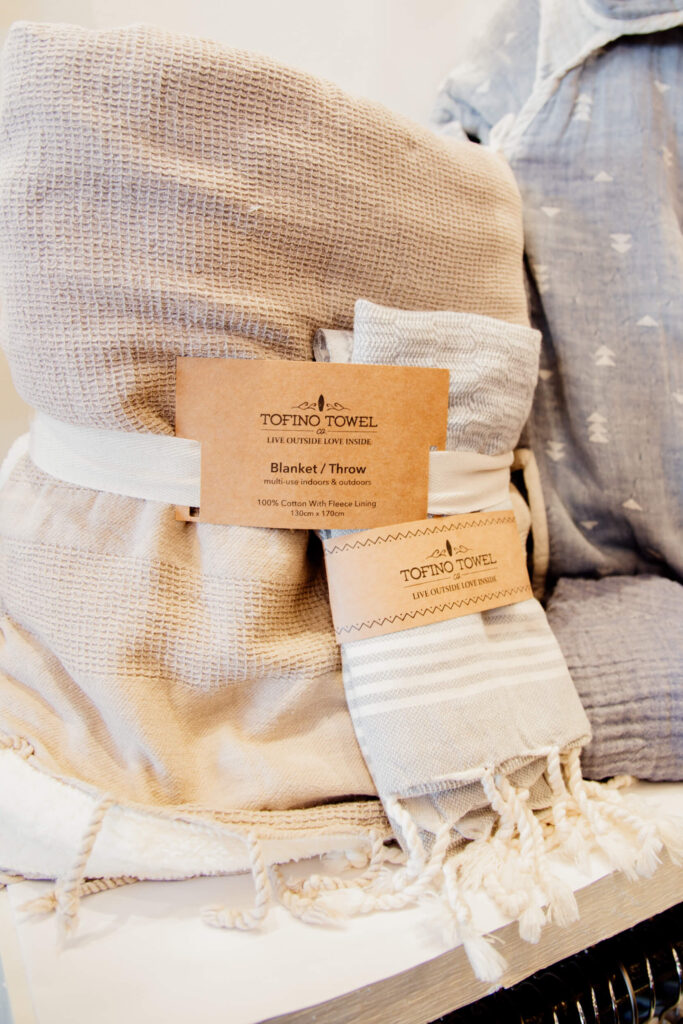 Can you tell us a bit about your personal style and aesthetic?
We are definitely eclectic! With over 3000 items and 175 vendors in 1000sqft, you are bound to be! Yet, because of our formal retail backgrounds, we also have introduced things like power walls, dump bins, and end caps. The store is rustic but painted predominantly white, and with our high ceilings and vintage lighting, we sort of have achieved the modern but rustic feel we were after.
Inspiration is all around us. Can you tell us who or what inspires you?
We are constantly blown away by how good other small retailers are! Clever, creative, and really dialed in — we are always going into shops for ideas and benchmarking. We watch carefully the online stores and Instagram activity of many stores as well.
Each season represents new styles, new trends, new products. How do you evaluate what is working and what isn't? What guides you in your choices?
We are curators. We work with many of the best suppliers in North America, each of which spend considerable time and money determining trends, planning assortments and bringing appropriate products to market. Cathy has extraordinary taste and so we simply cherry pick the best of the best!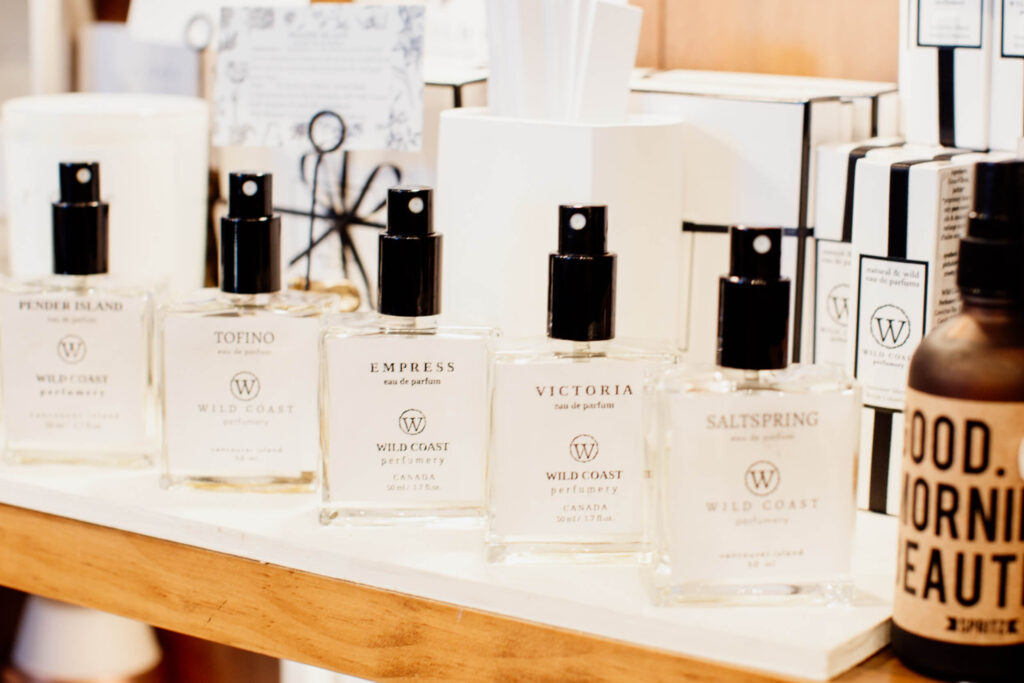 Where and how do you source your new items for your store?
Working with 175 vendors is not easy, but the industry has a system or routine that retailers try to follow. We are very lucky to have 35 years experience in BC working with agents and principals of top brands, and so even though this store is new, we aren't new to the industry. We attend shows and markets, benchmark other retailers, and are always on the hunt for unique and interesting products.
You recently moved into a beautiful heritage space right at the corner of Wharf and Government in the old Sam's Deli. Can you talk to us about your location? We also noticed you are utilizing the sidewalk like a market so that you have an indoor and outdoor shopping area, which is a very smart way to draw customers in. We'd love to know more about that too and if you have any innovative sidewalk plans for the upcoming rainy season.
We are in the Belmont Building built in 1912. It is truly a wonderful location and honestly the only reason we got back into retail. The "BRING BACK VICTORIA" initiative is fantastic. Coming from Whistler, we have learned that anytime there is an opportunity for animation, street markets, and exterior signage, retailers should take advantage of it. We began with two tents and through the summer they were great at de-accelerating traffic and drawing attention to our storefront. As winter approached and the weather changed, however, those two tents disintegrated in the wind. We put up a new tent and it has now disintegrated! Currently, we are having a more robust portable structure being made. This time we are building a 4×4' post and beam structure with an electric awning that can be quickly opened or closed. This will be a substantial shelter that will easily withstand winter weather. We certainly hope this program continues for a long time!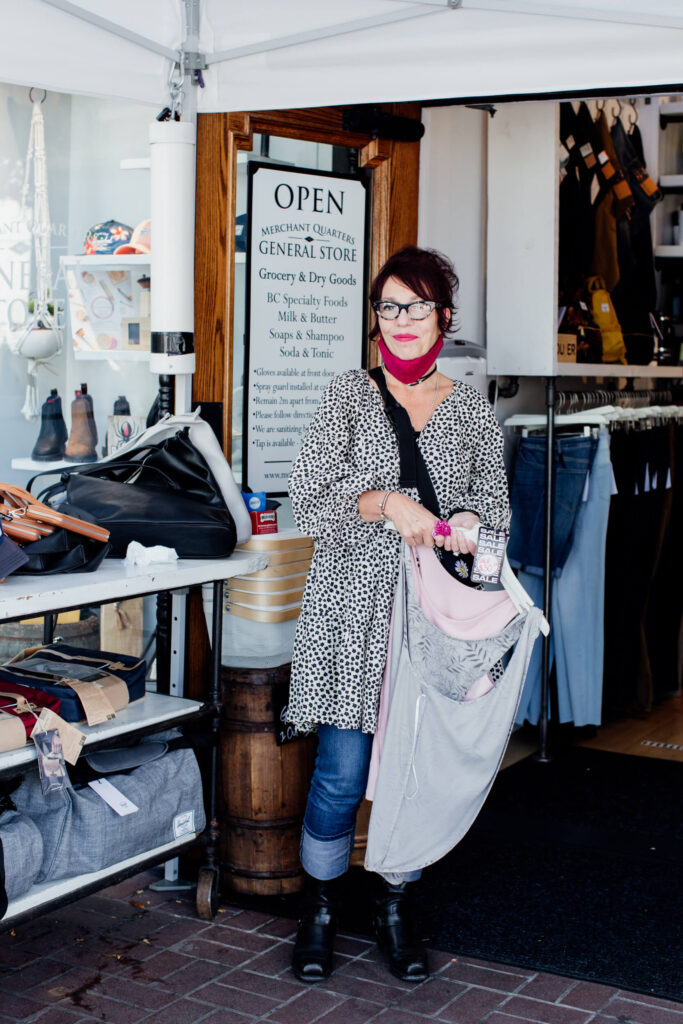 Sandy, you told us some interesting stats and analytics you use to anticipate traffic flow to your location each season. Can you tell us more about that so that other retailers can learn from this?
In the ski business, all metrics are based on "per skier visit" — revenue per skier visit, hamburgers sold per skier visit, rentals per skier visit and so on. With a little history, managers are able to drill down and apply planned visits to forecasting models. In Victoria we have fantastic pedestrian visit history. We have adopted a play out of the "ski resort book" and are running everything against pedestrian visits. I know my revenue per pedestrian visit, transactions per pedestrian visit, soft goods sales per pedestrian visit and so on and will be able to build our plans accordingly as we start to see things come back. It will be really interesting and challenging for retailers to plan OTB's [Open to Buy – part of a merchandise plan based on forecasted revenues] as numbers come back. From March to December 2020, traffic was around 950,000 people, and that same period in 2019 was 2,700,000, so we saw a 65% decrease in traffic. Because retailers have to buy as far out as a year ahead we have to guess on recovery numbers.
What are some of the hardest lessons you've had with your business? How have you overcome them?
Really we haven't had too many surprises . . . oh wait, there was one: our store's grand opening was March 12 [2020] and we had to close on March 18. We joke that we now hold the world record for the single biggest retail failure in history — shuttered after 6 days! So . . . you run with it. Rely on key staff, communicate about what is going on a lot, stay positive and go after whatever opportunities you can think of. We are a general store and we do sell food, and so we came up with a new marketing campaign "Provisions for Everyday Life" and re-opened as an essential store selling milk, eggs, butter, produce, etc. We have now moved back off that and more to our original concept with a focus on soft goods and accessories.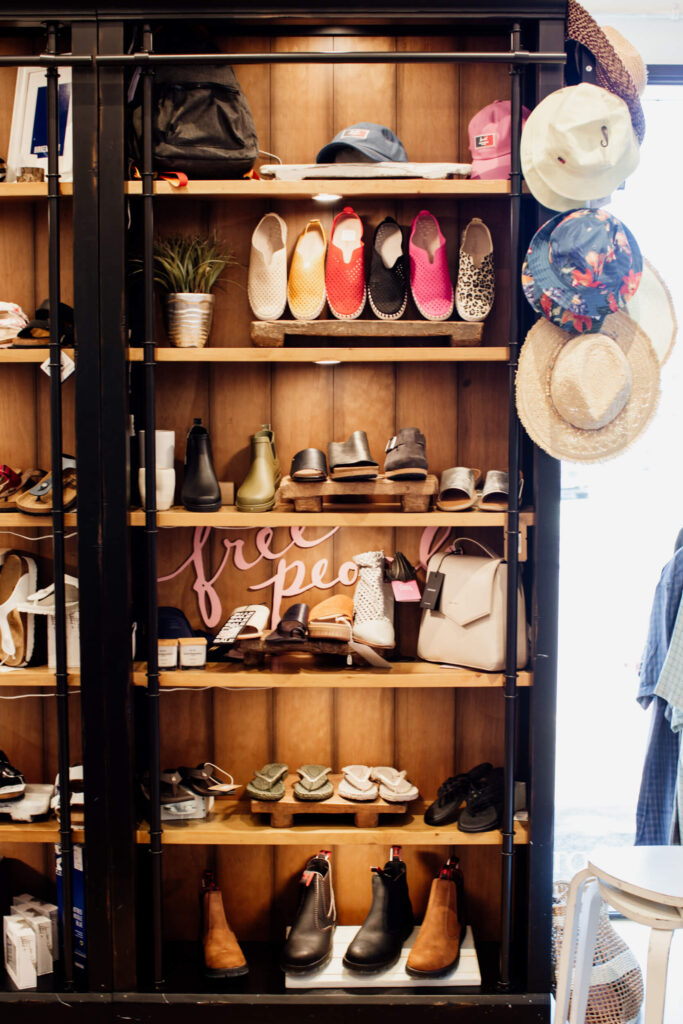 How has the internet and online shopping impacted your business? Do you do business online? If so, what are the major differences for you between your online shop and your brick-and-mortar?
It's another tool in the belt. Our system is completely integrated and so inventory is managed centrally allowing us to sell in store, online and through Instagram all from one system. This has really made selling online more fluid and easy to manage. Instagram has been a wonderful surprise. We have so many wonderful local followers who also visit the store and are constantly giving us their love and support!
What advice would you give to someone wanting to open up a shop?
Make sure you have plenty of available funding. It is an expensive venture, particularly the purchase of merchandise. Gone are the days of 60 and 90 day terms – vendors want credit card payment upfront and very few offer terms. This forces retailers to have the funds for tenant improvements, equipment, initial payroll, rent payments + deposit, and merchandise. If you can overcome all that, then you need to treat your team and your guests like GOLD!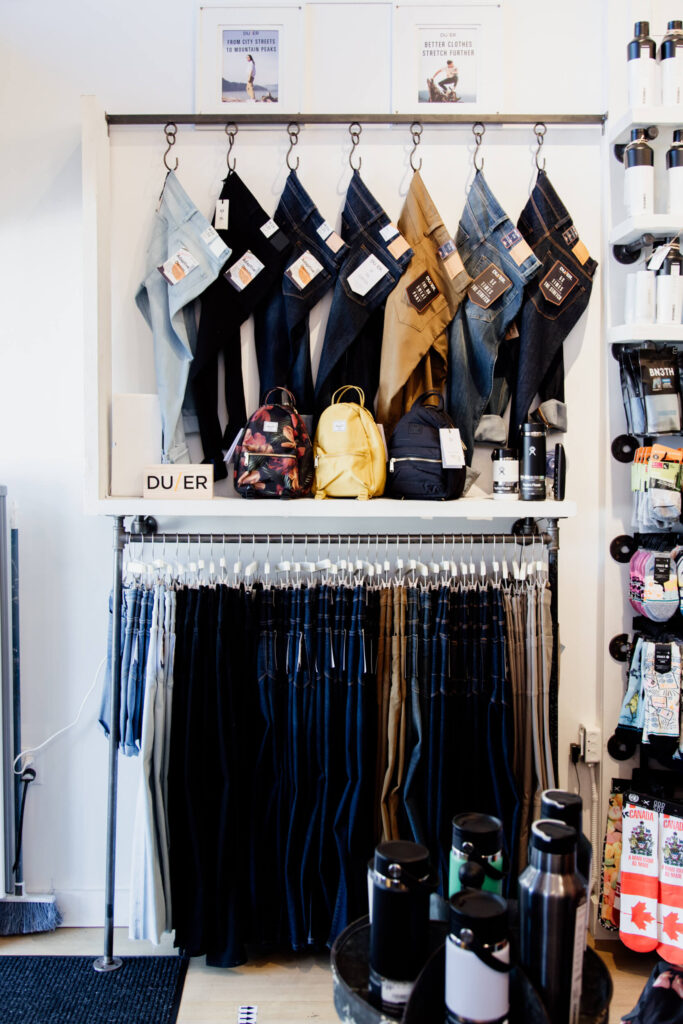 Have you made any hard decisions to get you through the ongoing challenges of COVID?
When we closed, we were forced to lay off about 8 staff which was no fun. Adding milk and eggs wasn't plan A. Shortening hours was not in the plan. Cancelling orders isn't ideal for a brand-new store. Digging into our savings because sales were 70% off wasn't great.
As you look back on this chapter in our lives, what do you hope to gain in terms of personal and/or business growth?
It's amazing how locals have responded to Merchant Quarters. We now know that if everything remained normal and we had 2.7m pedestrians in 2020, we wouldn't have been ready. We would not have had enough inventory, we didn't have adequate back-up storage and we certainly would not have been able to offer the level of service to locals we needed to. Going forward, we hope to continue working hard to take care of locals and then build on tourists, business people, and workers as they come back. Really, despite all that has happened, it has been a bit of a blessing that we have been able to focus on locals!
Anything else you would like to mention or we forgot to ask you?
We are thrilled to be part of the downtown business community. We have met so many awesome retailers, vendors and partners and feel like we have been welcomed with open arms, and for that we thank everyone!