Name: Erin Cooper
Shop: Reunion Boutique
Address: 585 Johnson St, Victoria, Canada
Instagram: @reunionboutique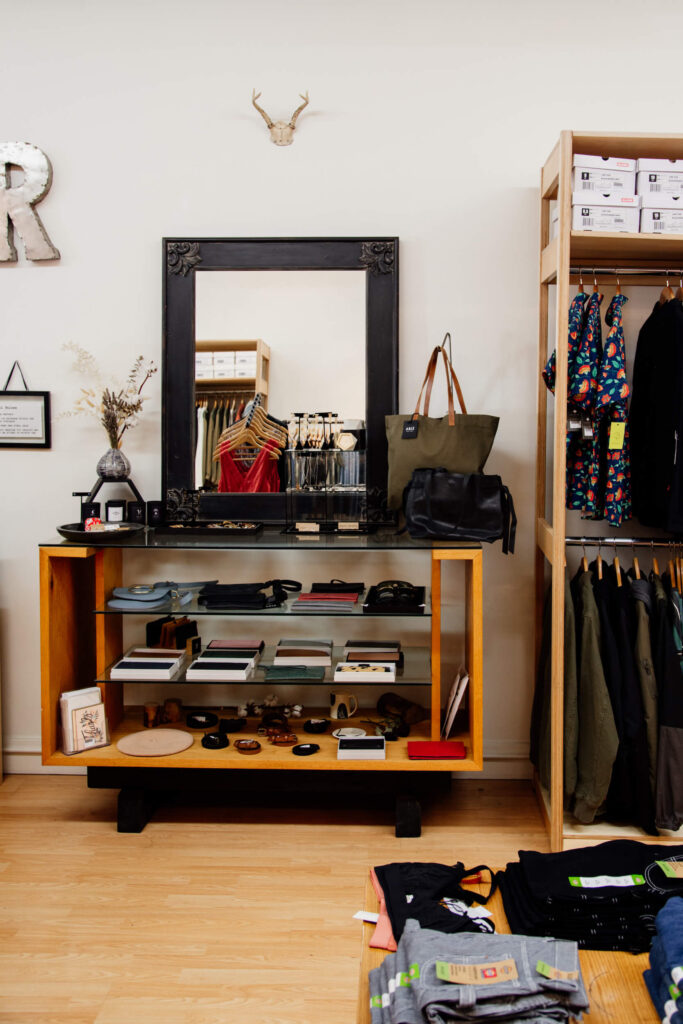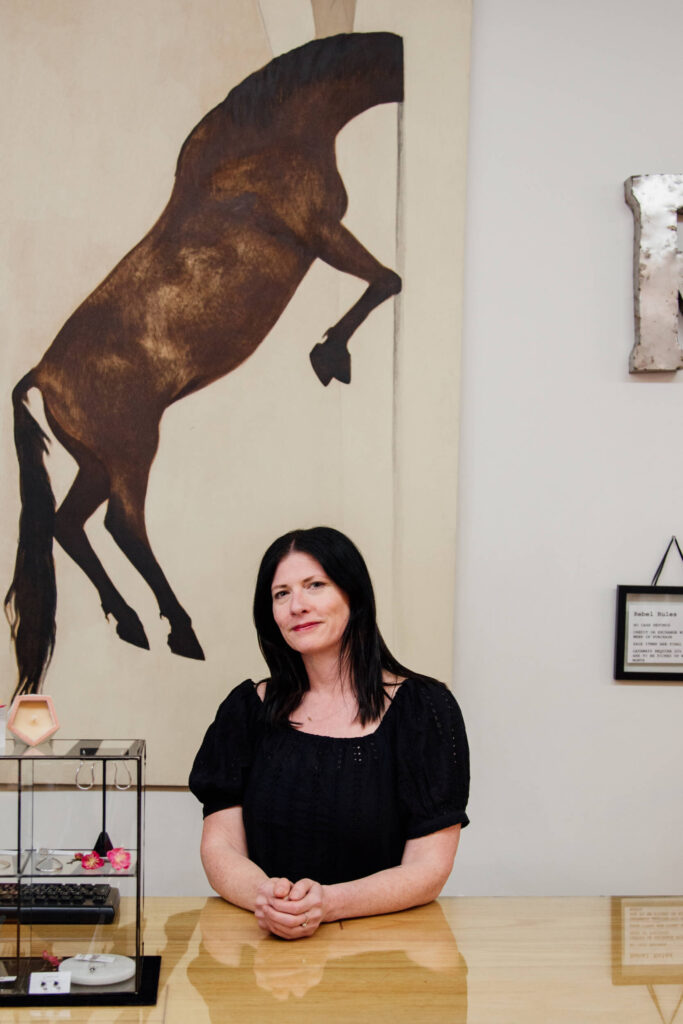 What is Reunion?
Reunion is a fashion boutique of handpicked clothing, shoes, and accessories for women and men, starting with a strong denim base — like iconic Levi's — and adding everything to go with your jeans from head to toe.
Can you tell us about your background? Did you have any retail experience before opening Reunion?
I've taken some marketing courses long ago but mostly it's been all hands-on experience. I worked a few different retail jobs, including at The Bay, before I landed as the manager/buyer at Still Life where I stayed for 9 years. Then we opened Rebel Rebel in 2001.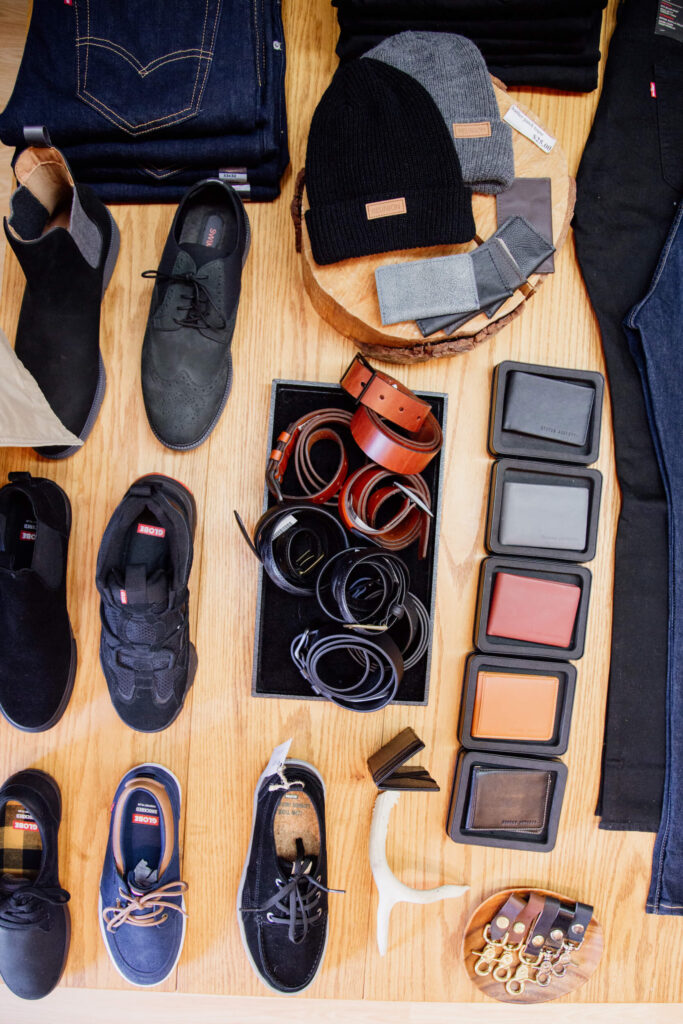 Tell us a little about your store name. Originally, your store was called Rebel Rebel. Why did you change the name to Reunion?
We felt that people associated the name Rebel Rebel with youth culture. On our 10-year anniversary, we rebranded with a more timeless, ageless and inclusive name: Reunion.
You opened the store with a business partner. Can you tell us how that partnership works?
We are an incorporated business called Rebel Rebel Clothing Ltd. My partner, Claudia, and I have been 50/50 from the very beginning and have made all major decisions together. After expanding to another store, Bernstein&Gold, we naturally learned that it was more efficient to run the two stores separately and not wait for the other partner to make daily decisions.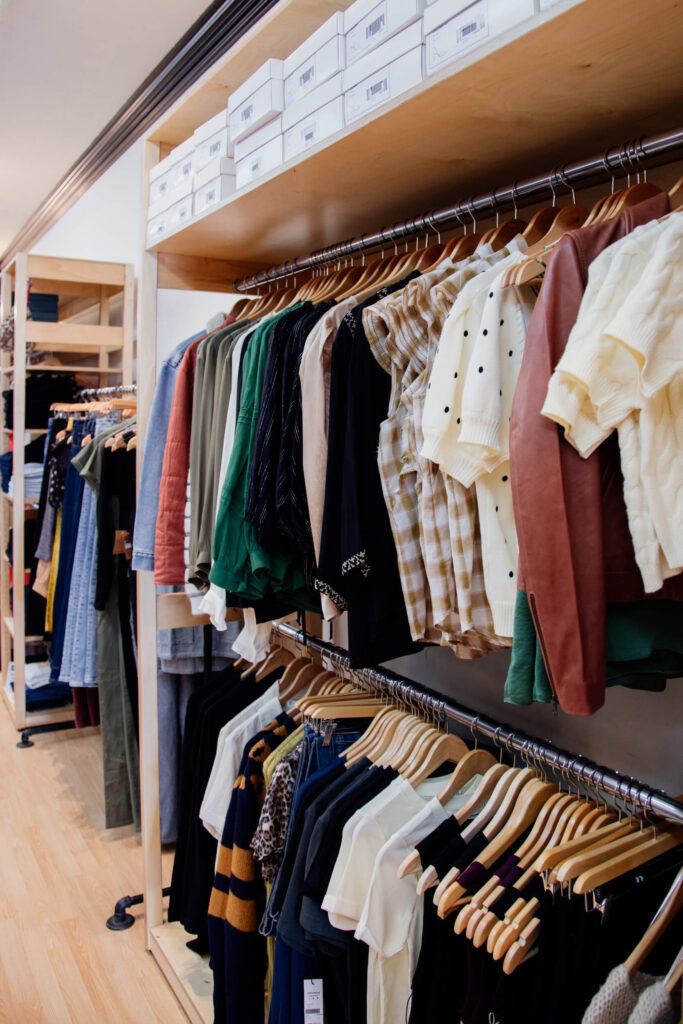 If you had to describe your shop to someone who hasn't seen it, how would you describe it?
I'd say we mix timeless basics with contemporary trends. We hope that people of all walks of life can find something to mix into their own wardrobes to expand or create their own style.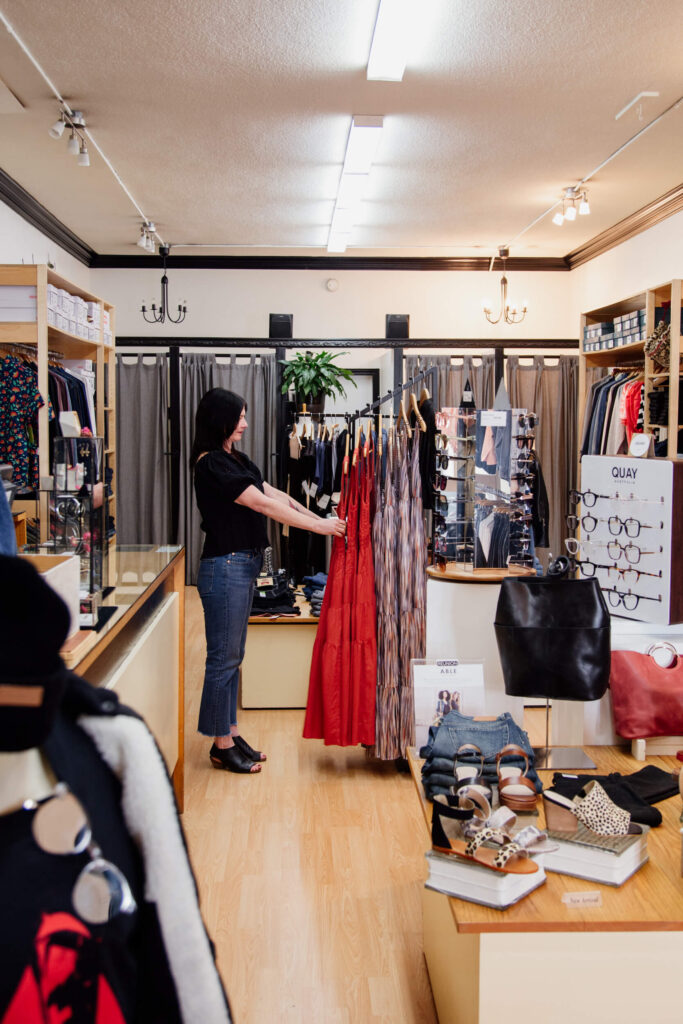 Can you tell us a bit about your personal style and aesthetic? Who inspires you?
I love jeans, Chucks, leopard print, stripes, and I like to look put together. Somebody once described my style as "polished grunge." Some style inspirations to me are Debbie Harry. Kim Gordon, and Chloe Sevigny, who go from edgy to glamorous effortlessly — or do both at the same time!
Each season represents new styles, new trends, new products. How do you evaluate what is working and what isn't? What guides you in your choices?
Even after 30 years of experience, it's hard to predict what is going to sell. Once we find a line that fits well and is good value for the price, we order core styles (proven best-sellers), then add exciting trends of the season, keeping in mind our climate, and most importantly, our customers.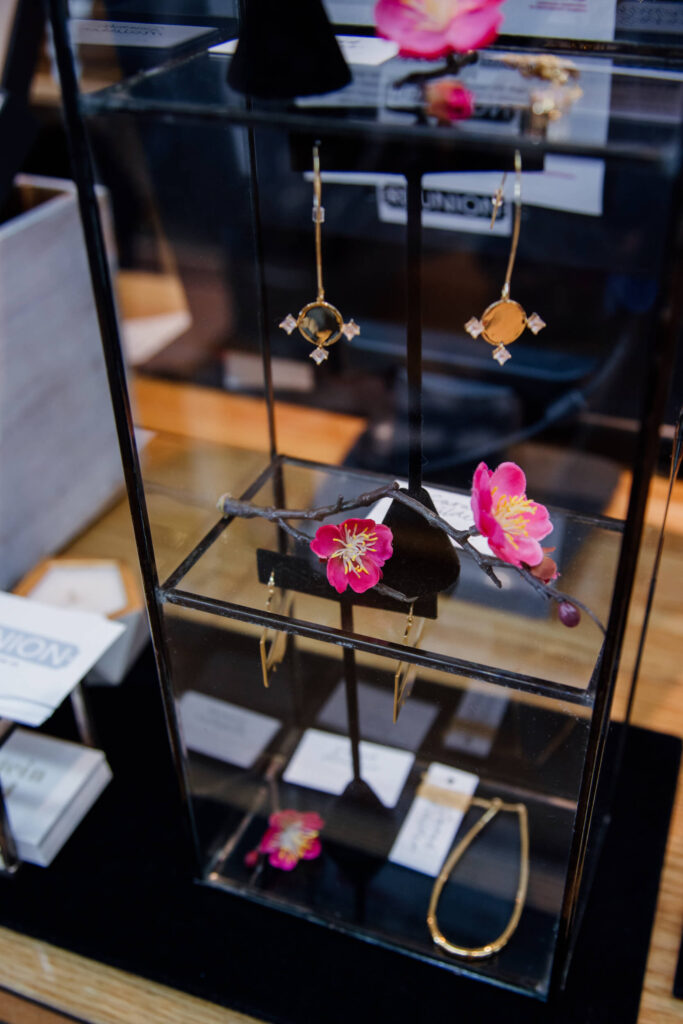 Where and how do you source your designers or items in your store?
We have long-term relationships with fashion sales reps all over North America. We love to go to trade shows in NYC or L.A. to discover new labels and also to get inspired by what people are wearing, both in the showrooms and on the city streets.
How has the internet and online shopping impacted your business? Recently, you started to do more business online. Can you tell us a little about that?
We have always primarily been a brick and mortar destination. With the mid-March shut down, I have updated our online shopping website and am getting the word out there on social media. Prior to COVID-19, sadly, I do think that online shopping sites like Amazon have really decreased the amount of shoppers walking into stores.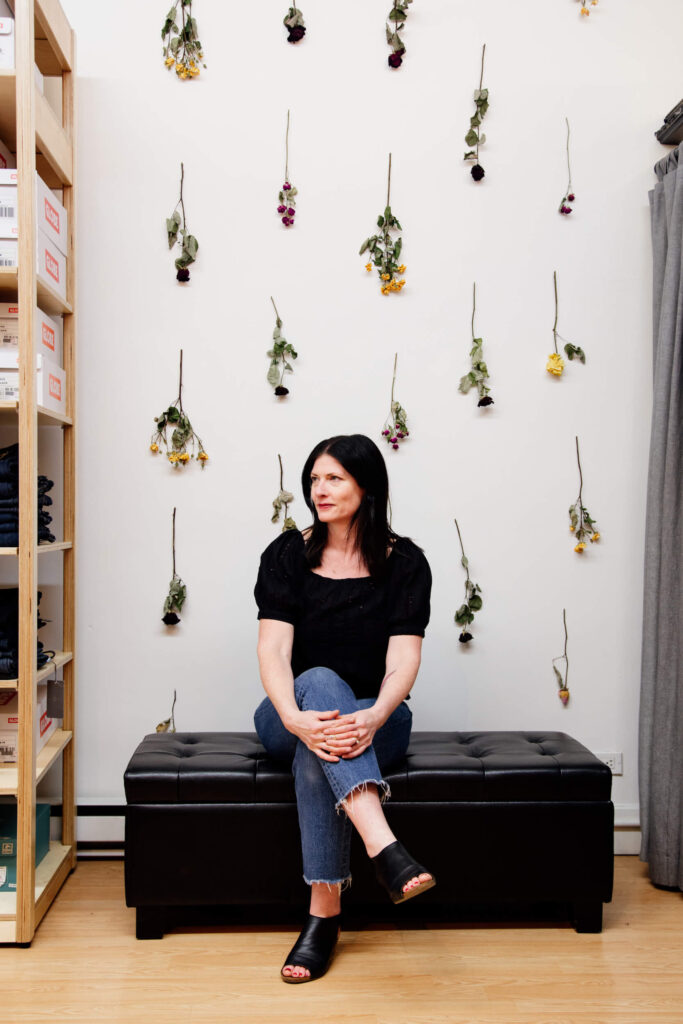 What are some of the hardest lessons you've had starting your business? What advice would you give to someone wanting to open up a shop?
Starting wasn't hard for us as we started small. When we expanded with our second store, Bernstein&Gold, in 2007, we hadn't predicted the recession of 2008. It took perseverance and commitment to bounce back. For advice, I would suggest working in the industry first. The idea of owning a shop might not be what you imagine it to be. There is a ton of work behind the scenes to keep organized.
As we navigate our new reality, what advice would you give to your fellow shop owners on what keeps you moving forward? Any helpful tips?
Personally I just remain grateful for family, boyfriend, friends, a home and to live in Canada. I'm considering this a time of pause. I'm keeping my head in the game by updating the website ( a learning process for me ) and messaging clients regarding requests and orders. I think staying in people's awareness through social media is important, and letting your customers know you're still selling, what you have to offer, and that you'll be going again after this pause. The decisions were made for us and they were hard to swallow but we all have to do our part.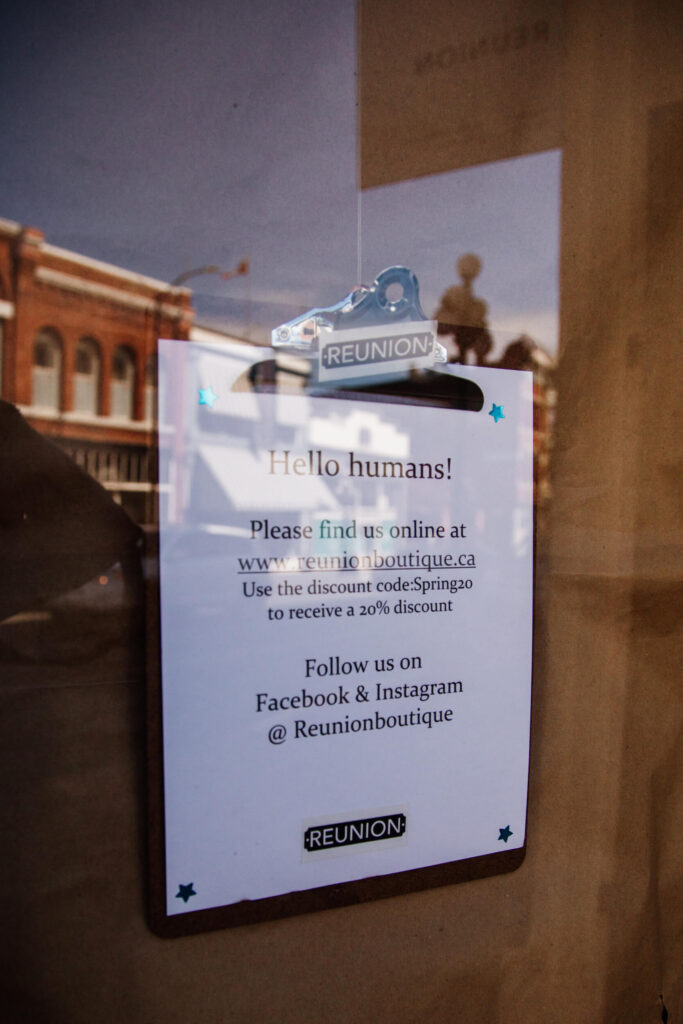 How can customers support you and purchase items during this time?
I've been doing pick-up in-store from online purchases as well mailing some out. I've also had some private shopping appointments by arrangement through messaging, with those people paying at the store. You can visit and order from my new online shop at reunionboutique.ca, or visit us during our new shop hours Tuesday – Saturday from 11-3.