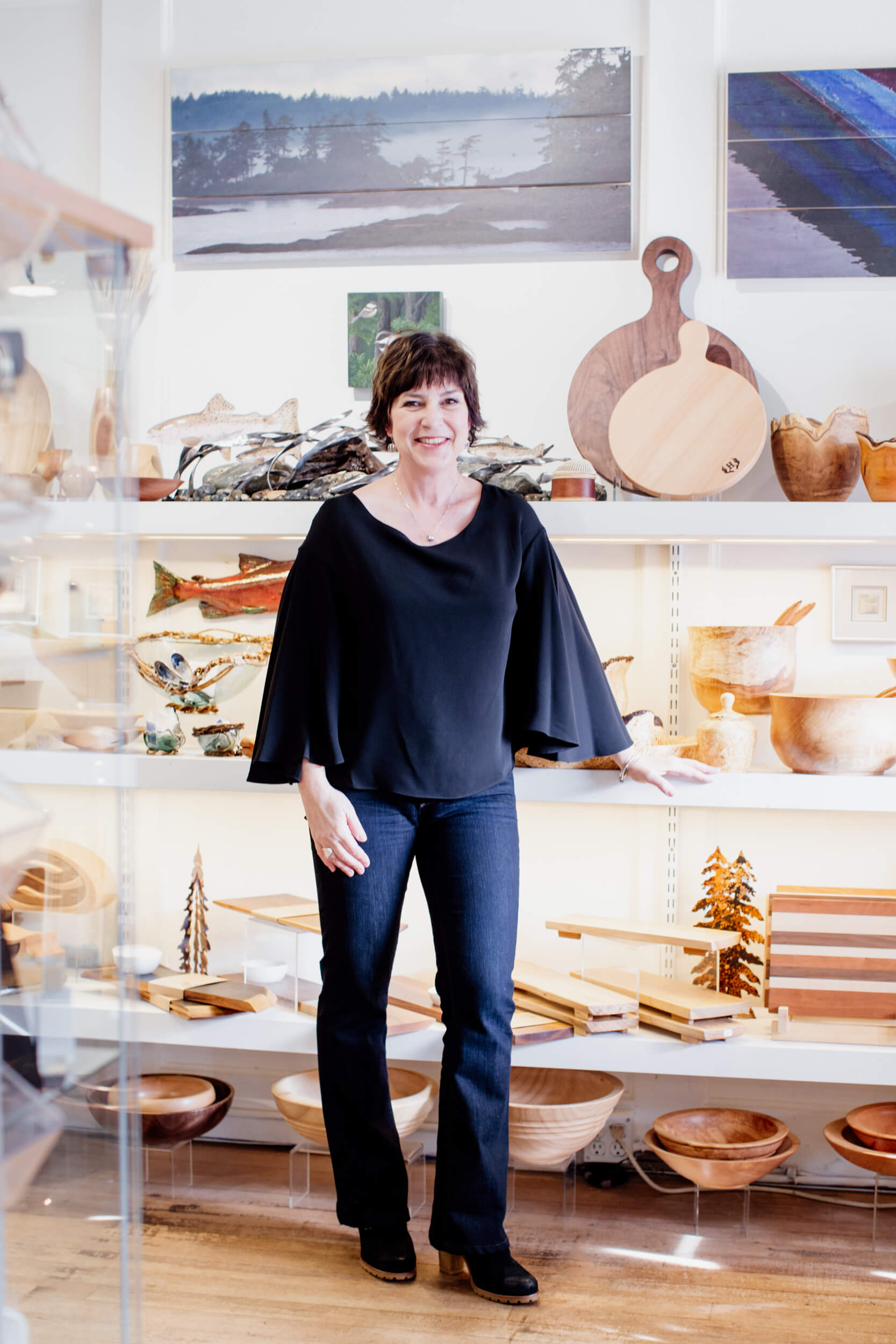 In Conversation with Jill // Side Street Studio
Name: Jill Fitz Hirschbold
Shop: Side Street Studio
Address: #204-2250 Oak Bay Ave, Victoria, BC
Instagram: @sidestreetarts
What is Side Street Studio?
Side Street Studio is a gift store that offers unique and handmade work by local BC artists.
If you had to describe Side Street Studio to someone who hasn't seen it, how would you describe it?
Side Street Studio is a small, independent gift store that represents local British Columbia artists and their unique, handmade, West Coast-inspired work. Both in-store and on our extensive website, we strive to offer a really wonderful range of unique designs and prices on jewelry, pottery, wood turnings, glass art, small works, textiles, sculptures, gift cards, photography, metalwork, natural soaps, bath salts, candles, organic honey, organic teas and much more. We really do have something for everyone and rarely does a customer leave empty-handed! We know all of the artists personally so we are able to create a connection between the piece, the artist, and the customer. We believe this is the key to the success of shopping local.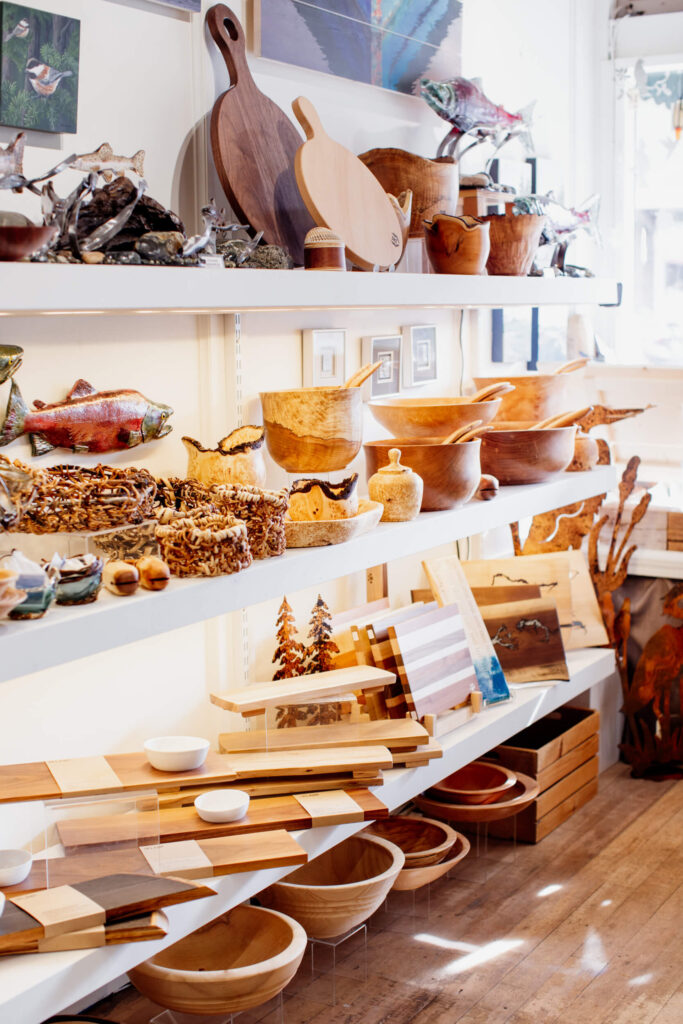 Tell us about your business name. Any significance?
Yes, the name is very significant. In 1984 seven artists, Lilly Bohlin, Shirley Ann Bertz, Francisca Hayman, Rita Darling, Nanci Secter, Naomi Smith and Marjolyn Winkel, rented the annex of Michl's Upholstery Store on Fell Street to showcase and sell their work. The entrance to the store was on the side of the building — hence the name Side Street Studio.
Over the years, they welcomed other artists to the collaboratively-run space and built up a very loyal clientele for their locally handmade work. When Michl's expanded, they moved to the current location on Oak Bay Ave. The original group sold the business in 2000 and I am the 3rd owner since then, taking over in November 2017.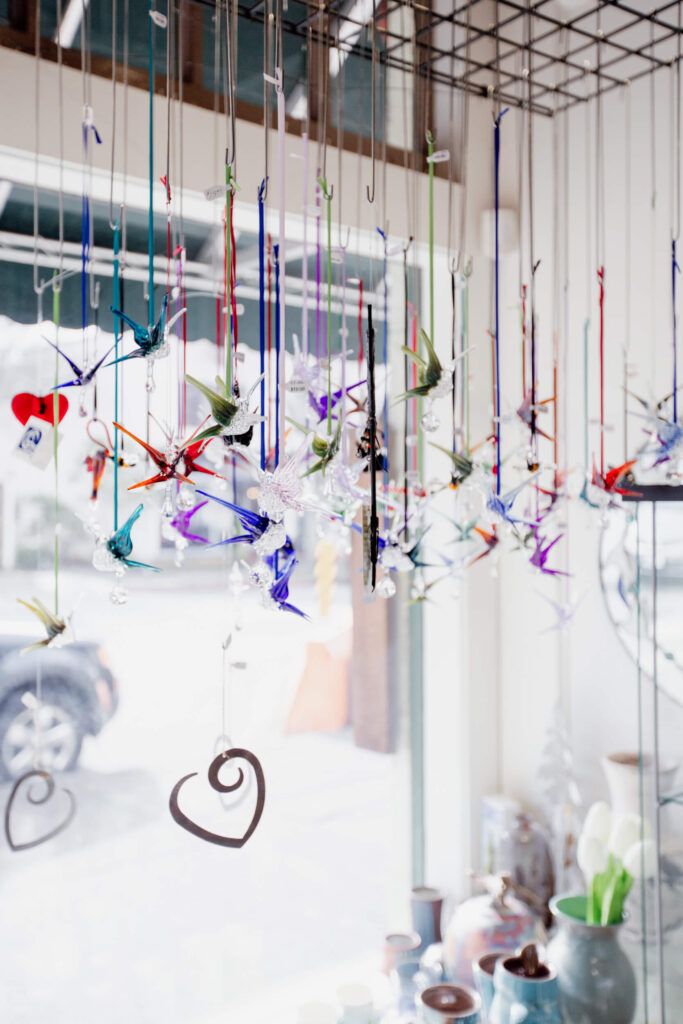 Can you tell us about your background?
I arrived on the West Coast almost 30 years ago to continue my studies in Environmental Science and have been here ever since. I have a Diploma in Environmental Quality Control from Mount Royal College in Calgary and a Bachelor of Science from UVic. I'm a Certified PADI Dive Master, a paddleboard instructor, and spent 12 years working in Environmental Analytical Chemistry as Laboratory Manager before starting a family.
I started my family a little later in life and my two beautiful daughters, now 18 and 16, were born when I was 40 and 42. I left my career in Sciences to be home with them. I became very involved in their schools and activities (especially competitive sailing) and it was during this time that I created my home-based business: Jill Fitz Photography. 
We have been very fortunate to have explored this amazing coast on our sailboat since the girls were born. I began to "capture" images of what it feels like for me to be here. My landscapes reflect the love I have for the ocean, forest, and mountains that surround us. My abstract images reveal an appreciation for what can be found in the unexpected, the thrill of discovering something beautiful where it may not be obvious. I have paired many of my images with my poetry and writing, and have self-published three books. I have participated in quite a number of shows, markets, and studio tours, donated many items to charity auctions, and have shot many local events such as Swiftsure and Tour de Victoria. My pieces have been sold throughout North America and have made their way to England and China. 
My other passion is singing in a rock & blues band for the past 9 years. We have continued to play through an online platform but I very much look forward to performing live with my bandmates once again.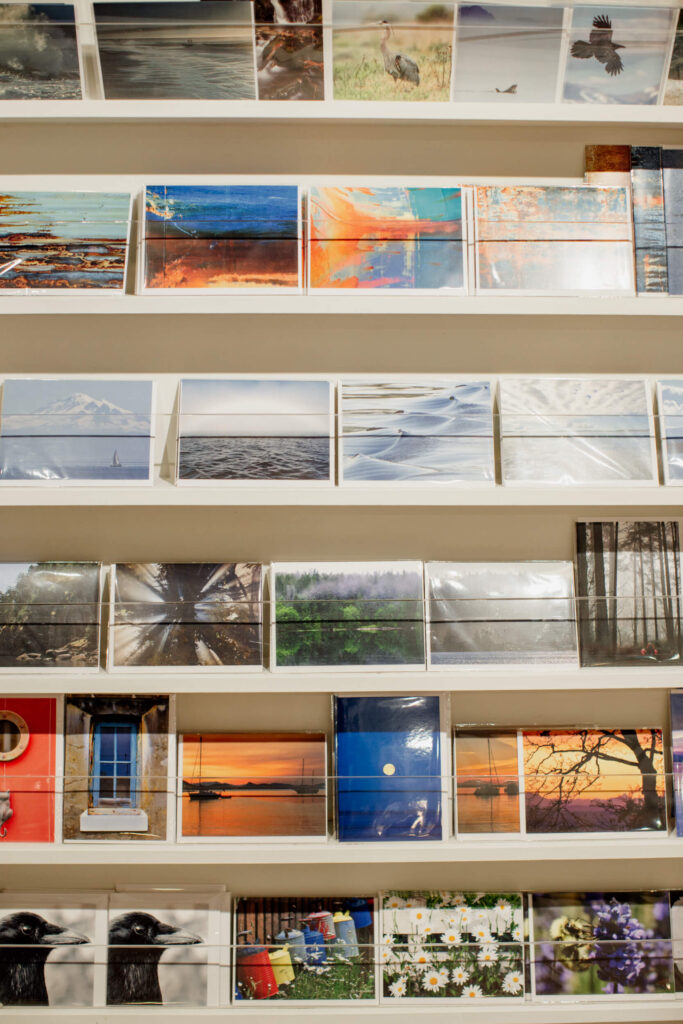 Have you always wanted to own a shop? How did the Side Street Studio purchase come about? Has the shop changed since you took over? 
I came to own Side Street Studio completely by chance. In the summer of 2017, I was participating in a pop-up show for a few weeks in the Victoria Arts Council space downtown. It turned out that the real estate agent who got the listing for the store had been in to see my show and had spoken with me at length about my work. He reached out upon receiving the listing. I had actually sold my photo cards and prints there for many years so I was familiar with the store. As my girls were becoming more independent, I had started to look for something that would take me out of my home office and back into the world. This was the perfect opportunity.
I have made quite a few changes to the store since taking over. I have completely renovated the space: it has been painted, new shelving added, a photo and shipping area integrated into the small storage space and many more artists added. Every inch of the store has been utilized while remaining as streamlined as possible. I feel the new look highlights all the wonderful colour and texture in the store. I have put a lot of thought and effort into expanding all of our categories both in price and design to appeal to a larger demographic.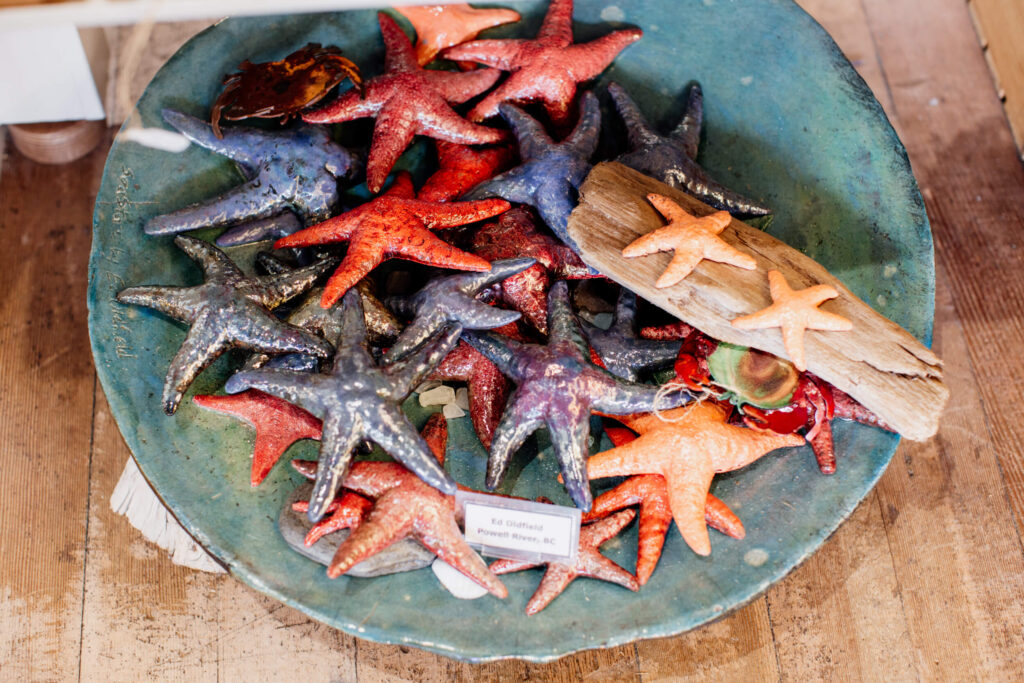 You represent over 200 artists, makers, potters, and jewelers. Can you tell us about them?
Side Street Studio has represented almost 600 artists in 37 years. All the artists are from British Columbia, primarily Vancouver Island, the Gulf Islands, the Sunshine Coast and Vancouver. It is hard to summarize so many amazing personalities and their work, but you can feel it in the store. As every piece is handmade, it reflects the heart of the artist that made it. I've been careful to curate the shop in way to offer a wide selection and I'm thankful for the trust they have in me to represent their work. I feel that with being an artist myself and having been on the other side of the counter looking for a shop to carry my work, I know how hard it can be to put yourself out there.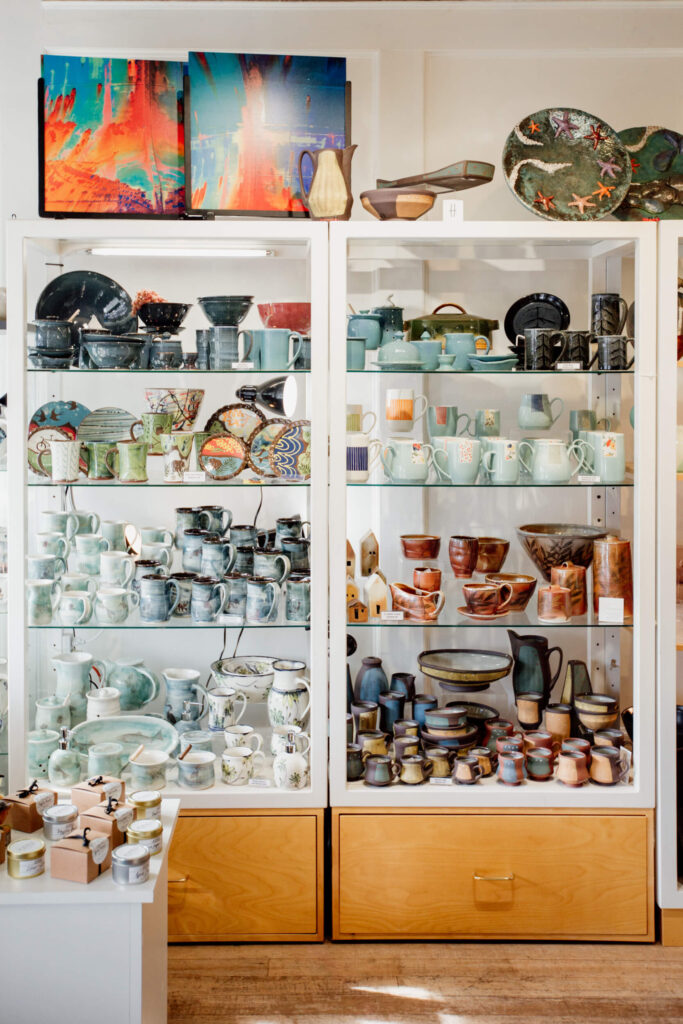 What is your favourite part of owning a shop?
I take great pride in representing the work of so many talented artists. One of my favourite parts of owning the shop is the road trips I take up Island and to the Mainland to pick up stock. I also really enjoy going to the Island markets to visit with current artists and look for new talent. Admittedly, Covid has extracted much of the fun out of this as there are no studio tours, visiting with friends or extended travel but I hope this will return soon.
What or who inspires you?
I'm inspired by people who keep their minds open to all possibilities. I really believe that given the opportunity to explore, we are all creative in some way. I have been blessed to have this second career and with it have met so many unique, interesting and beautiful people. Everyone has a story to share and I find it incredible the ways in which individuals are able to express it.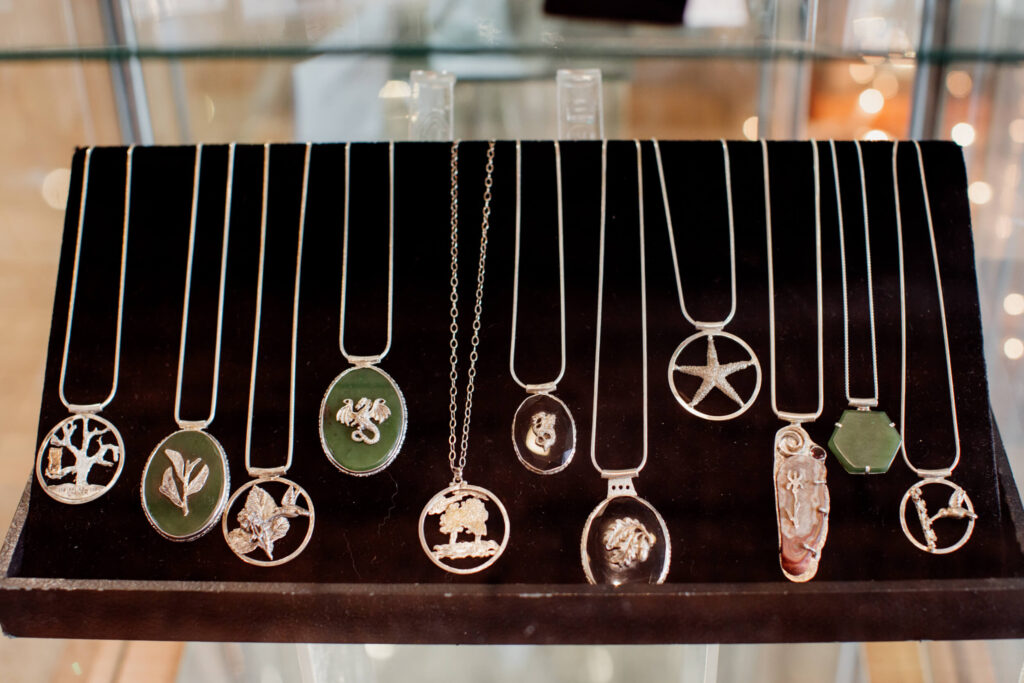 What are some of the hardest lessons you've had starting your business? How have you overcome them?
Overall the experience of taking over this store has been very positive. In my past life as Laboratory Manager with a staff of over 50 people, I learned to organize and manage a large number of variables on a daily basis. I also put myself through university working at a local restaurant and intuitively understand the meaning of good customer service. Not to say there was not a steep learning curve in the beginning or, as I like to say, the curve had no curve but a line that went straight up! I was acquainted with many different artists and some media I had no experience with. It is also a tremendous job to process all the work that flows into the store and the thousands of items online. I could not do this myself and luckily have had a great friend and manager, Kathy Won, by my side. My family has also been an enormous help. Everything from my husband, Markus, helping with anything I could think up and my daughters, Julia and Jessica, working through our busy seasons.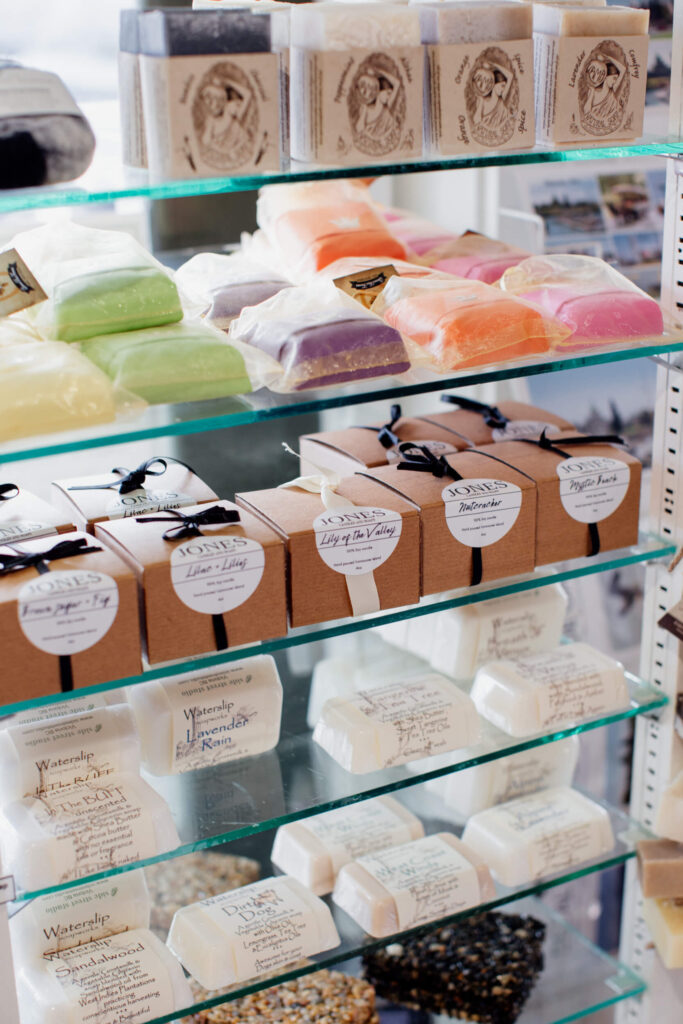 What advice would you give to someone wanting to open up a shop? Any helpful tips?
Location is so important to the success of any business. I do realize how lucky I am to be on a busy section of Oak Bay Avenue. Although we do host many tourists during the travel seasons, our business is not dependent on those customers.
I'm sure this is a given but it is so important to truly believe in what is you are doing or the products you carry. It's important that you wholeheartedly and honestly feel good about your platform, products and the message you represent.
How has the pandemic affected your business? Can you tell us how you've pivoted during this time?
Covid definitely has taken its toll as with so many businesses. The Studio was closed completely from March 16 – May 26, 2020. I was fortunate to already have everything in the store available online and I ship worldwide, but it was still very quiet those first few months. Our online business started to pick up and I did a lot of driving in the neighbourhood, offering free delivery within 10 km. I was the only employee for what seemed a very long 4 months and gratefully welcomed back my store manager Kathy last summer. 
As the months went on, more staff returned for what ended up as a record-breaking holiday season. If customers had not supported the store previously, the "Buy Local" campaign definitely brought new people to the store. So many artists had lost out on the regular markets and art shows, so I was very happy to share a successful season. I'm so grateful to our local and online customers for their incredible and continued support of the store.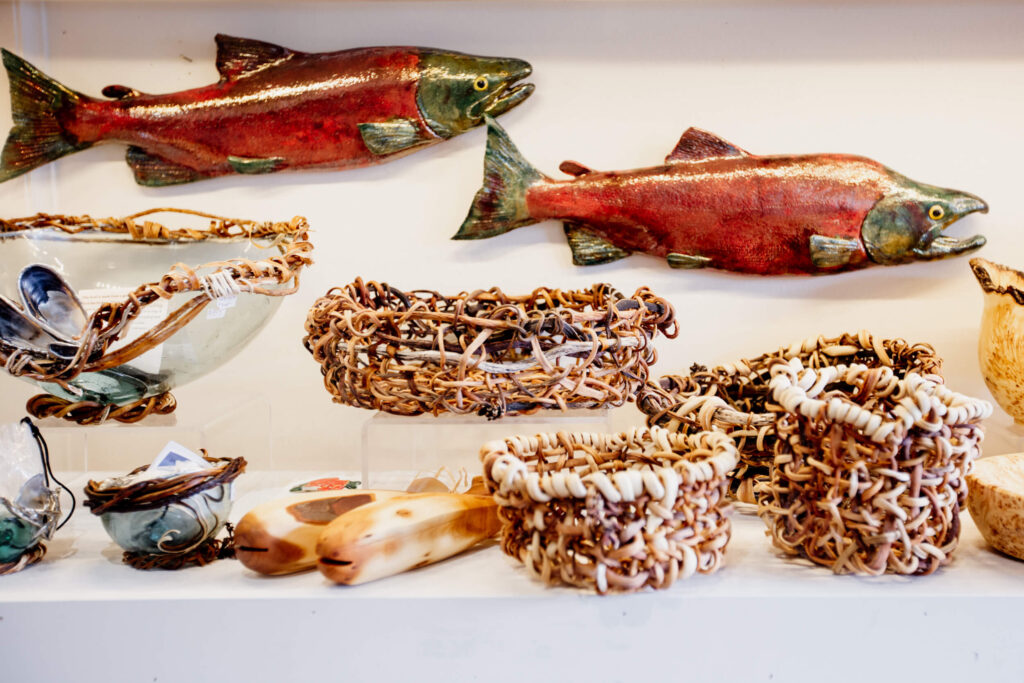 Anything else you would like to share?
I would like to thank everyone for the incredible support since taking over the Studio and this past year. I am very glad to still be here. And thank you to Talking Shop for this opportunity!
Three words to describe how you feel today:
Optimistic, creative, grateful.