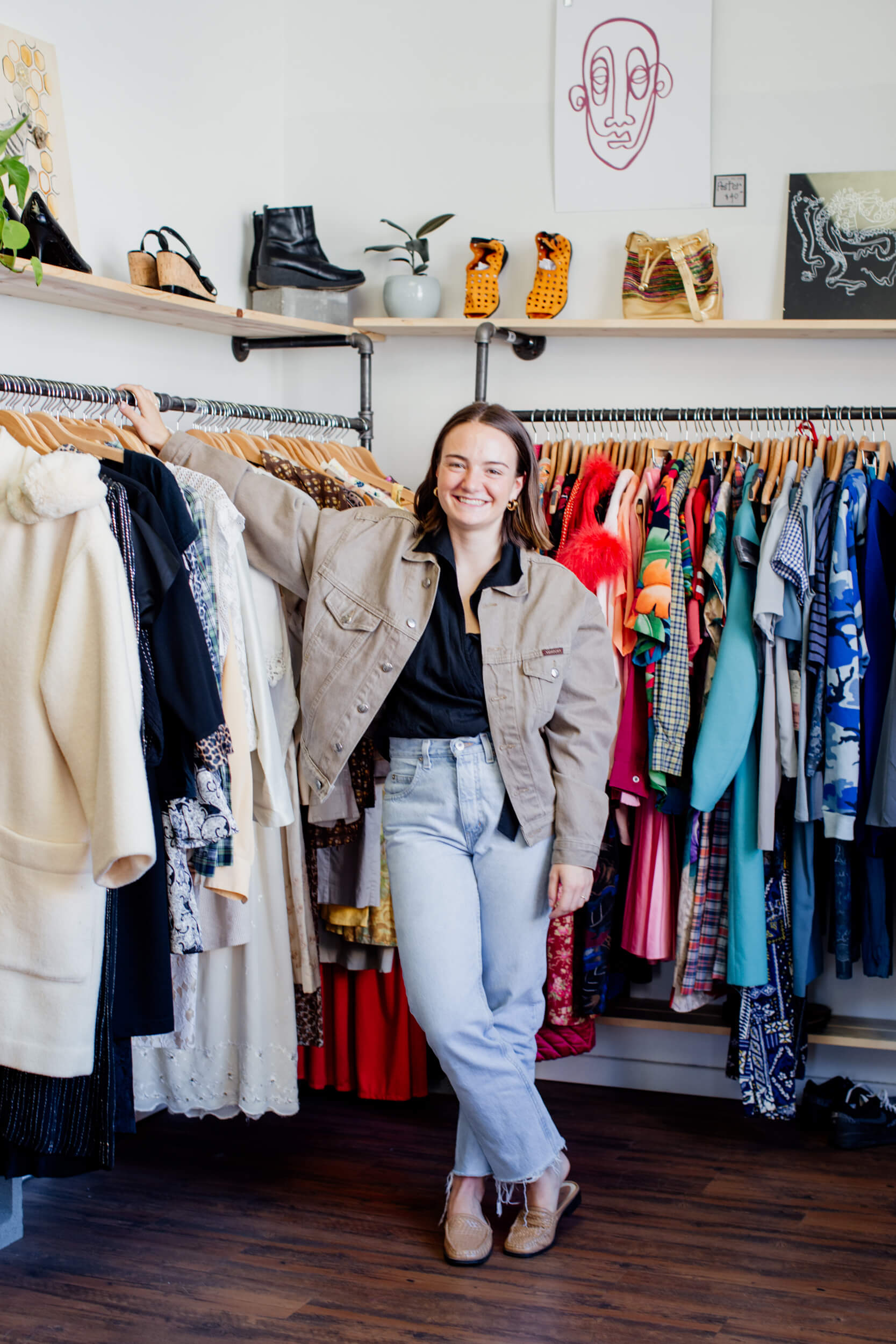 In Conversation with Mackenzie // Upcycle Clothing Collective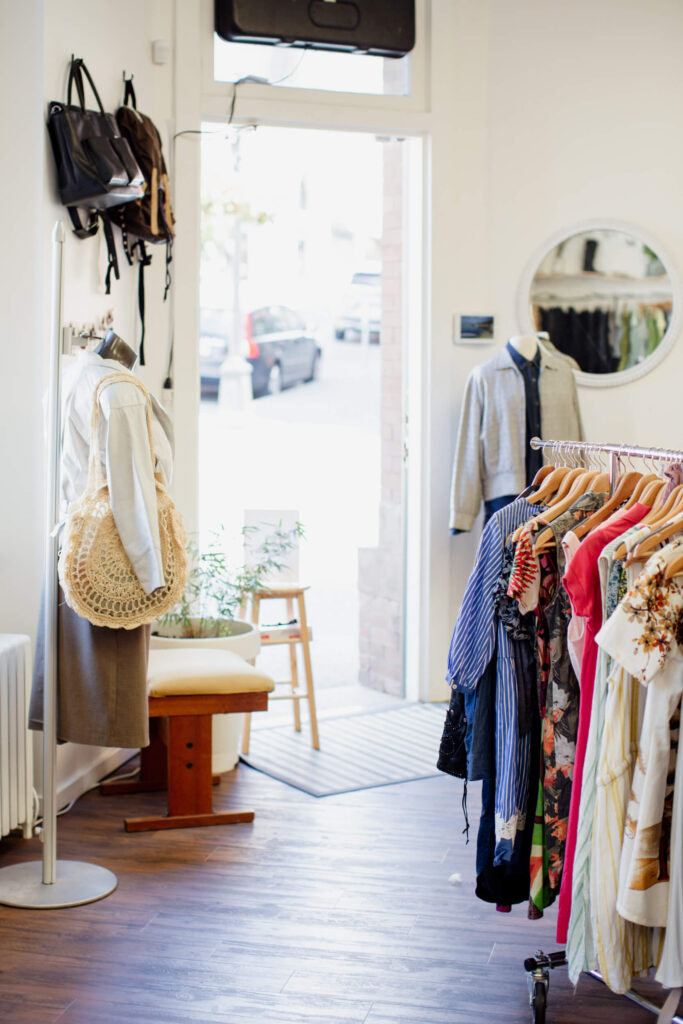 What is Upcycle Clothing Collective?
Upcycle is a curated consignment shop. We feature contemporary, everyday and vintage wear for men and women.
You recently opened your business. What made you all decide to open up a consignment shop?
I personally am an avid thrifter. I have always liked seeing how I could style all types of fashion. It wasn't until later that I started to pay attention to fabrics, brands etc. So, I decided to start selling all my pieces via Instagram — and soon after, Upcycle was born. My mom actually helped me decide on the consignment part of the business; I just knew I wanted to 1) work for myself and 2) do something involving clothing/thrifting/fashion. Now I couldn't imagine not having a consignment shop!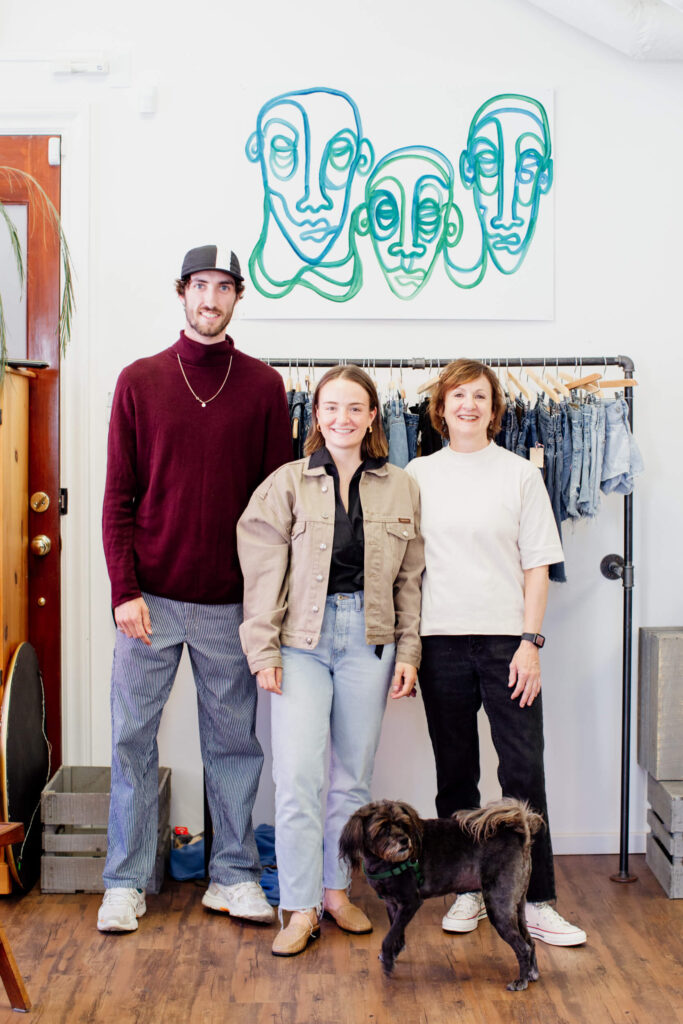 Can you tell us about your background? Did you always want to go into business together with your mom and partner?
My mom is a serial entrepreneur; she has worked for herself most of her life. I have always looked up to that. She was in the office furniture business mostly, so this is a new direction in business for her. I am actually a professional figure skater. I have been skating and coaching most of my life. Being in an individual sport has taught me to be self-driven, which has been the key part of starting this business. Ira, my finance and business partner, is actually a teacher. He is one to take opportunities and not have set plans. Once I mentioned the possibility of opening a clothing store he was very interested. He has been able to commit the time and energy towards the store because of the flexibility that teaching has given him. Ira has trouble doing just one thing, so the shop, teaching and a few other things have kept him focussed and driven for the last few years.
Honestly, it never crossed my mind that my mom, my partner and I would be in business together! I think my mom saw an opportunity with me that I hadn't yet seen. My mom has had so many business and life experiences, and Ira brings so much support and new perspective. I wouldn't want to be in a business partnership with anyone else. And now we are all such equal and vital parts to this lovely little business.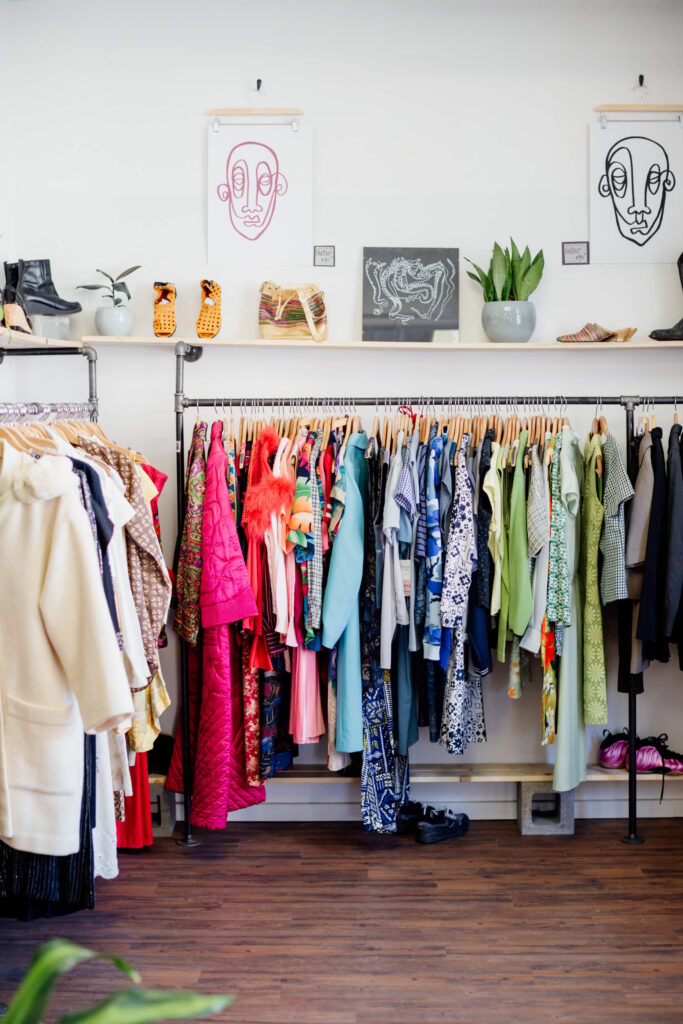 If you had to describe your shop to someone who hasn't seen it, how would you describe it? What makes your shop different?
I would describe it as a curated space for sure. I personally hand-pick and go through all the pieces that come through our door. I would say that I try to keep a modern, contemporary and vintage style in the shop. We are the only consignment shop in Victoria that does the "vintage consignment" part. So that alone sets us apart, but we also are not your typical luxury resale shop. We have all types of brands, all types of prices, and all types of clothing. I wanted to create a space that was gender-neutral, fun, good for the environment and good on consumers' wallets! I think we have achieved that.
What would you say is your personal style and aesthetic? How does the store and the products you carry fit into that aesthetic?
My personal style and aesthetic is 100% Upcycle through and through. It's a little bit of vintage mixed with some great neutral colors, a pair of flared cut-off high waisted jeans, and shiny high-top Converse. That's what I feel most comfortable in. Style has been something that I have grown into and something that I have grown completely in love with. I know now that I have a great eye for pairing colours and altering pieces to make them fit in a stylish way. I can definitely come into the shop in the morning and find a completely new outfit by the end of the day, just from pieces we have in store! I feel like we have officially achieved the aesthetic that I intended to reach.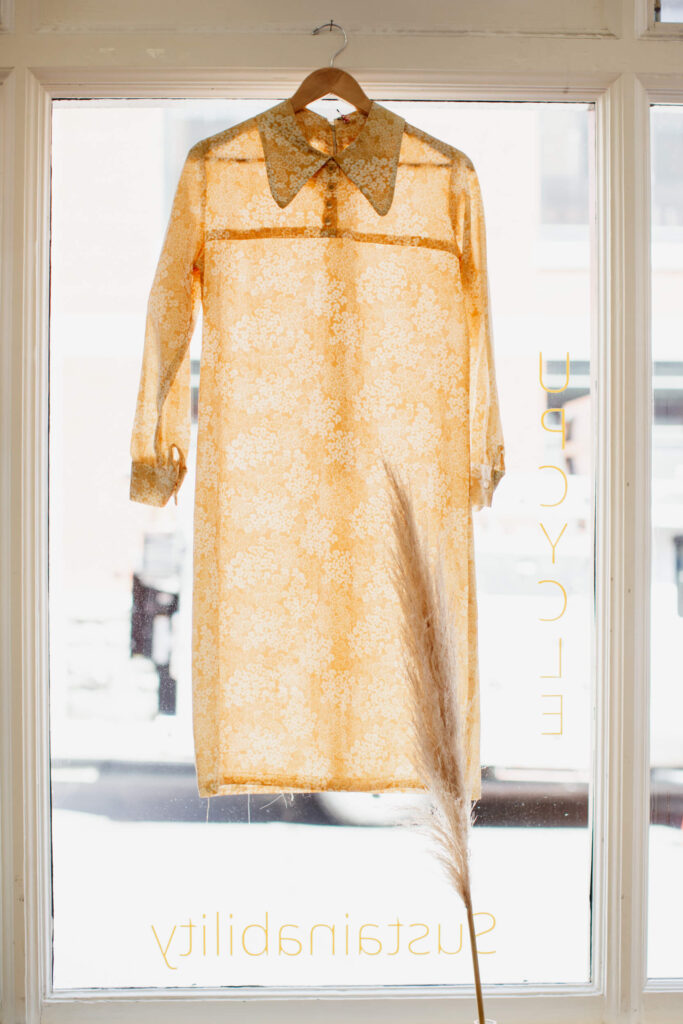 Inspiration is all around us. What or who inspires you?
Other Victoria fashion lovers inspire me! I found myself through style here in Victoria just simply visiting other shops and meeting new people. I am, however, super inspired by Japanese fashion and design. Anything that is made well and is of a great colour is always my inspiration. Another great inspiration that might be obvious is vintage fashion. Creating new ways to wear older trends is a true inspiration for me and this shop.
Each season represents new trends and new products. Do you follow trends? How do you decide which consigned clothes to take?
I love the seasonal changes that Victoria brings. It means new products/new trends. I typically look at cuts of clothing and the quality of the fabric when taking in new items rather than following trends. When people bring consignment in, I try to imagine what would go well with that piece. I always want to have enough in the shop to be able to offer someone a complete look. Besides that, I look at branding, quality, colours, and patterns. We have many unique pieces in the shop, but we also have a lot of basics that would pair well with anything. I love neutrals and basics; that's definitely something that is hugely influential for me when I'm accepting items. I do try to take a little of everything, even if it's not my particular style. I wanted to create a space where individual styles are celebrated and people feel like they can come to us to find whatever is missing in their closet.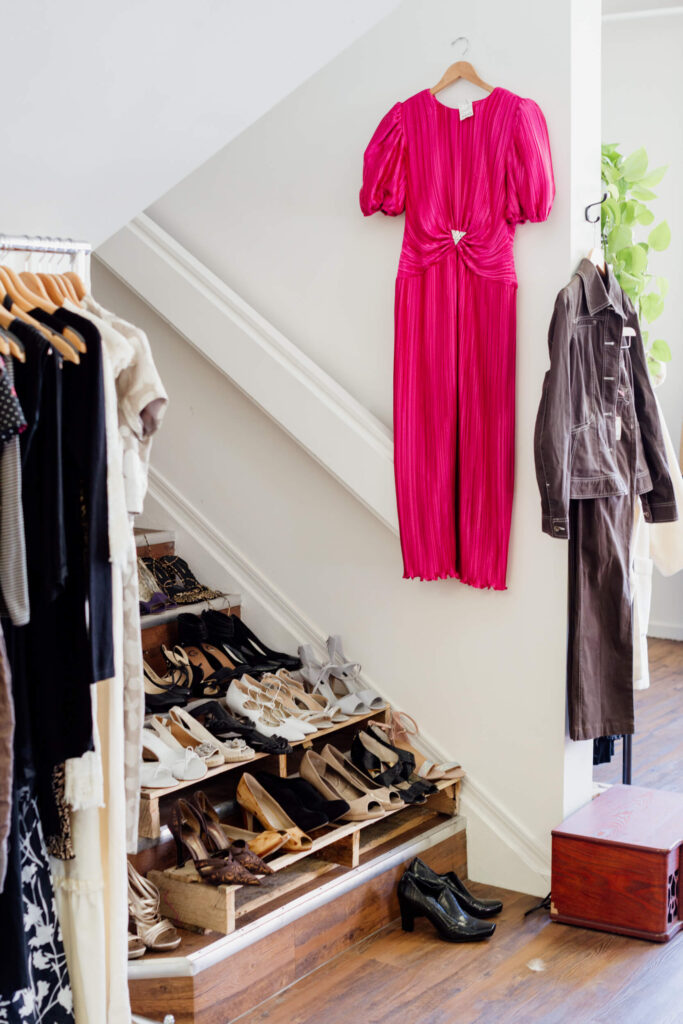 What are customers consigning these days? On that note, what are customers buying these days?
This is a hard question to answer, but all I can say is I see almost EVERYTHING you could imagine. I do see a lot of mall brands pass through when being consigned.
As for what people are buying these days, neutral-toned tops and pants are hugely popular. Vintage is another one that has a HUGE turnover! Anything from Aritzia also has a great give-and-take relationship in the shop. We get a lot, but we also sell a ton of it! I would say people are buying almost everything we bring in.
Any favourite items in the store right now?
Oh, so many! We are consistently getting new cool things. I have two authentic vintage leather backpacks that are my absolute FAVE right now, but of course there are too many favourites to name, so you'll have to come down and I'll show you!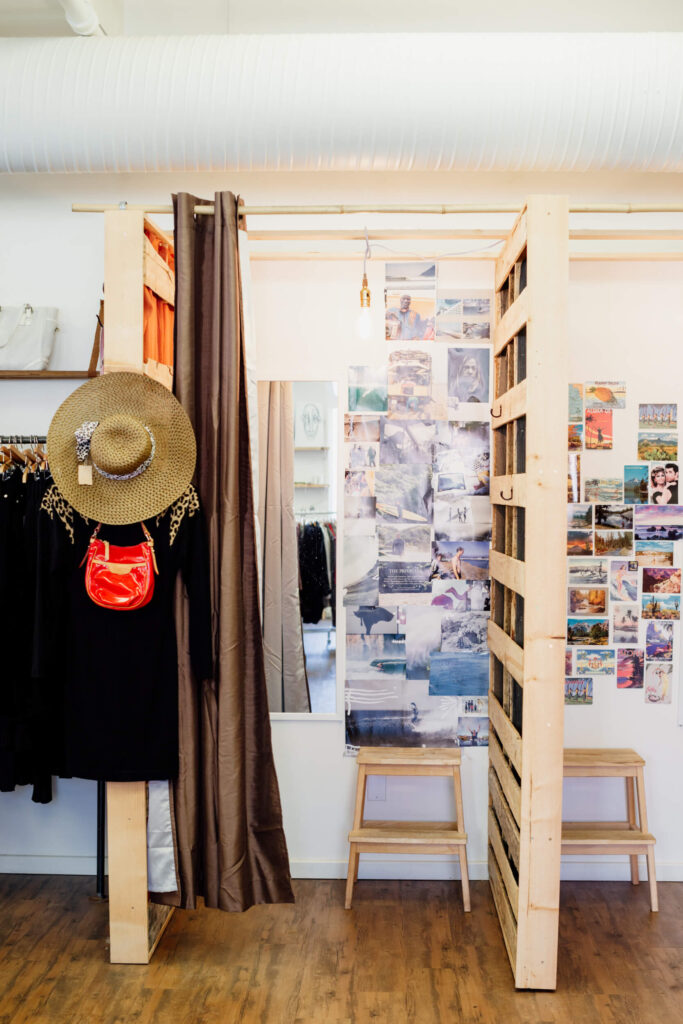 You're active on social media. Can you tell us how social media impacts on your business?
Social media has been our biggest thing to get used to! I am not active on my personal account and I rarely care about my content, so taking on a business Instagram account took a lot of getting used to. I have never taken a marketing course, so I did a lot of reading up on how to maximize content reach. I think I am better at it now. My only goal when I started was to be authentic on Insta. I wanted people to see our page and understand our story, but also to show that we are approachable. I try to be as authentic as possible when posting photos or writing captions.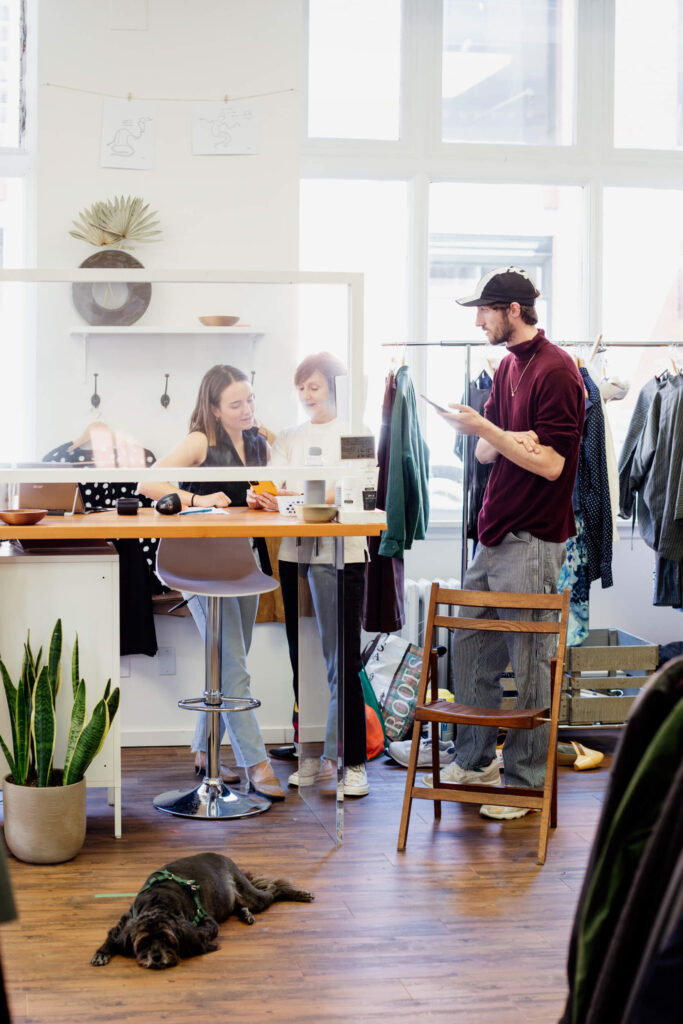 What are some of the hardest lessons you've had starting your business? How have you overcome them?
Realizing that there's a lot more "behind the scenes" work that needs to be done — ALL THE TIME. Then once you realize that, you have to somehow find a decent balance in life and work. I give myself an allotted work time and at home work time for all the extra stuff. But I have also learned to lean on my mom and my partner — that are here for that! They are instrumental to my well-being. I try to remind myself that I do not need to do it all!
I have spent a lot of time finding joy in the little things. I have found that when I focus on the big picture I lose myself. Trying to stay in the moment is hard for anyone, but is so necessary with having a business and also with COVID happening in our lives right now. I kinda like to think of it as "I don't know where I or this shop will be in 5 years so I need to find time to enjoy it now."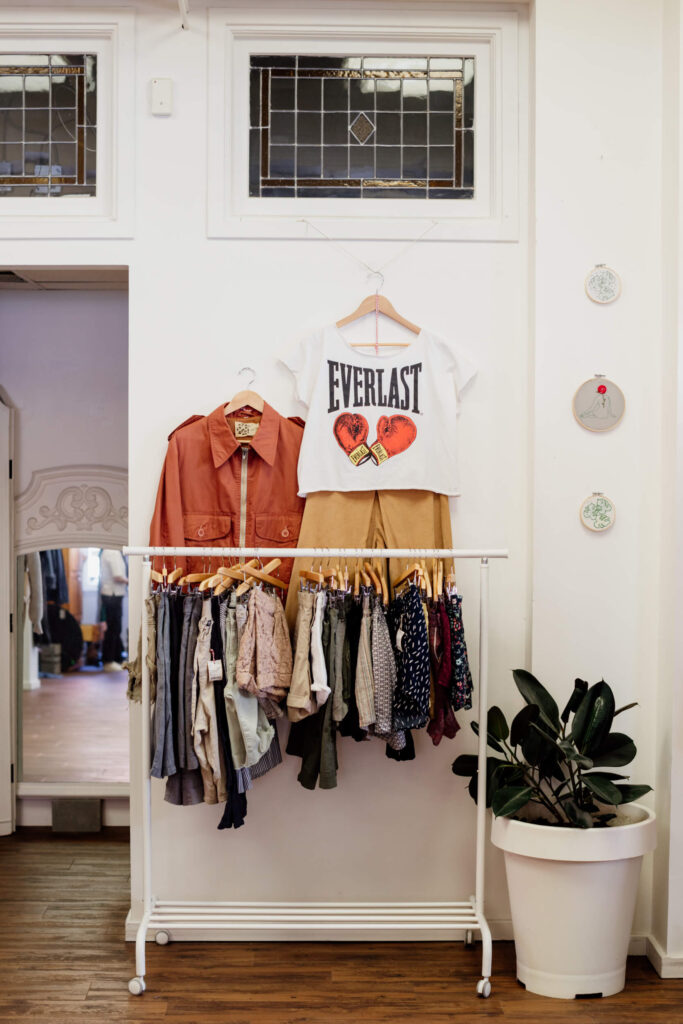 What advice would you give to someone wanting to open up a consignment shop?
I would say understand what you want your shop to look like. Understand where you are located and who you are creating the shop for. I think we do such a great job paving the way for consignment shops to be curated and not just [a pile of] everyone's things. Allow yourself the time to get used to your market and learn to say no. At the end of the day, it is your own space and you get to curate it how you like. I'd also say to go for it. Believe in the concept.
Have you made any hard decisions the last few months? Can you share some of those decisions?
The decision to close our doors was probably the only hard decision because of the inevitable loss of income. Seeing no money coming in and trying so hard to get ourselves established online with a small following was super hard. It took a lot of time but it also gave us the chance to see what making it online would look like. I would say as a start-up we have been very fortunate to not have had too many gut-wrenching hard decisions the past couple months.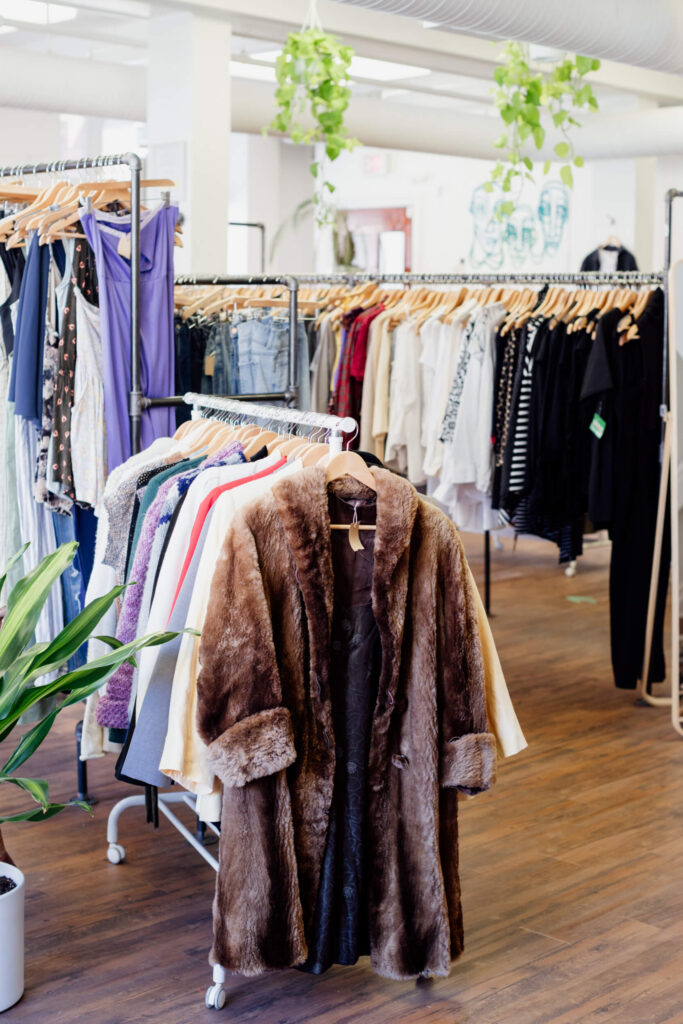 As we navigate our new reality, what advice would you give to your fellow shop owners? Any helpful tips?
All I would say is that they are doing such a great job. My advice is just to keep plugging along, make smart decisions and be aware of the numbers in the bank. Although … I would say they have more helpful tips for us at the moment than I do for them!
If you were looking back to this moment in time, what do you all hope to gain in personal + business growth? What 3 words best describe what you're all feeling today?
At this point and time, I would hope that I had gained perspective on the decisions I have made so far. What could've been a different option? Which decision can I learn from the next time I see the opportunity to choose something different?
The three words to best describe how I am feeling right now are: determined, vigilant, grateful.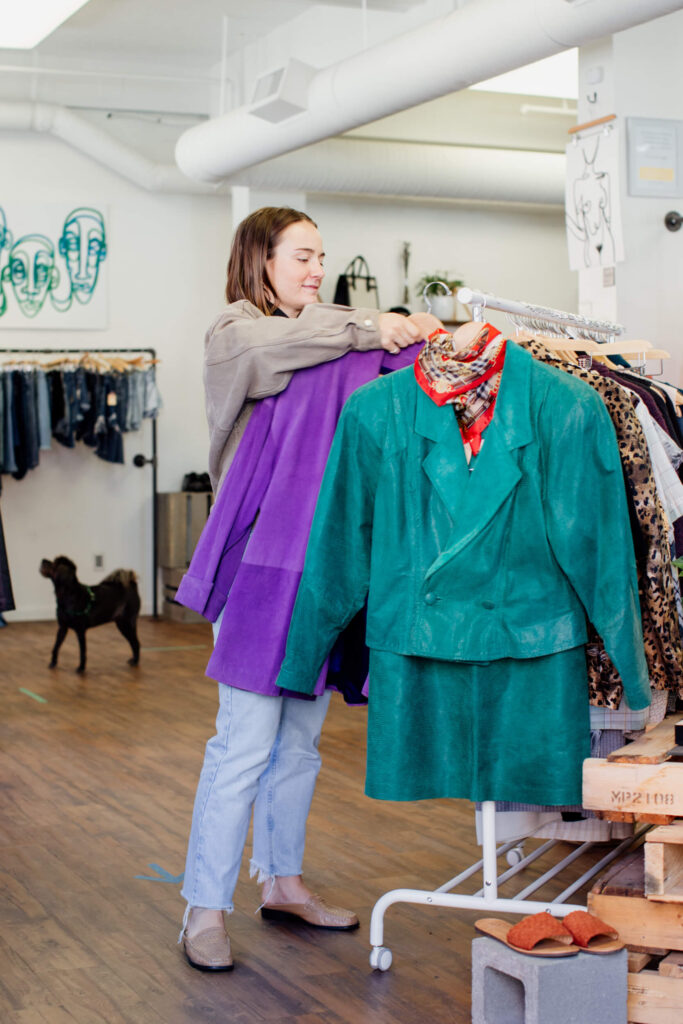 Anything else you would like to say before we sign off?
I just want to thank anyone who has come into the shop to give me a smile. All the support that Victoria has given me in the past 11 months has been more than I could have hoped for. So this is my way of saying thank you and to keep coming back, even just to say hi!