Name: Willow Hillard
Shop: Folk
Address: 803 Fort Street, Victoria, Canada
Instagram: @folkonfort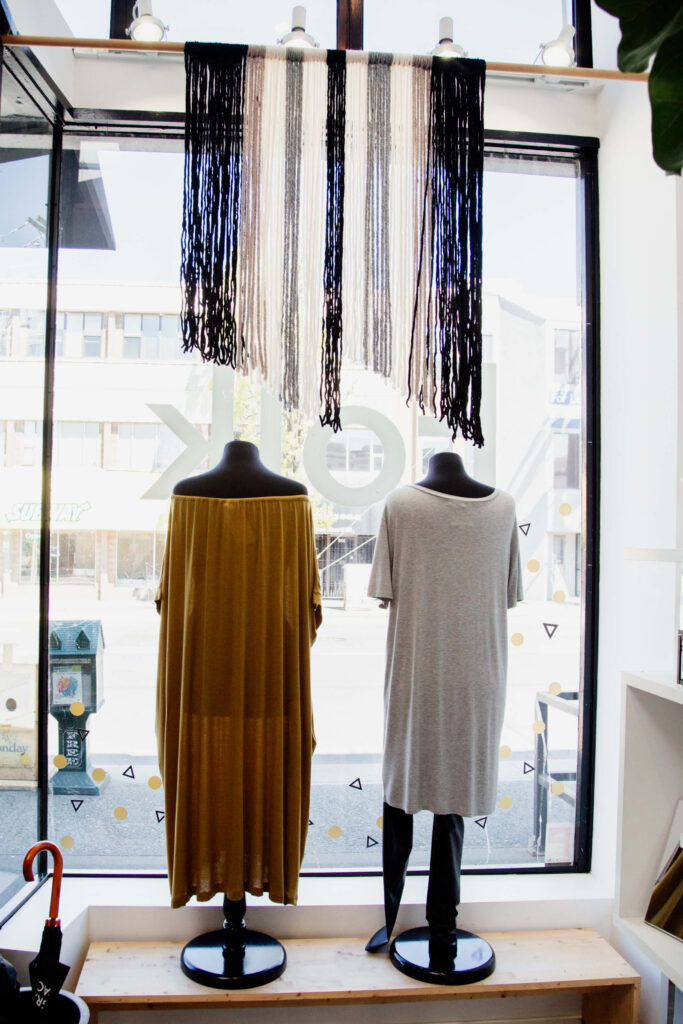 What is Folk? How did you decide on the name? What does the name mean to you?
Folk is a women's clothing and accessories business. I decided on the name because I think it inspires an idea of a Scandinavian culture of minimalist/modern design. Plus it looked really good in my favourite font. (Hah!)
Ten years ago, you opened your first shop in Victoria called Lark + Sparrow with great success, and then later, you decided to open Folk. Can you tell us a little about that decision? What were some of the challenges you experienced in opening the second shop? How were the two shops different?
Yes, Lark + Sparrow was great fun! In 2010, I had just moved from Vancouver where I had previously owned a vintage clothing shop on East Hastings called Tiger Tiger. L+S represented a shift from the pure vintage concept into clothing that was vintage-inspired. After five years of playing with lace and floral, I decided I wanted to fill the niche of minimalist and modern clothing for the women in Victoria who used to shop at L+S. Their wardrobe needs were evolving. They needed clothing that could move with them through the different roles they played in their lives: dancers, artists, mothers, working professionals, etc. These were women who valued looking elegant and put together without sacrificing comfort. I had also evolved, along with my customer, in my needs for a curated style, so it was also a personal choice. It's important for me to have integral relationships with the products.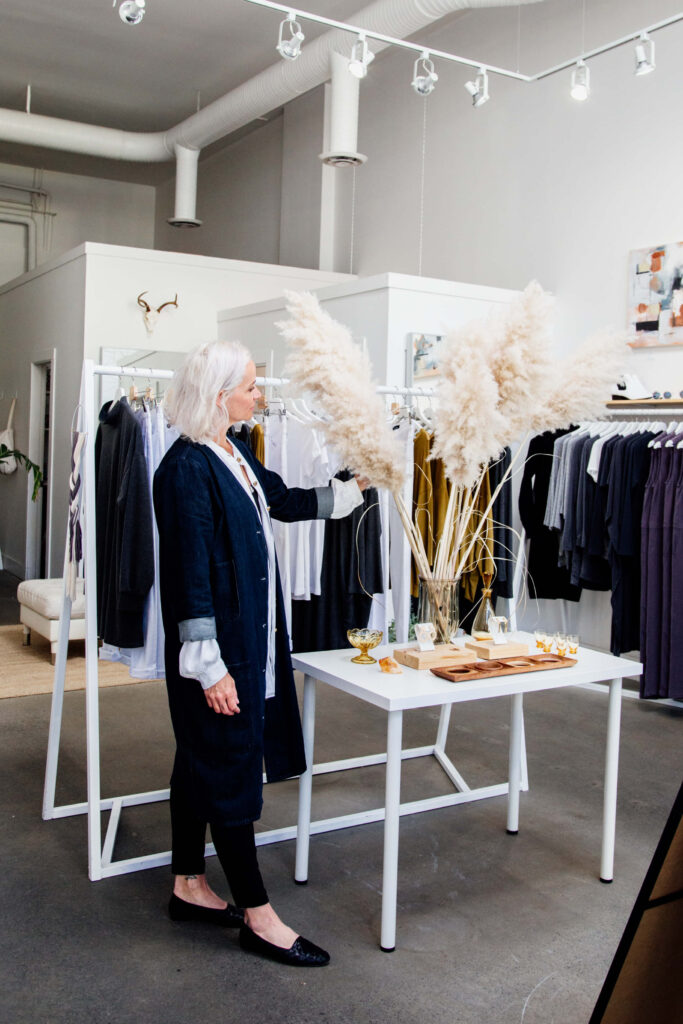 Your family has always been in retail. As a young child, you grew up helping your mom at her shop. What did you learn from your mother?
My mom was a creative genius. She always had ideas and full-on businesses on the go. A lot of the businesses she had were creative and based from home. It was only later on that she opened brick-and-mortar shops. She has had shops for both home decor and design and clothing. She encouraged me to be hands-on with all the projects and I really enjoyed it from a young age. I really believe mastering the craft as passed down through generations is a traditional element that really plays an important role in my development as a business owner today. The skills I have learned because of that experience, of being exposed to retail from a young age, are so deeply ingrained they seem completely natural — even instinctual — to me.
If you had to describe your shop to someone who hasn't seen it, how would you describe it? How has the store evolved over the years?
I would describe it as a place to find capsule wardrobe investment pieces. Folk's style is modern, with minimalist designs in a neutral palette. It's a peaceful way to wear clothing for a balanced life. Folk has become more casual over the years, focussing more on elevated basics.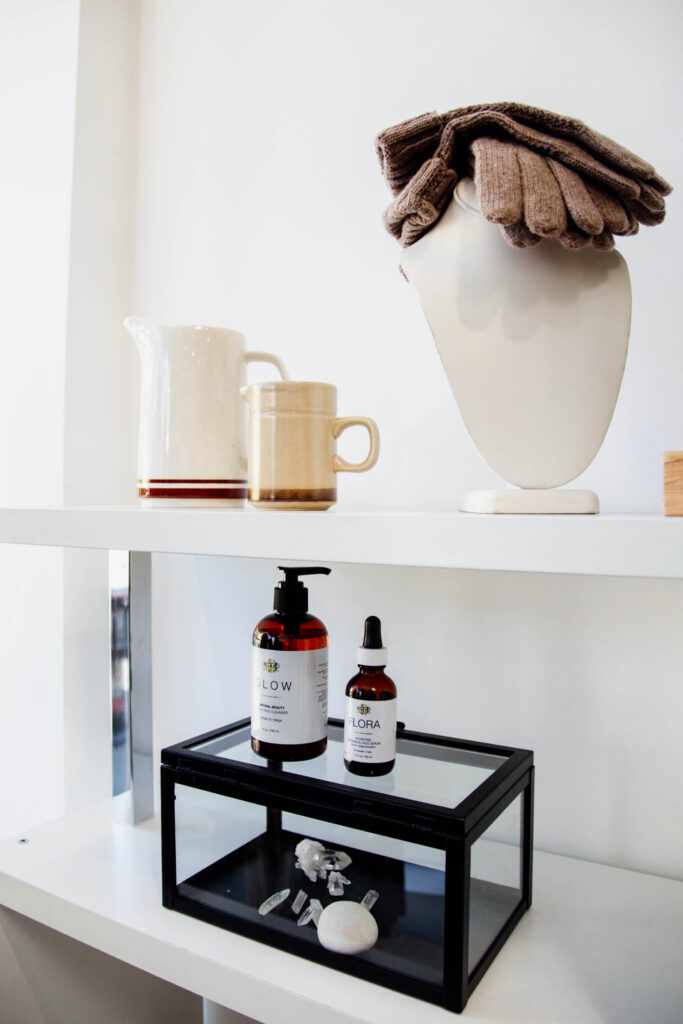 Can you tell us a bit about your personal style and aesthetic? How do the store and the designers you carry fit into that aesthetic?
I prefer natural tones and shades that lend a sense of peace to my lifestyle. Whites, creams, and greys with black accents and clean lines are my go-to. I choose designers that emulate this aesthetic. Natural fabrics are preferable, also super-soft fabrics that feel so good next to your skin when you wear them; how the piece fits is also key. I like the less formal look of an oversized jumpsuit paired with woven slides, all in a creamy monochromatic grey.
I'm also very aware of how/where the garments are made. I've met and have relationships with the people who are creating the styles I carry — they are mostly independent, unknown designers. I like to shy away from big labels.
Inspiration is all around us. What or who inspires you?
The divine feminine is my inspiration. Living gently with compassion and care for yourself and others. Nature, the textures of the clouds in the sky, the way the light reflects off of water, the colours of beach pebbles and driftwood. When people come into my shop, I want them to feel that Folk and their experience here is like that of a sanctuary. A room full of light, beauty and peace.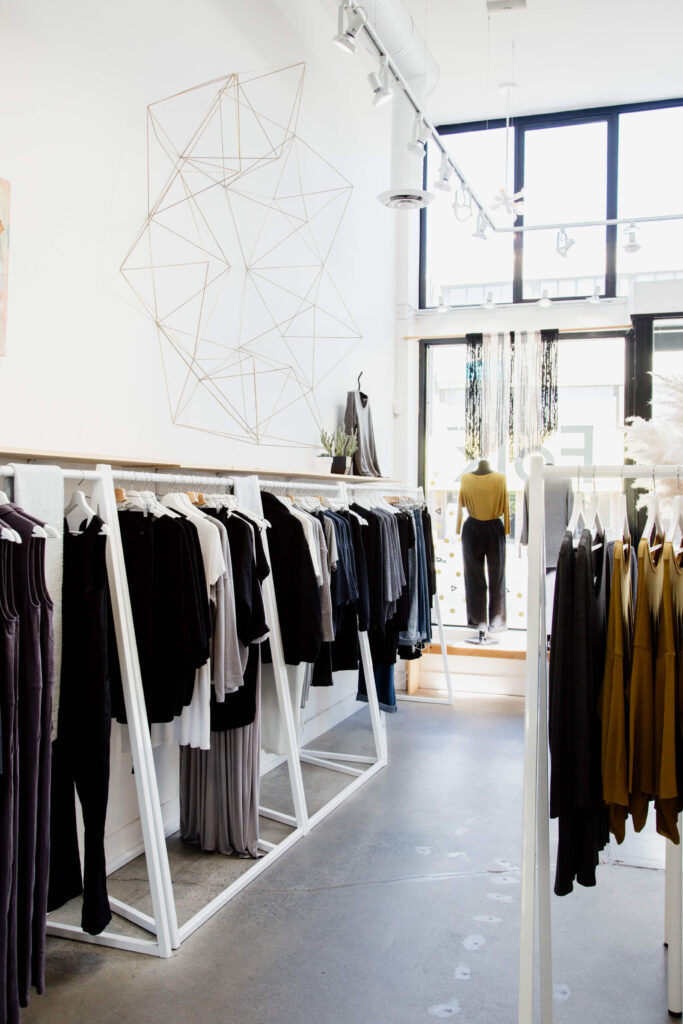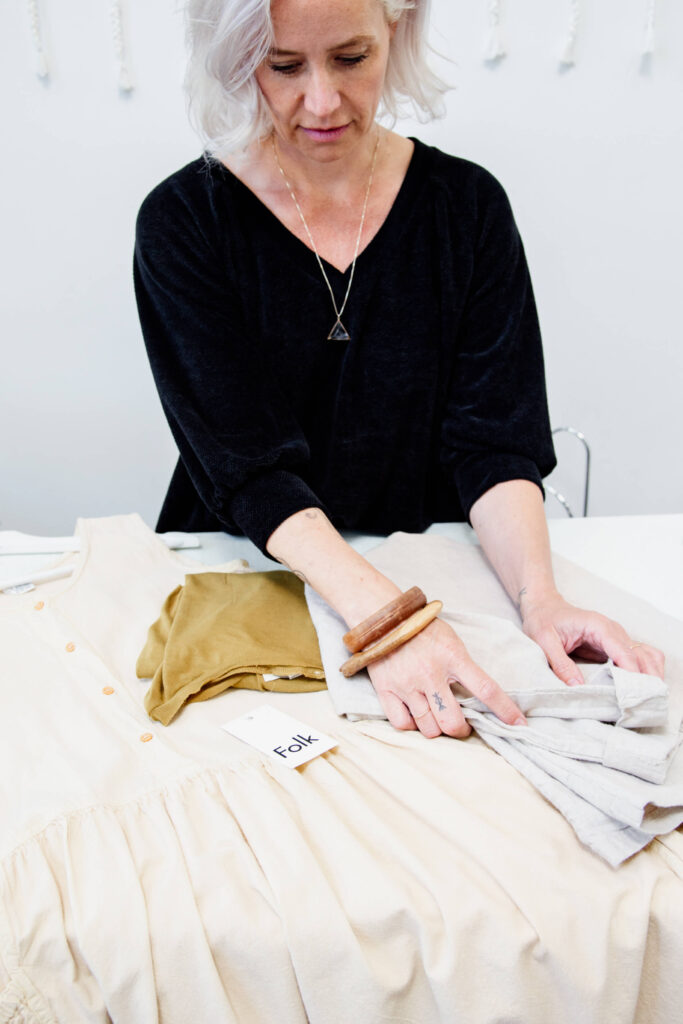 Each season represents new trends and new products. How do you evaluate what is working and what isn't? What guides you in your choices?
I formulated Folk to not follow trends per se, but to be an evolution of itself in which each season builds upon the one before. Every year I bring in pieces that will compliment previous years. The goal is to build a comprehensive cohesive style paired with a thoughtfully curated shopping experience.
Where and how do you source your designers and products you carry in your store?
I order from a shopping hub that my family has used for decades. We have built a good rapport with the manufacturers over the years. I don't order quarterly with the seasons, but when I feel inspired or that it's time to intuitively add to the inventory.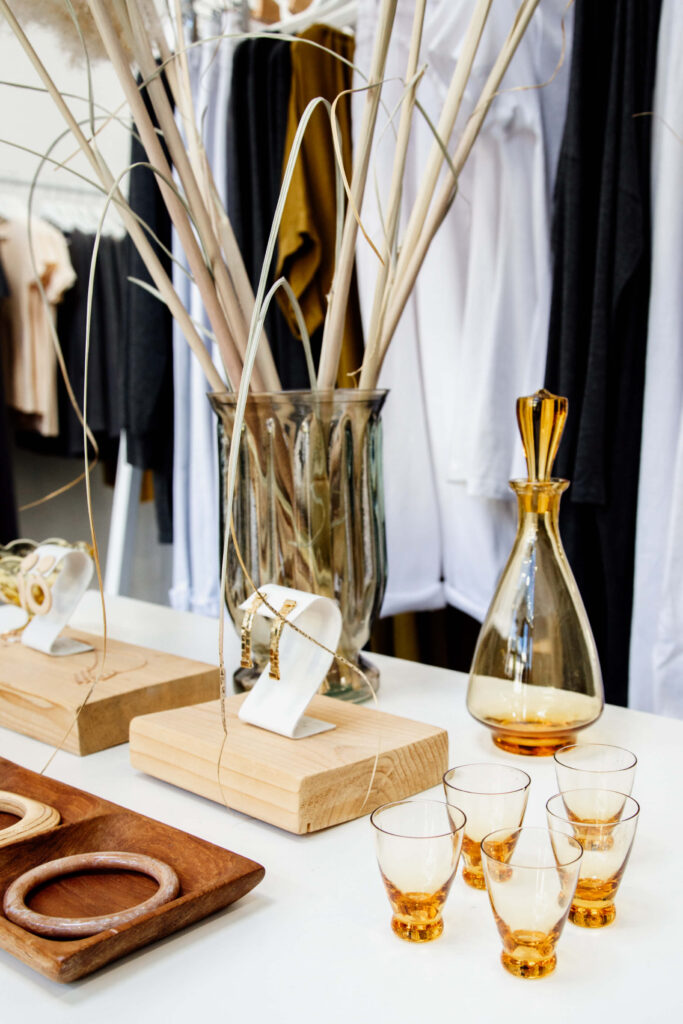 How has the internet and online shopping impacted your business? You recently opened an online store. Can you tell us a little about that?

I think the concept of online shopping is fantastic for convenience, but nothing beats the experience of community and connection that shopping at a brick-and-mortar provides. I like the challenge of staying connected with my Folk community online, but I miss the face-to-face interactions, as they can be really transformative for both parties. I learn how I can serve my customers better and they learn about curating and expressing their personal styles. I really enjoy listening to what they want/need and assisting with that. Texting and emails can sometimes be impersonal, so I have been offering video chats for personal online shopping experience and am trying to be available for personal messages as much as I can. As someone who usually avoids her phone, I sure am on it a lot more now!
What are some of the hardest lessons you've had starting your business? How have you overcome them?
For me, it's that you can't please everyone … and to focus on the people who see and understand your vision.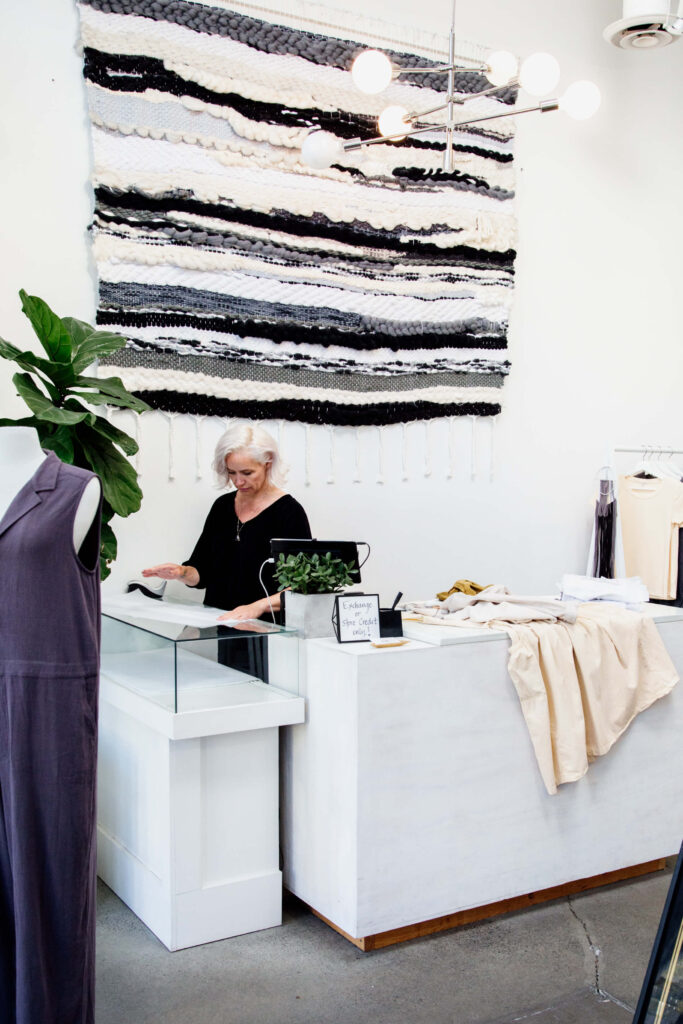 What advice would you give to someone wanting to open up a shop? What advice would you give to your younger self?
My advice to someone opening up a shop would be to keep it simple. Have one concept and do it well. To myself? It's ok to say "no" and you don't have to be liked by everyone. Find your community, it's everything.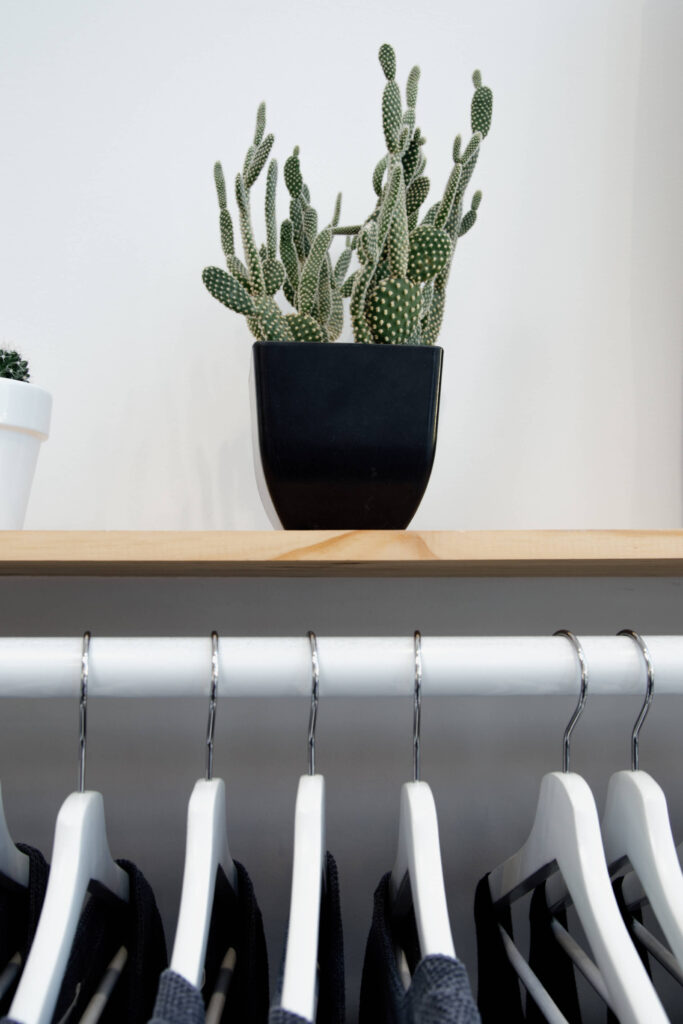 Where are you finding strength these days to manage your business and make decisions?
It's all been hard … but that's where the growth lies, in the discomfort of change. I'm quite curious as to how this will all work out. I think a lot of people are discovering new parts of themselves and their worlds with this forced quiet time. I've discovered new yoga/breath work practices so that's been helpful to manage the anxiety that inevitably rises in situations where you don't have a lot of control. I'm finding strength in my Folk community and my family. I'm finding inspiration in the small businesses that are rising together to help our less fortunate.
We are being told to let go of a lot right now and adapt – it's overwhelming and we're all trying to cope as best as we can. What's been working for you?
A good cure for the blues is redirecting that energy into trying to make other people's lives better.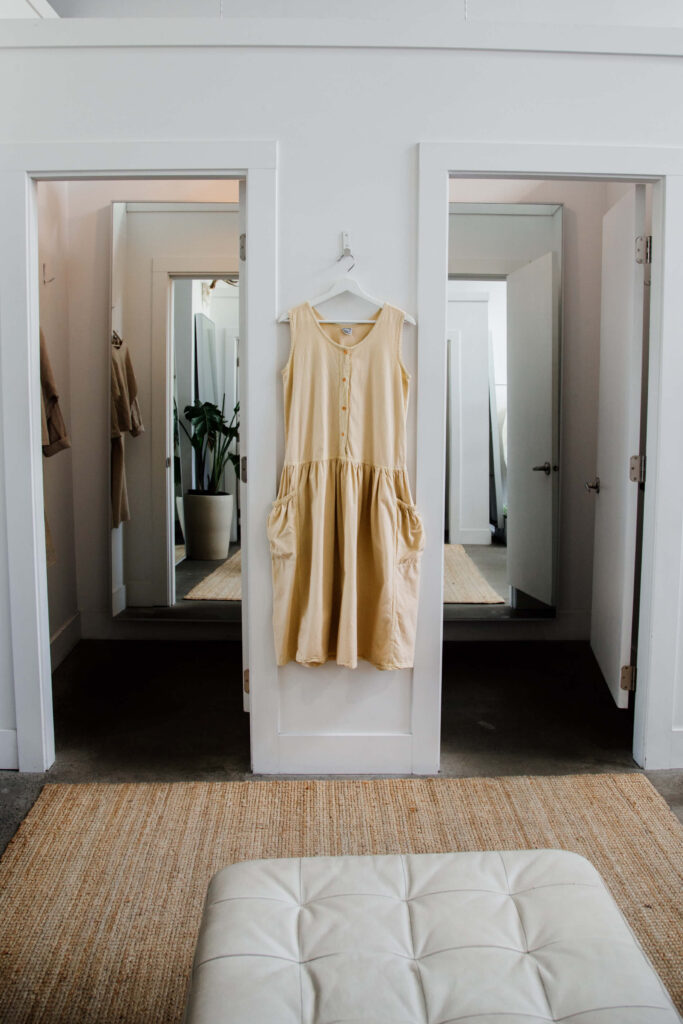 As we navigate our new reality, what advice would you give to your fellow shop owners on what keeps you moving forward? Any helpful tips?
Staying in touch is the number one necessity during this time — do not isolate yourself. Community is key. Community is what heals and carries us.
If you were looking back to this moment in time, what do you hope to gain in personal and business growth?
I feel positive and open to the inevitable change that living brings. Letting go of what you want brings you what you need.
A ton of time and energy goes into running a small business. We are so impressed how you balance work and life. As a single mom with 5 kids, how do you separate your work and personal lives? Any advice you would give us?
Oh wow! Thank you. What a lovely compliment. The key is that I do what I love. I've made a career out of my talent and it doesn't feel like work a lot of the time. It feels easy and natural. Also, I integrate my family with my passions and Folk. I'm doing what my mom has taught me: to lead by example, to pass on the joy of living your purpose, and to instill a good work ethic, drive, and ambition along the way. The kids love being involved in Mom's work, contributing to the family while building some great self-esteem. Sure, some things take longer to complete, but it's worth it!