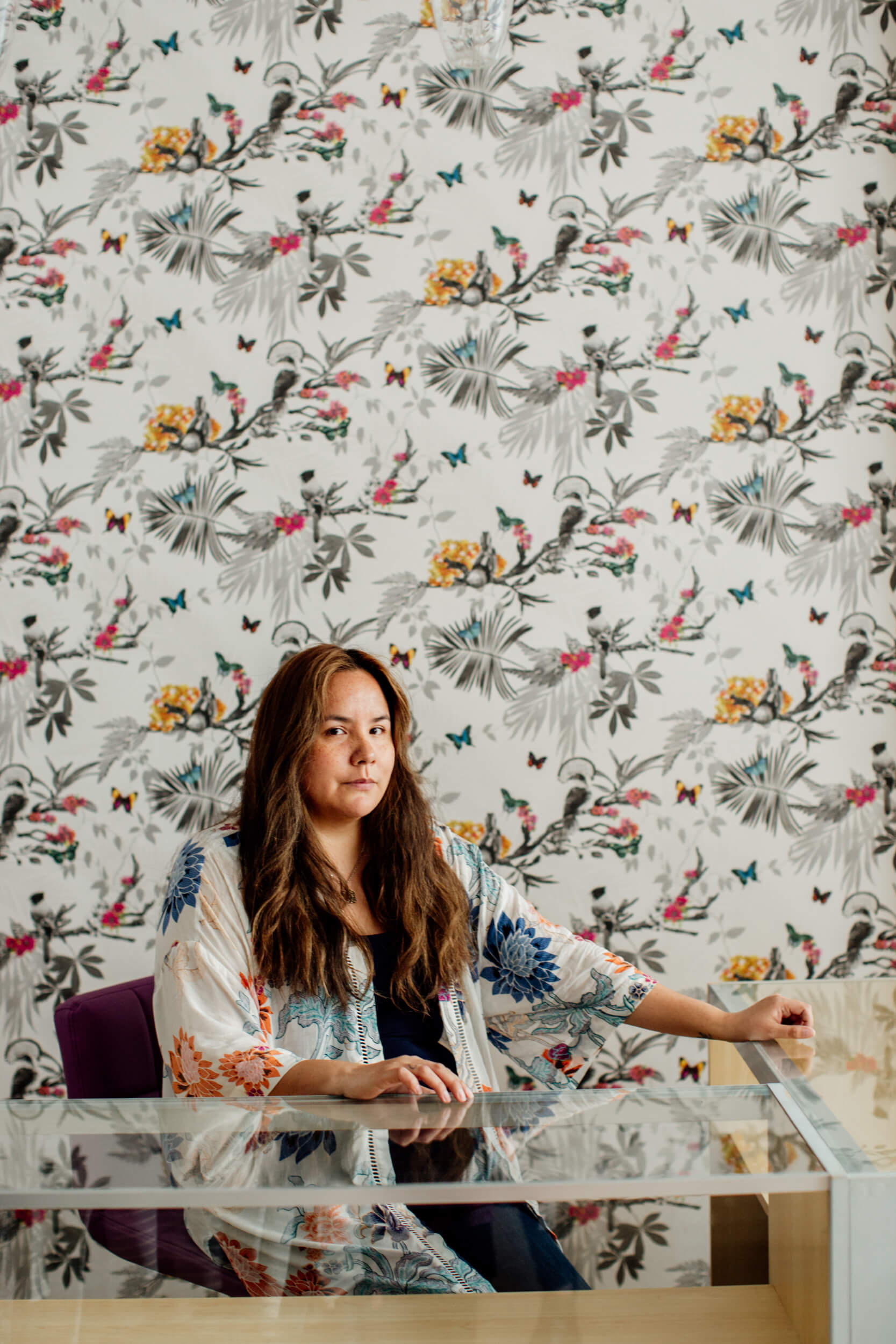 In Conversation with Lili // The Dancing Lily
Name: Lili Butterfield
Shop: The Dancing Lily
Address: 547 Johnson St, Victoria, Canada
Instagram: @thedancinglily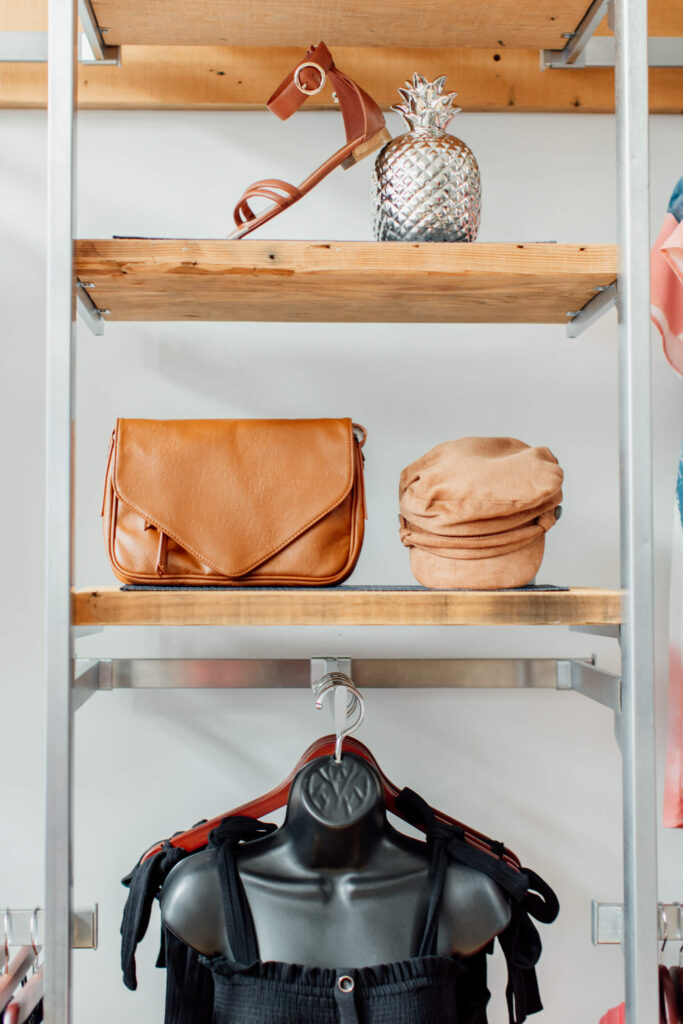 What is Dancing Lily? Tell us a little about your store name.
My mother, Pam Butterfield, owned a boutique in Powell River, B.C., called Dancing Lily. I grew up dancing ballet, jazz, tap, and hip hop. Inspired by English fairy stories and me, her dancing Lili, my mom named her shop after a fairy she created. When we moved to Victoria in 2001, she closed her shop. After we moved, I frequently suggested that we reopen. In 2016, I decided to open The Dancing Lily (The DL) in Victoria. My mom is my hero and watching her as an entrepreneur is the reason I had the confidence to open my own business.
The Dancing Lily might have been named after me in the beginning, but I wouldn't have been able to dance in the first place without my mom's businesses. She is the best teacher I've ever had and she's the reason I am who I am. I think the store's name is a love story between a mother and her daughter.
Can you tell us about your background?
I decided to go to college and study psychology, but I left before finishing enough courses required for a degree. I love hands-on work and working in customer service. In Victoria, I started working in the restaurant industry. I was hired as a hostess at The Oak Bay Marina Restaurant and worked with Leslie Ellis who was GM at the time. I was taught to become the day service and events manager and later became manager of the Oak Bay Coffee House.
When my time with the restaurant came to an end, I was hired by Le Château as assistant manager and menswear specialist. I worked in Mayfair, Guildford and Millstream. From Le Château, I learned about merchandise, running large teams and working for a big corporation. While working at the Millstream store, I also started work as a hostess at Zambri's restaurant.
After Le Château and Zambri's, I began work as the office manager for a physician and family friend for a year. After that experience I moved back to the retail world, having been hired at Rainbird Boutique in Cook Street Village. Working for Kelsie Tougas at Rainbird was the most rewarding job. Nothing is better than working for a women entrepreneur who loves her business. Kelsie motivated me to open The Dancing Lily.
What made you decide to go back into retail?
After leaving retail for a short while, I realized I love fashion and working with people. I really enjoy daily customer service and being part of a customer's fashion experience. After working as an office manager, I considered going into law as a paralegal but knew I would miss customer interactions and fashion.
If you had to describe your shop to someone who hasn't seen it, how would you describe it?
The Dancing Lily is inspired by West Coast fashion and boutiques. When my mom and I were designing the interior, we were influenced by shops we knew in California, Hawaii, Vancouver, and Victoria. Our clothing comes from all over the world and the shop itself is very bright, cheery and full of love. Our motto is "Love, Kindness and Happy Living." Our fashions are stylish, trendy and comfortable. We want everyone to be able to shop at The Dancing Lily so we bring in clothes that inspire all adults.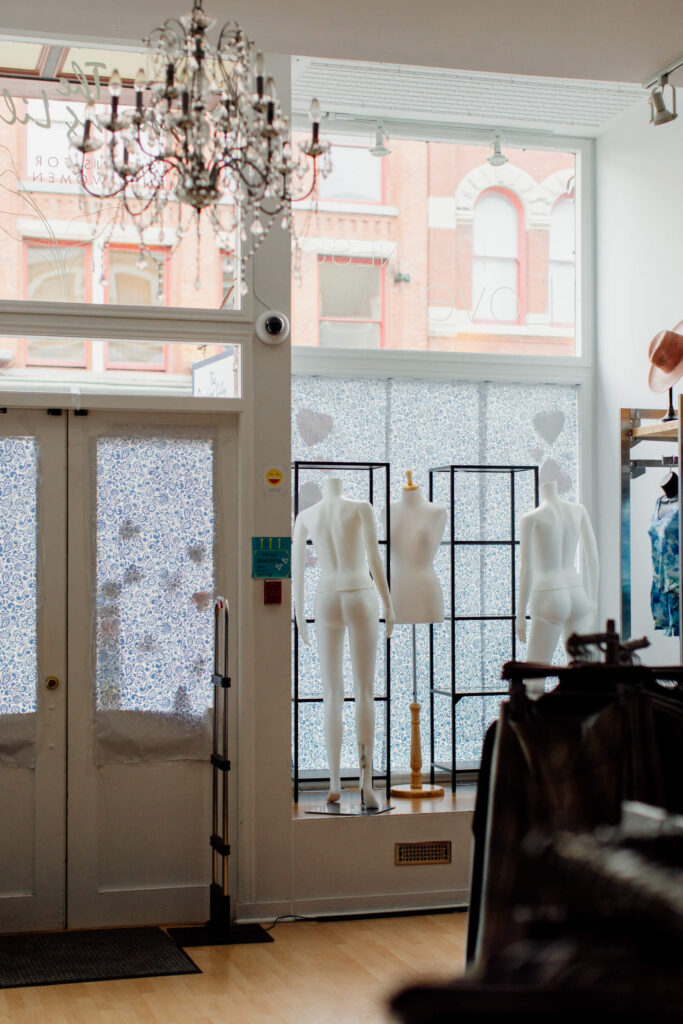 Can you tell us a bit about your personal style and aesthetic?
My personal style changes all the time, but in the last two years I've relaxed into a good pair of jeans, sneakers and t-shirt or sweater. In summer, I'm all about maxi dresses and sandals. I love comfort but it has to be stylish. I usually have my hair up in a bun or pony with an Isla Ida scrunchie. I mostly wear fashions from my shop.
When I wear makeup, it is from BeautyCounter. I have my nails done by Laurie from Lacquer Lounge Nail Bar and my hair is coloured by one of my customers, Dulce. (While in quarantine, I have dyed my own hair pink.) I am keeping my style pretty simple lately — as long as my hair and nails are fresh. Although when life goes back to normal, I suspect my style will change again!
What influences you in your product choices?
I love clothing, make-up and products inspired by love, positivity and joy. Life is a gift and we should all have fun. Safe and environmentally-friendly products are important to me.
Where do you find inspiration? Who or what inspires you?
My entire family inspires me. I was lucky to be a Butterfield. I was adopted by Pam and Alf as a baby and grew up surrounded by entrepreneurs and creators. I always knew I wanted to own a business and be my own boss because of my parents, Uncle David, Aunt Norma and cousin Stewart. My cousin Stewart co-founded Flickr and is now CEO of Slack. His stories about the creation of these two amazing companies are motivating.
I'm stimulated by my friends and other business owners. Victoria is full of amazing people. I remember being yelled at (in a club) by my friend Kyla saying, "I'm opening up a business — do you want to come?" I said yes, but had no idea what I said yes to until I showed up at a little Lower Johnson (LoJo) boutique where Kyla had rented space — now we have Foxy Box.
Always say yes to your friends when they open up a business. Support them from the beginning because you will give them strength during the hard times and you will make amazing friends.
From Kyla at Foxy Box, I was able to meet Khloe who owns Amelia Lee and Laurie who owns Lacquer Lounge Nail Bar. These are kick-ass Victoria women who own their businesses.
When I was working at Rainbird Boutique with Kelsie Tougas, I was introduced to Patrick from Citizen, and when I opened up The DL we became neighbours. I ask him for advice and run to him if I need help. Watching and learning from Patrick has been a great gift to me and my shop.
I'm lucky to work on Lower Johnson projects with Shellie from Il Terrazzo, Tara from Baggins, Alison from Downtown Victoria Business Association, and Janet and Melanie from Market Square. LoJo in its entirety comes together when planning for community projects.
Across the street from The DL is Still Life, opened in 1984 and run by Kim and Matt. Up the street is Baggins which opened in 1969. Around the corner, we have Hughes which opened up in 1985, and Kaboodles that just celebrated 30 years. There are so many success stories from our neighbourhood and they truly keep me going.
I'm inspired by Victoria, the people in it and my family. We live in a beautiful city full of wonderful folks.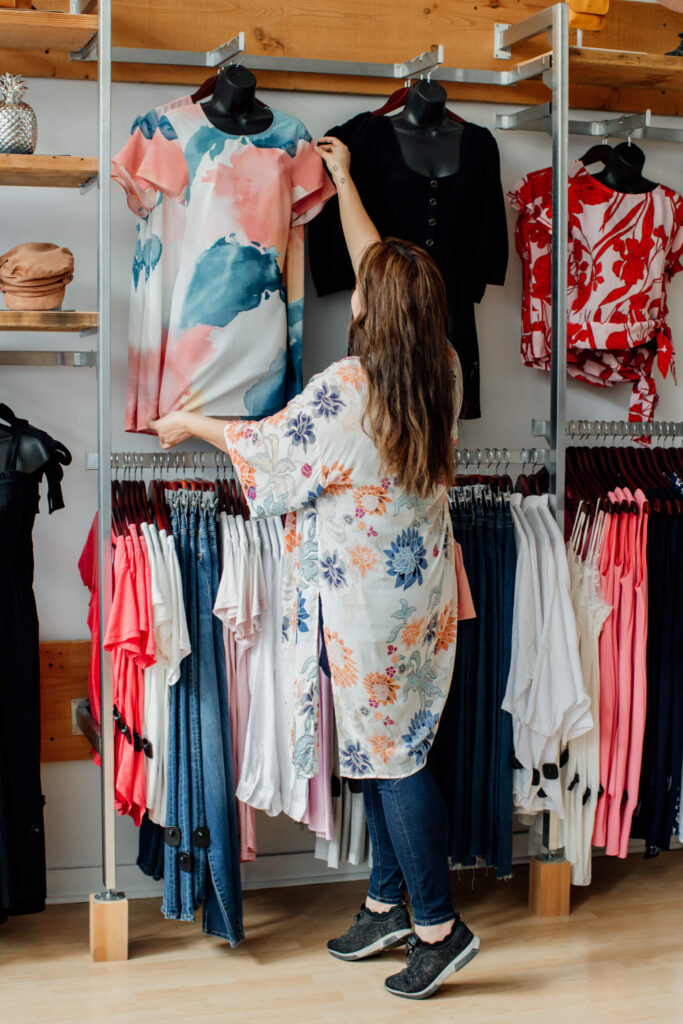 Each season represents new trends and new products. How do you evaluate what is working and what isn't? What guides you in your choices?
When we go buying for the shop (usually my mom and me, but sometimes joined by Jodi Byrans), we like to ask our distributors what the best sellers are and we listen to their advice. Distributors are the first ones to work with the product and they really know what's trendy and what's not working. I sometimes try trends that don't work out but that's ok. I may reintroduce them again the following season. When buying, I like having another person from my side of the business and get their opinion.
If a brand isn't working for you, it's ok to say goodbye to it. I feel guilty leaving a brand because I love loyalty, but if it's not selling, it's not good for business.
I love beautiful clothes. I'm in awe of fashion and I love picking clothing that will bring joy to people — as it does for me. People ask me if I like shopping and the answer is a big "YES."
Where and how do you source your designers and products you carry in your store?
We shop in Vancouver during the Metro Show and Know Show which makes it really easy to find new lines and products. When I first started, I would reach out to brands that worked with my mom or Kelsie. For example, at Rainbird we sold Z-Supply so I knew and loved the product. I reached out to the girls who rep them and from there we now sell KUT From The Kloth, Z-Supply and Kara Yoo.
When I'm down in LA or traveling and visiting shops, I take notes on my phone about brands I like and when I'm home, I'll reach out to their reps. When I'm shopping personally, I am always looking at merchandise and how it is being presented. I find inspiration for the shop everywhere I go.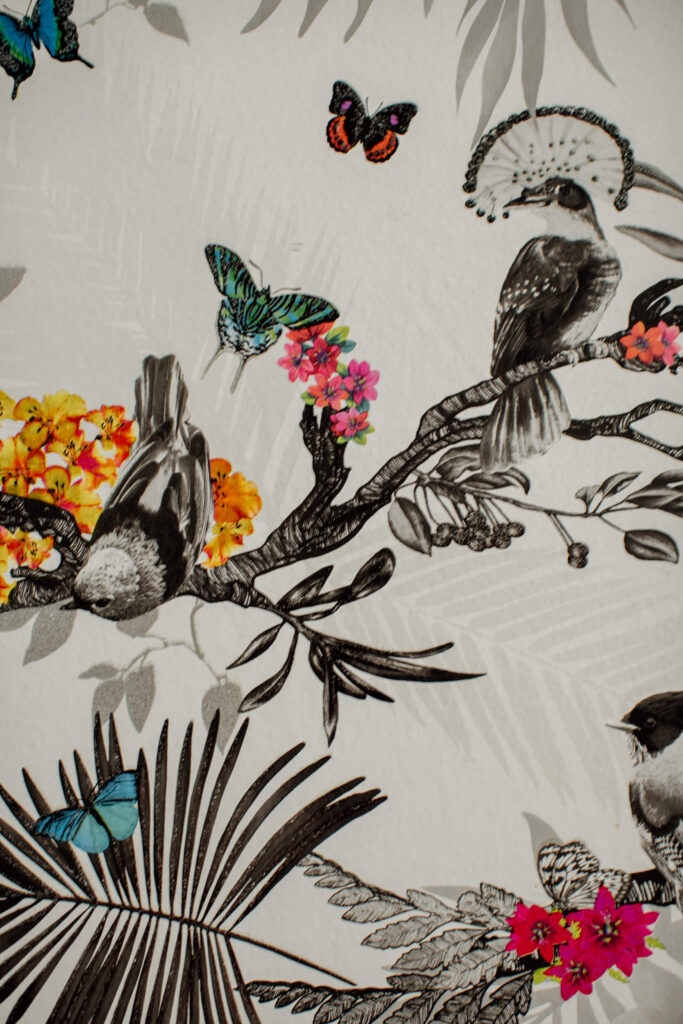 How has the internet and online shopping impacted your business?
Since The Dancing Lily opened in 2016, online shopping has always been a competitor and many huge companies have gone straight to online which is scary for the little guys, but I love boutique shopping so much and I think our market is unique. Some of the brands I work with have boutique-only lines which makes shopping at The DL a special experience.
Any plans on going online?
The Dancing Lily is not online yet, but we are talking about what it could look like, how it will be run and what we want from going online. I'm encouraged by the many boutiques who have opened online shops and I hope soon we will be one of them.
Personally I'm not a big online shopper, but I know the market is there so it would be a new adventure getting The Dancing Lily online. I'm always up for new adventures.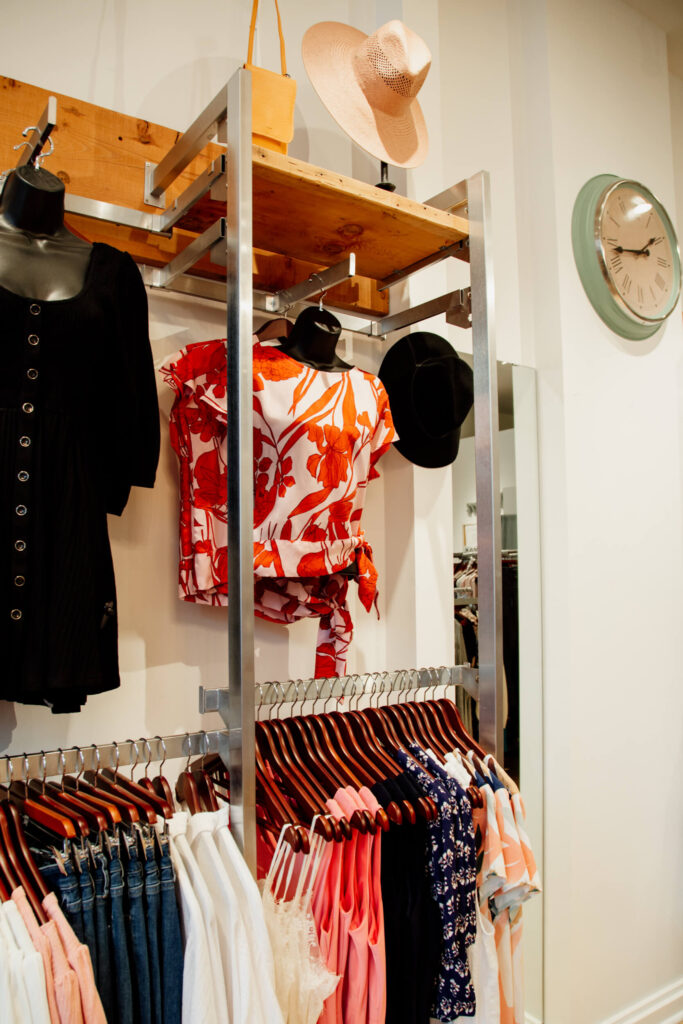 Starting a business can be challenging. What are some of the hardest lessons you've had starting your business? How have you overcome them?
I had a problem with over-buying and that's costly. In the last year, I've tightened our budget and learned to be strict about what we spend on inventory.
Balancing trying to grow and evolve is so hard but it's important to step back and ask yourself what's important, what brands are helping with sales and which ones are not, when to bring in a new brand or not. I'm still trying to figure this out, but I'm getting better with every new season.
In the last couple of years I've allowed stress into my life and I can tell my body isn't handling things as well as it used to. I've had panic attacks which are new to my life (I recommend acupuncture). Mental health is critically important.
I believe in being super vocal. I communicate a lot to my partner, friends and family every day. Ask my mom! She gets my calls (sometimes ten times a day). If you have something bad happen — someone steals from you or you've had an upset customer — just shut the door, grab a coffee or tea, and go for a walk around the block. Talk to your neighbours or call family. Little breaks help a lot. I'm still learning how to balance it all.
What advice would you give to someone wanting to open up a shop? Any tips?
First of all for anyone wanting to make a change or start a new business, don't wait until it's perfect. Don't put it off because you want it to run smoothly. There will be lots of ups and many downs, but jump in when you have a solid plan and it's ready to go.
Find a good support system for yourself both personally and in your business.
Celebrate all the good things as they come. There will be so many fun milestones.
Listen to advice given from people in your field. Soak everything up. Create a business from your own experience and others.
Don't let good staff go without every effort to keep them on. Do everything to keep them happy and supported.
You might be working 24/7 but make sure you take some time off for yourself. It is essential to have staff who can run the business without you. Invest in their training.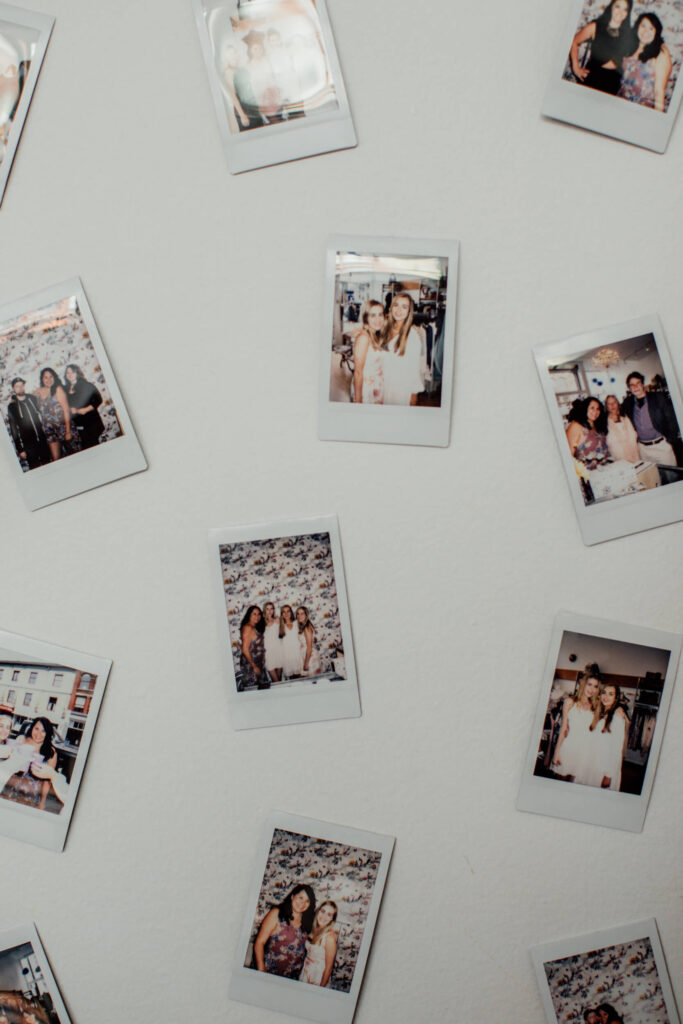 Have you made any hard decisions to get you through this difficult time? Can you share some of those decisions? Where are you finding strength these days to make decisions?
Closing the shop for Covid-19 was hard but overall the right choice. Not jumping online has been a good choice mentally but it's difficult because we do not have any cash flow from sales and I hate not selling clothing.
I love work. At times in my life I worked three jobs with one day off. Now I work at my shop five to seven days a week. I want to get back to work, but I'm using this Covid-19 time to become stronger and healthier.
My brother has been seriously ill and in hospital (not Covid-19 related) and I haven't been able to go see him. It is terribly hard to not be supportive in a physical way.
I've stepped away from running our social media at this time while I focus on my brother's health. I love social media but I find it demanding to keep up with it regularly. I'm always afraid I'm not doing enough to show up for my customers but right now I know I need to be on social media less. I will make sure to get back to it regularly.
We are being told to let go of a lot right now and adapt – it's overwhelming and we're all trying to cope as best as we can. How are you coping? What's been working for you?
Wow. Where do I start?
The first week when I realized I had to shut down my shop, which is my life, I had panic attacks. We officially closed on March 17 but we had been talking about it over the weekend before. My first thought was "I'm going to lose the greatest love of my life," but then, on March 20, I said to myself, "It's going to be OK and the shop will make it." I decided to live without panic. Since that decision, I have felt different physically. The fear in my body went away and I could relax.
To actually get there, however, I went through challenging stages that many people have likely experienced during these demanding times. For two and a half weeks, I couldn't sleep properly. I was staying up until 3:00 or 6:00am and then waking up from 10:00am until 5:00pm. One night I had two hours of sleep. So I reached out on social media for tips and to talk about it with others.
For figuring out my sleep schedule, I've started taking magnesium, eating dinner early, and I have melatonin just in case I need it. It has helped that my partner goes to bed at the same time I do.
Once I was able to get a grip on my sleep habits, I turned to fitness. I slept better, woke early and went on walks after breakfast. I'm lucky to live near the Galloping Goose outside of town, and my goal is to regularly walk ten thousand steps a day. I did a week straight of these walks but have recently fallen off a bit.
Different projects or hobbies help too. I like baking, acting and dance. I've signed up with Raino Dance for their program StormDancer. I've also been doing some voice acting on HITRECORD founded by Joseph Gordon-Levitt.
It's been good to have the time to work on my interests. I believe that once we reopen I will maintain equilibrium.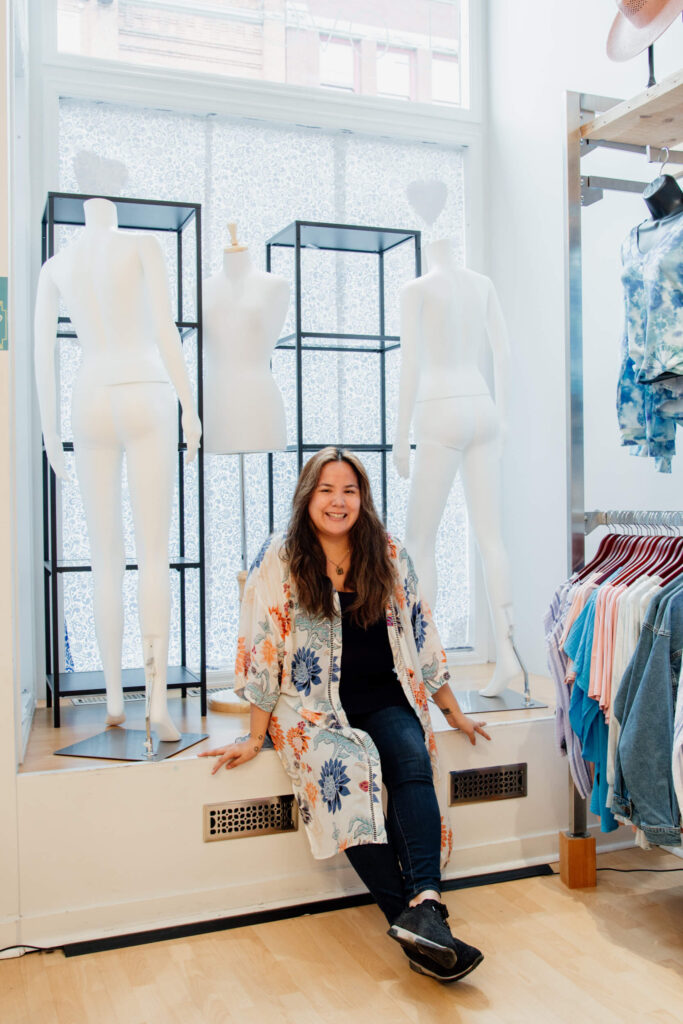 As we navigate our new reality, what advice would you give to your fellow shop owners on what keeps you moving forward? Any helpful tips?
The best thing for me as a business owner is knowing we are in this together. We have a wonderful community of talented shop owners and we will use this time to support each other and further all of our businesses. This is a time to enjoy your family, your passions, and yourself. It's a good time to reset and refuel our lives.
If you were looking back to this moment in time, what do you hope to gain in personal and/or business growth?
I will return to business having found a better balance of health and wellness in my daily life.
I want my business to expand. It has always been my dream to open several businesses, and I think this is a good time to figure out how to do it and what's working and not working. I am using this time to recharge my passion for life.
What three words best describe how you're feeling today?
Happy, inspired and relaxed.