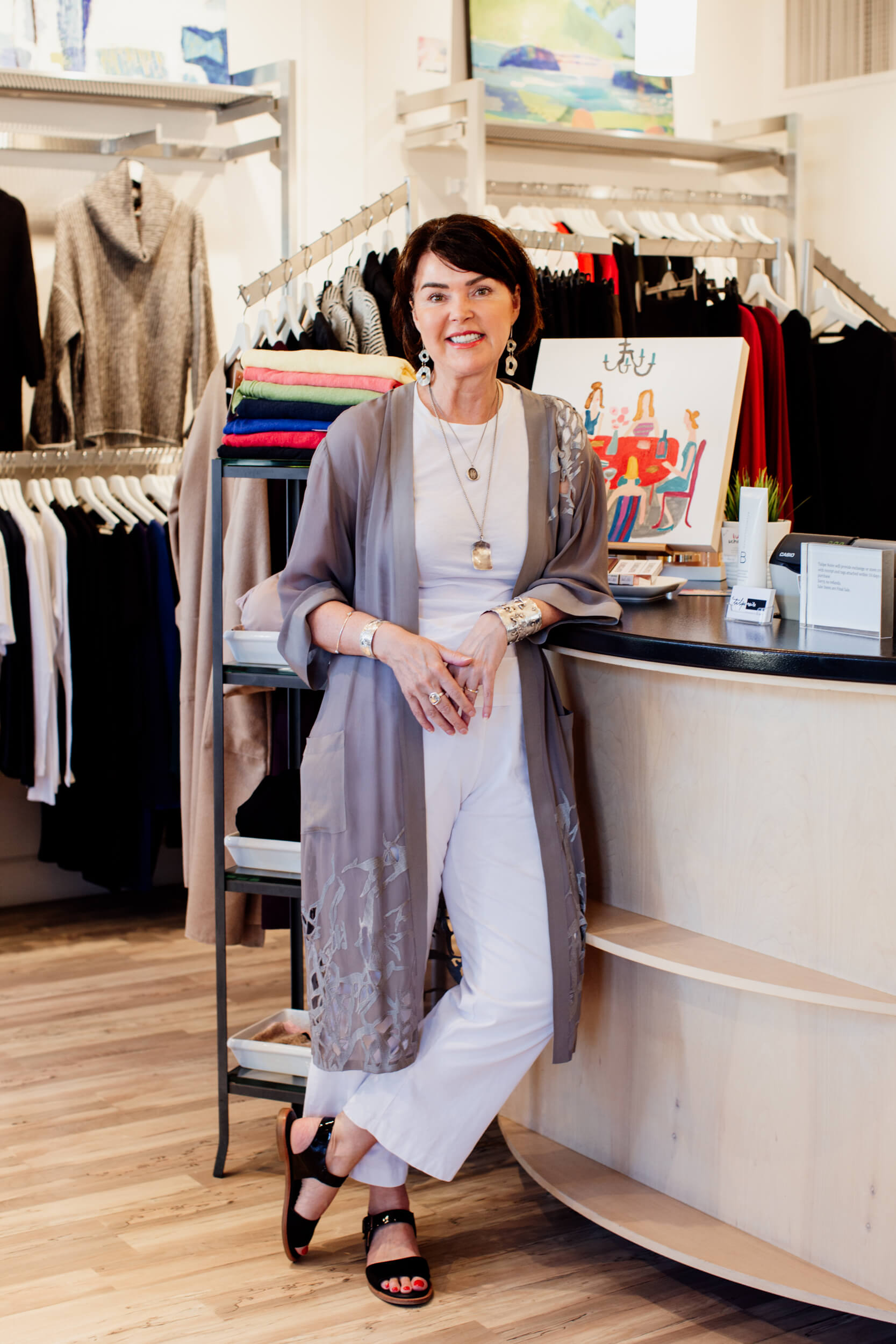 In Conversation with Kari // Tulipe Noire Clothing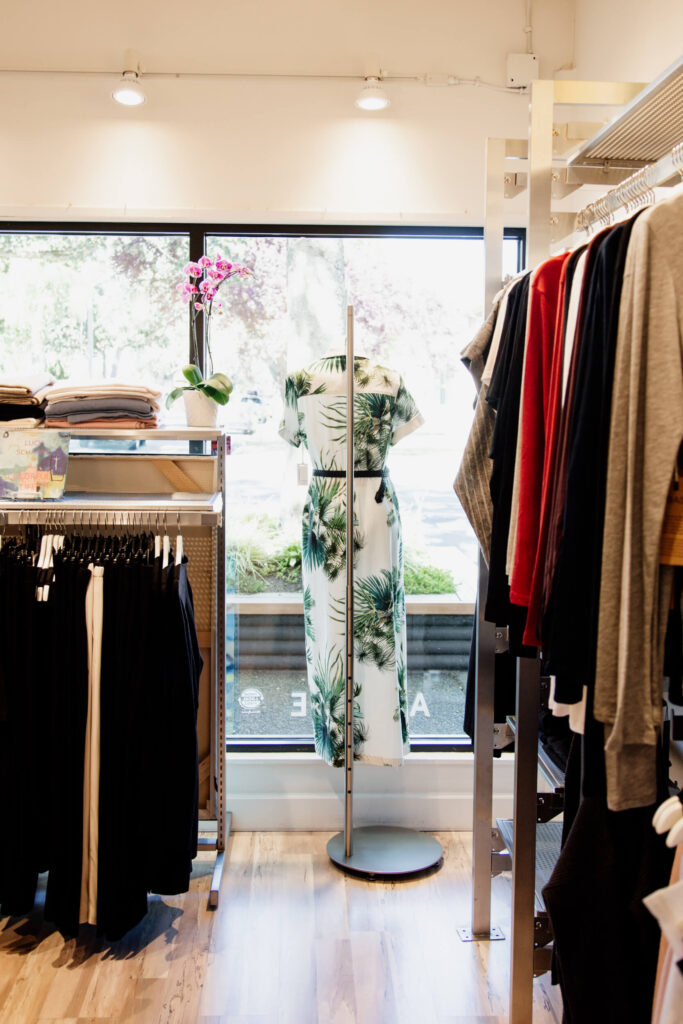 What is Tulipe Noire? 
Tulipe Noire is a lifestyle clothing store located in the South Jubilee suburb of Victoria, B.C.
We know you have a background in social work. Can you tell us more about that? Did you have any retail experience before opening your shop? What made you decide to open a clothing and fashion boutique? 
I have a Masters Degree in Social Work, specializing in group and family therapy. I had a long career in medical social work working at a number of hospitals in both Montreal and Victoria. I grew up in retail. My grandfather opened a retail business in downtown Victoria in 1947. His business, Cowichan Trading, is still owned by our family and continues to be in operation to this day. I decided to open a retail store because I wanted the challenge of creating a unique environment for women of all ages and sizes. I wanted the challenge to be my own boss and create employment opportunities for others. I also wanted to nurture my creative side and to fulfill goals as a community fundraiser and philanthropist. Thankfully, I have achieved these goals and I continue to combine both social work and business. I am also proud to work as an Educator/LIfe Skills Facilitator for the Canadian Mental Health Association.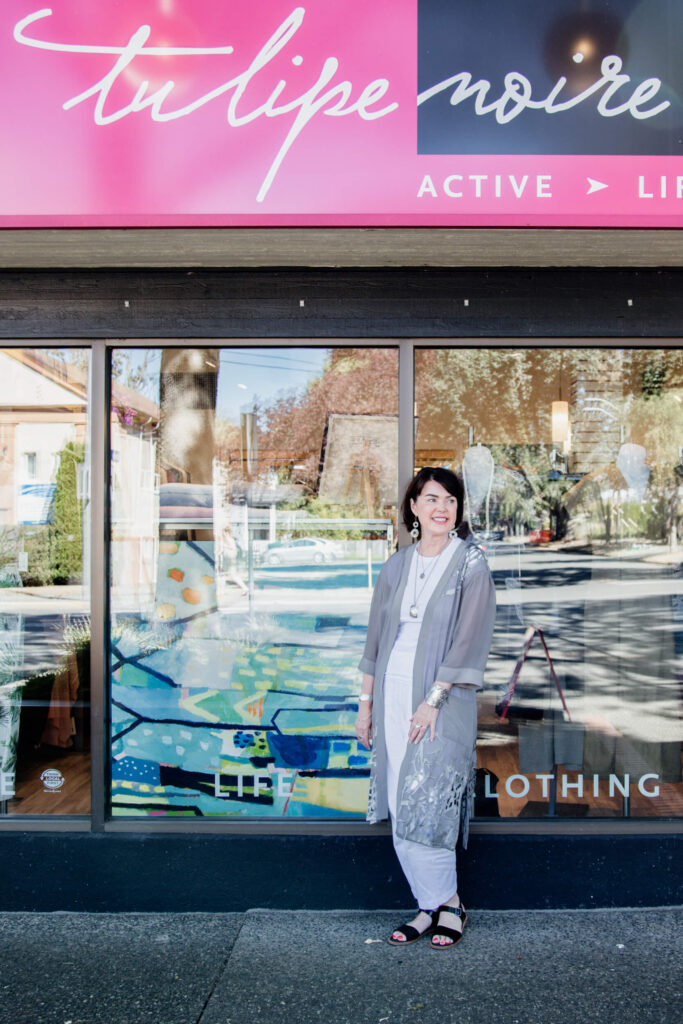 If you had to describe your shop to someone who hasn't seen it, how would you describe it? What makes it unique? 
My store is small and inviting. It is bright and cheerful and my staff are welcoming and kind. We specialize in casual timeless high-quality clothing.
Can you tell us a bit about your personal style and aesthetic? 
My style is classic, timeless and sophisticated. I am not one to follow trends. I only wear natural fibres. Cotton, silk, and cashmere are my favourites. I love artistic original jewelry.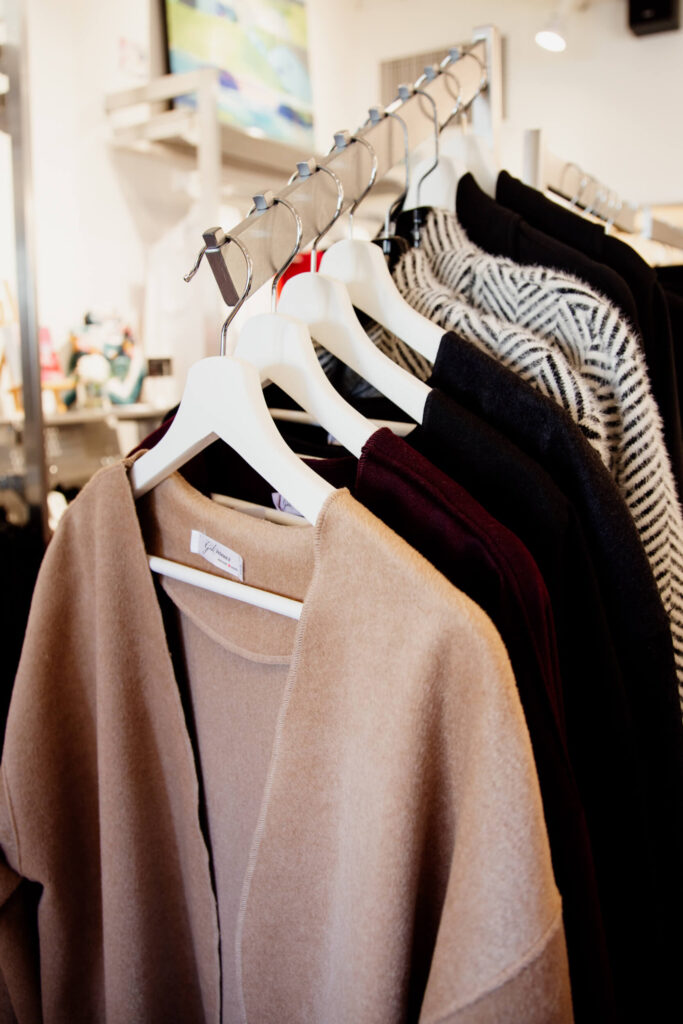 Inspiration is all around us. Can you tell us who or what inspires you? 
I am inspired by music, art and beautiful spaces. I love to decorate and I collect art for my home. Incidentally, I am now selling original art from my store and I have created a home gallery space above my store where I will showcase home decor.
Each season represents new styles, new trends, new products. How do you evaluate what is working and what isn't? What guides you in your choices? 
I have a simple formula. When I look at a line or piece of clothing I ask myself, "Will this look great on a woman who is 30 to 80? Will this be wearable for 3-5 years or even longer?" I rarely regret my purchases because they stand the test of quality, style and timelessness.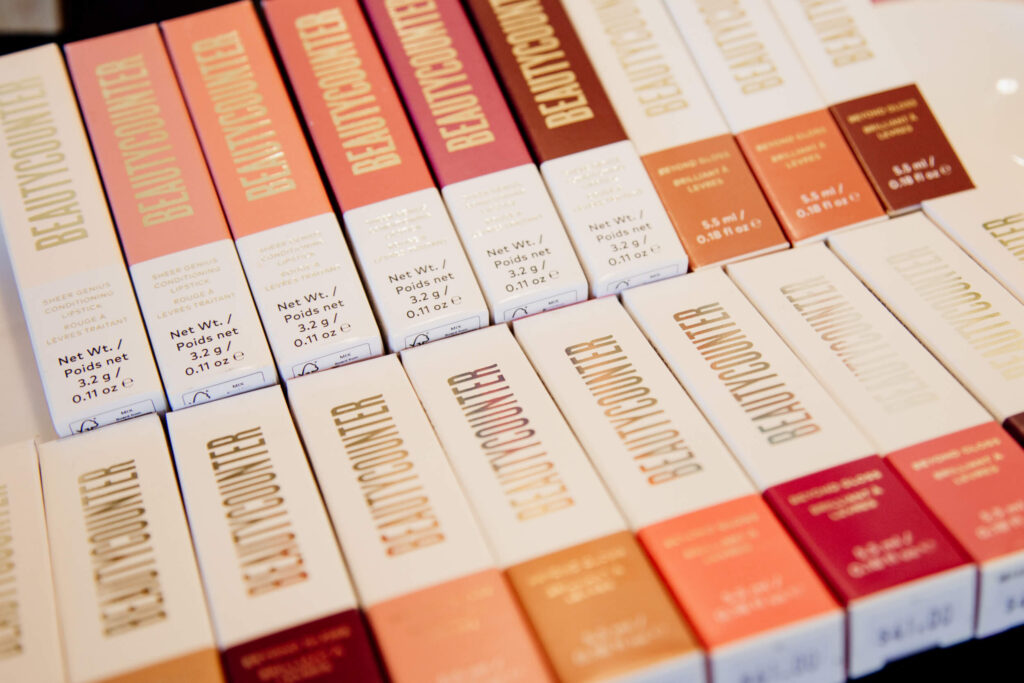 Where and how do you source your new items for your store? 
I look for inspiration for new lines from my agents and also from my customers. I talk regularly with a couple of other retailers who live in other cities in Canada and the USA. We share tips on lines and buying, which is very helpful and fun.
You have some beautiful original artwork around your shop. Can you tell us more about the art and your plans for your next adventure with it? 
I have always been a lover of art. My late mother was an artist and through her I met many wonderful artists and was raised to appreciate the arts in general. I minored in Art History and I have an astute appreciation for how important art is in our culture. I intend to continue to represent artists in my store. I think it adds something very special to the environment and helps the artists themselves.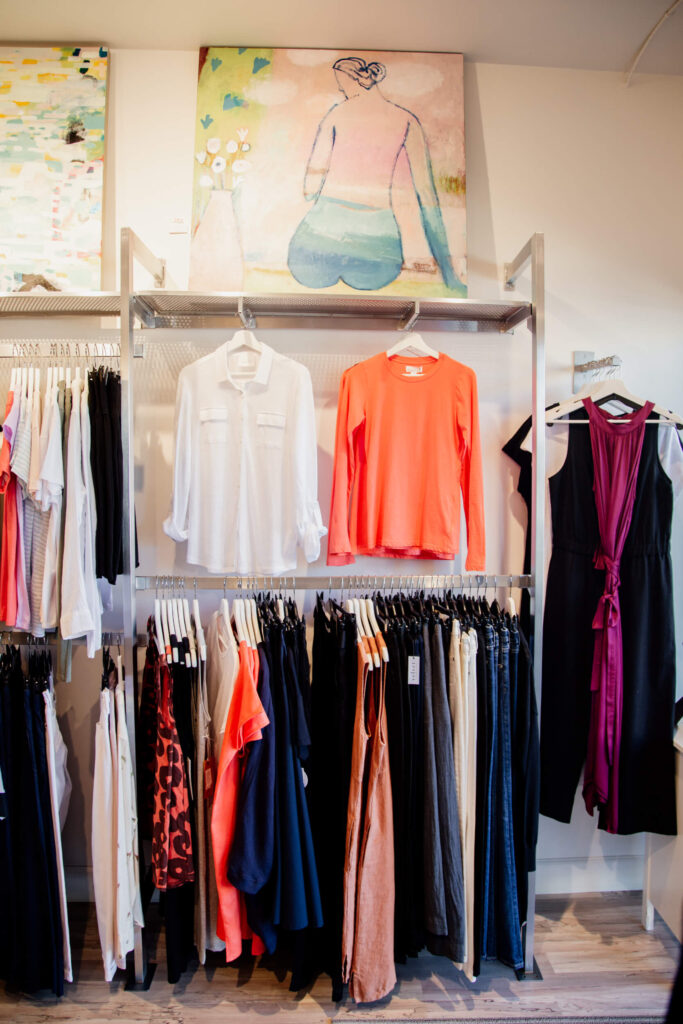 Your family has owned many long-standing businesses right in the downtown core. When you opened your shop, why did you choose a location in Oak Bay instead of your familiar stomping grounds? Do you have any thoughts on the differences between the two locations in terms of owning a small business? 
I was torn between opening downtown or in South Jubilee. I love downtown. I grew up there in our family businesses and I live downtown. I chose the location where I am now because it is close to the Royal Jubilee Hospital where I worked for 10 years. I like that my store is on a two-way street with easy parking. I like that there are residential apartments above and a cosy traditional tea room next door. The location has always felt cosy, comfortable, easy and never intimidating.
What are some of the hardest lessons you've had with your business? How have you overcome them? 
The biggest mistake in any retail business is spending too much. I have learned to say no and to buy less. There are always more things to buy. Having said that, it is a fine balance. My dad has also taught me that "you can't sell apples from an empty cart." Managing overhead and buying right is key to the success of any business.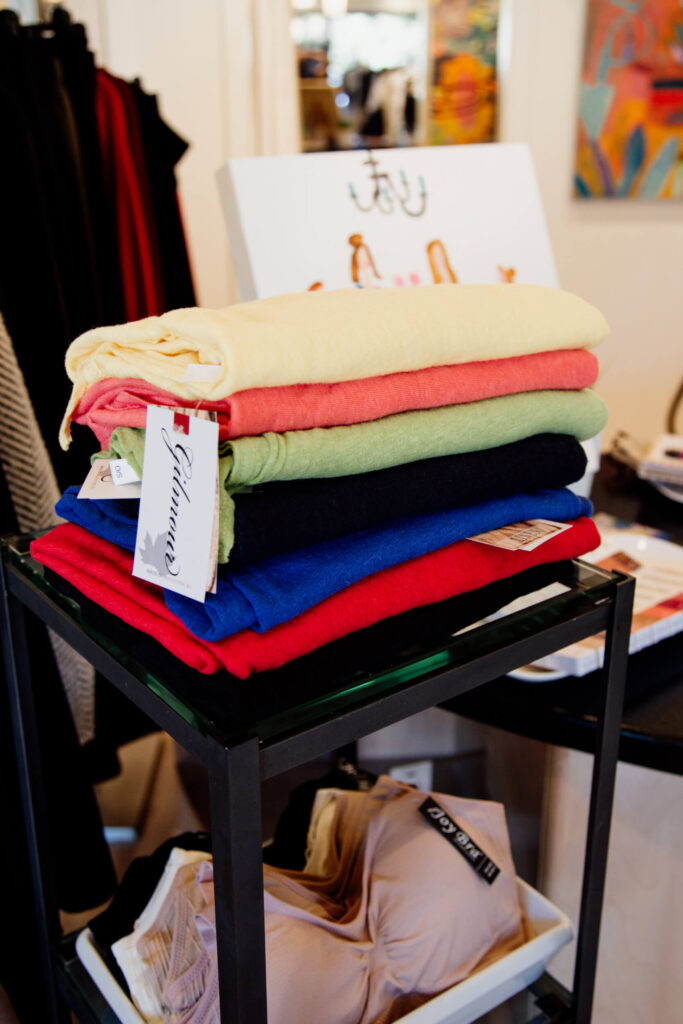 How has the internet and online shopping impacted your business? Do you do business online? If so, what are the major differences for you between your online shop and your brick-and-mortar? 
I opened an online store and tried it for a few months. I realized that it was more work than I wanted to maintain it and it was easier and quicker to sell on my floor than keeping extra stock on hand. It just wasn't for me. Tulipe Noire is definitely more old school in this regard and I am fine with that.
What advice would you give to someone wanting to open up a shop? 
Do your research and be focussed and disciplined. Know your "why" for opening your business and be clear on your business model and your target market. Hire a good bookkeeper. Find a space in a great location with reasonable rent. Be prepared to work the business full-time for 3-5 years. Hire a right-hand person and pay her or him very well. Be an ambassador for one or more charities within your means.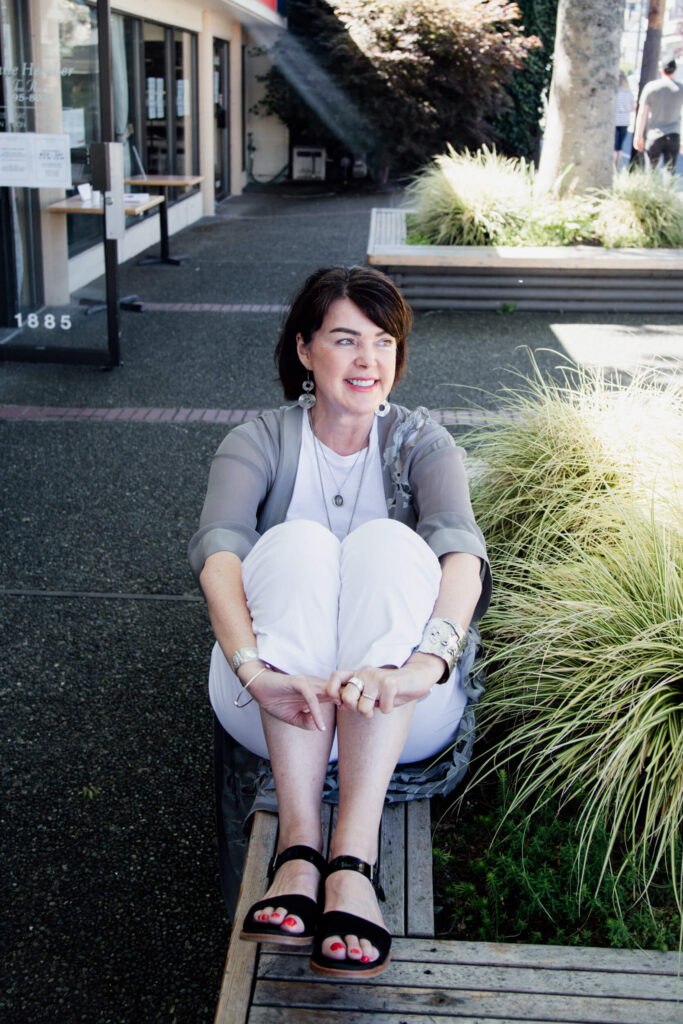 Have you made any hard decisions to get you through the ongoing challenges of COVID? 
To be honest, it's back to business as usual but never taking anything for granted. Never take the eye off the ball. As long as I can pay my bills and my staff — if there's a little left over for me, I am happy.
As you look back on this chapter in our lives, what do you hope to gain in terms of personal and/or business growth? 
I have learned to appreciate my business, my staff and my loyal customers more than ever. I have made a promise to myself to not take anything for granted and to nurture my business more than ever.
Anything else you would like to mention or we forgot to ask you? 
LIfe is short. Business is a vehicle to make a difference. Small independent businesses are the backbone of our economy and I believe we need to collaborate and support each other.