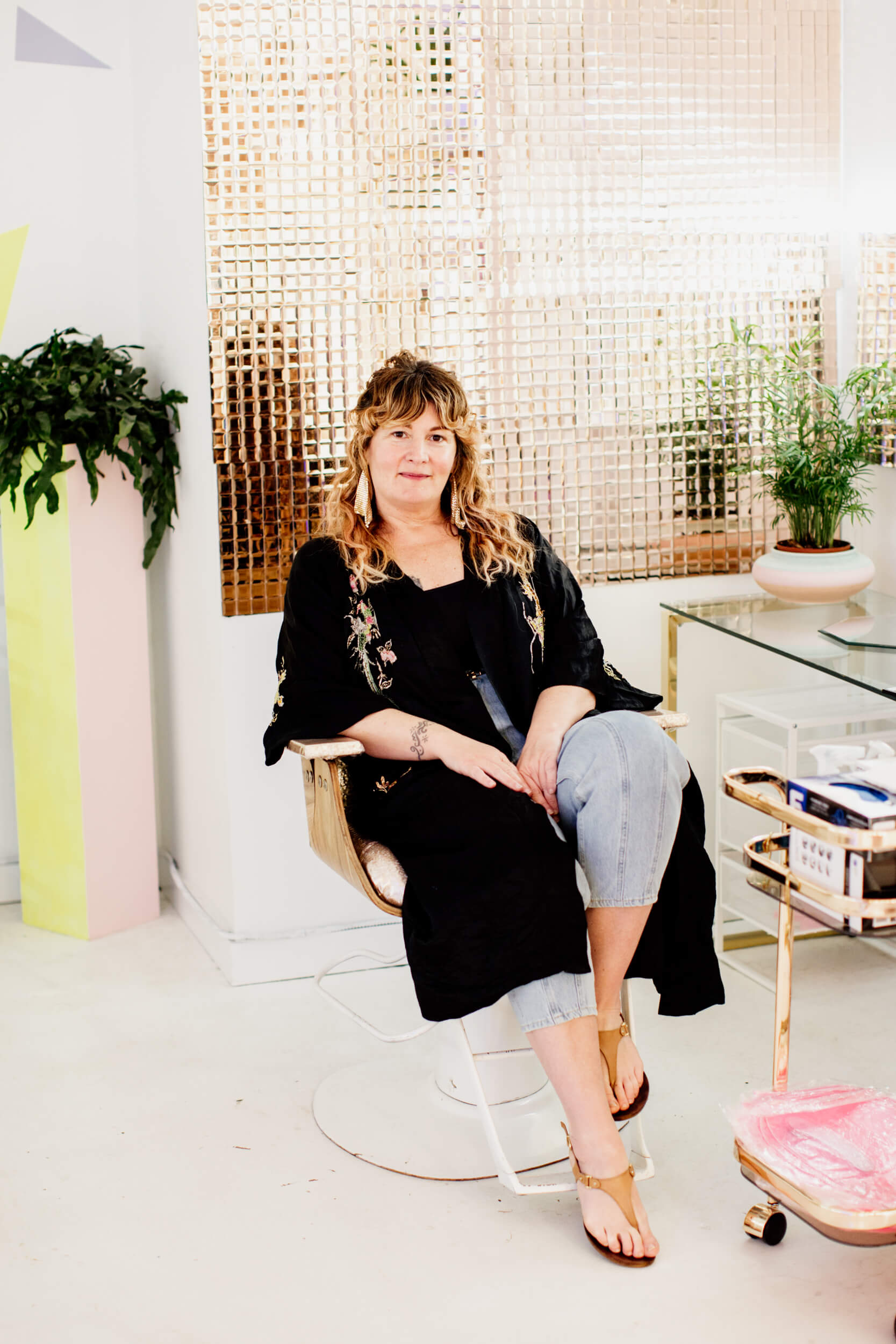 In Conversation with Ila // Barber and Fritz
Name: Ila Angel Marisa Meens
Shop: Barber and Fritz
Address: #108 – 561 Johnson St, Victoria, Canada
Instagram: @bfbeautee & @barberandfritz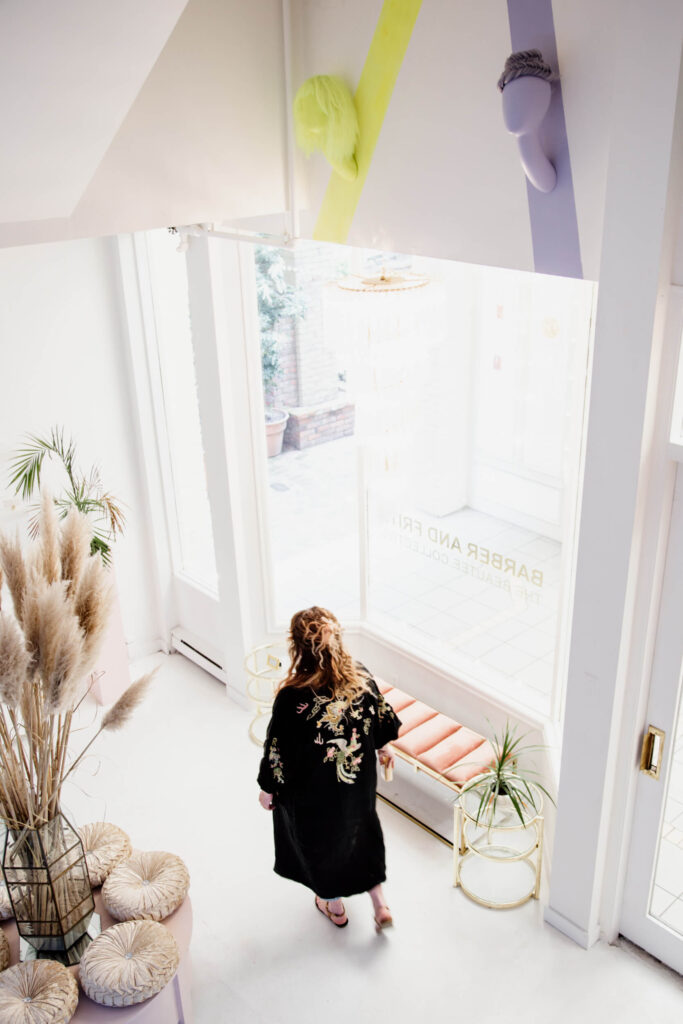 Tell us about Barber and Fritz. How did you decide on your salon name?
You know, it took me a long time to come up with the name — I struggled immensely. I came up with the idea to start Barber and Fritz when I was visiting Manhattan and I was taken with traditional institutions like Dean and DeLuca. When I came home and started working on the line, I had a hard time pulling the trigger on a name. I had made a list of traditional American last names, and two designers I was working with were just so sick of me taking so long to decide on the name that they picked two from the list: Barber and Fritz — done! I've loved the name ever since.
Can you tell us about your background? What made you decide to go into hair styling?
I've always been rebellious and creative — I was a wild teenager! I moved out of my home at a very young age and I knew I needed to find a career that allowed me to be creative, social, was something in the fashion industry and that provided me autonomy. I've always loved cutting hair. I cut my first bob with kitchen scissors when I was nine years old on my little girlfriend and her mom said it was the best haircut she's ever had. I did a lot of hair for my teenage friends, like bleach and color and highlights. I was doing hair long before I went to beauty school.
When I was 18, I had already sort of lived a long life and I felt like it was time for me to focus. At that time, the Aveda Institute had just opened in Victoria and it was simply the most high-end, glamorous salon I've ever seen. I had just moved to Victoria from Vancouver and fell in love with it. At the time, I felt like it was really intimidating and maybe too fancy for me, but I decided to just get a student loan and go. It ended up being one of the best experiences of my life. I excelled at cutting hair — it was always just natural to me. I learned about the business from Paul De Costa at Aveda, and now 20 years later we've opened a shop together. It's kind of funny because Paul and I fought a lot when I was a student. I was excellent with clients and in my services but I was a terrible student, I didn't do any of the theory — I gave him a lot of trouble and he didn't even want to graduate me at the end … but he ended up offering me a job anyway.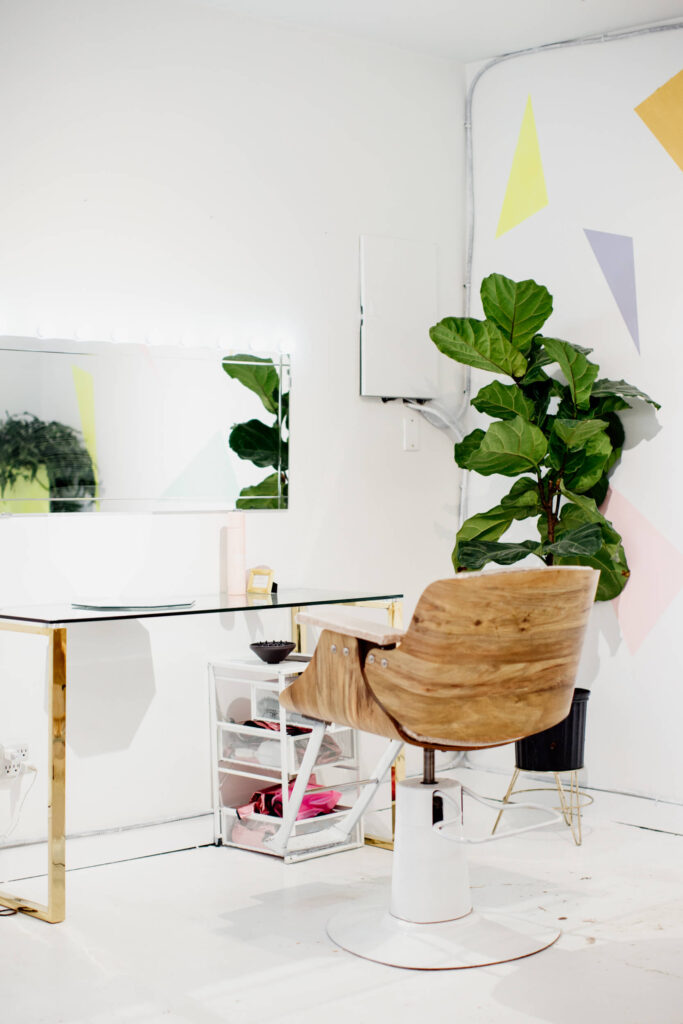 Your salon design is so thoughtful and beautiful. Can you tell us where your vision came from?
For this project, I really wanted to move away from the dark wood and subway tile look which has kind of dominated the local aesthetic. I wanted to do something bright and Miami 1980s. I drew my inspiration from some of my favourite films from that era like Scarface, Xanadu, and Valley Girl, as well as a bit of Falco.
You make your own beautiful products. Can you tell us about them?
I was visiting New York while I owned another salon, Hive Hair, getting some education with Bumble and bumble. As anybody who's visited New York knows, it's an intensely inspirational city — the vibe and the pulse just gets you moving and thinking. It got my creative juices flowing and I felt like I wanted to do more than just own a salon. I have been frustrated for years as a salon owner with retail products. I've always felt that those available to us didn't reflect us as artists; they were from huge corporations and I felt like the packaging was tacky and there were so many sales meetings and an emphasis on commerce from companies that didn't get us. What I did for a living and what was available to sell just never aligned for me. I wanted to create something that was beautiful that worked, that was made in small batches, was thoughtful, honest and something I could feel proud to sell and display. So I started on the long journey of developing a product line. At the time I had no idea how complicated it would be and that it would take about six years to develop the entire line!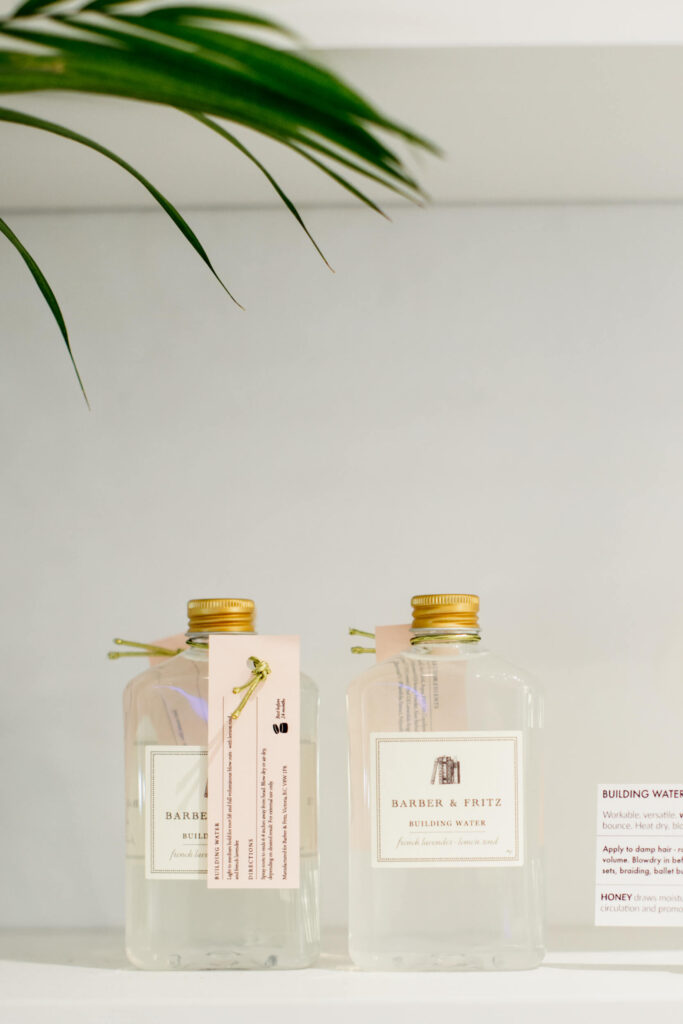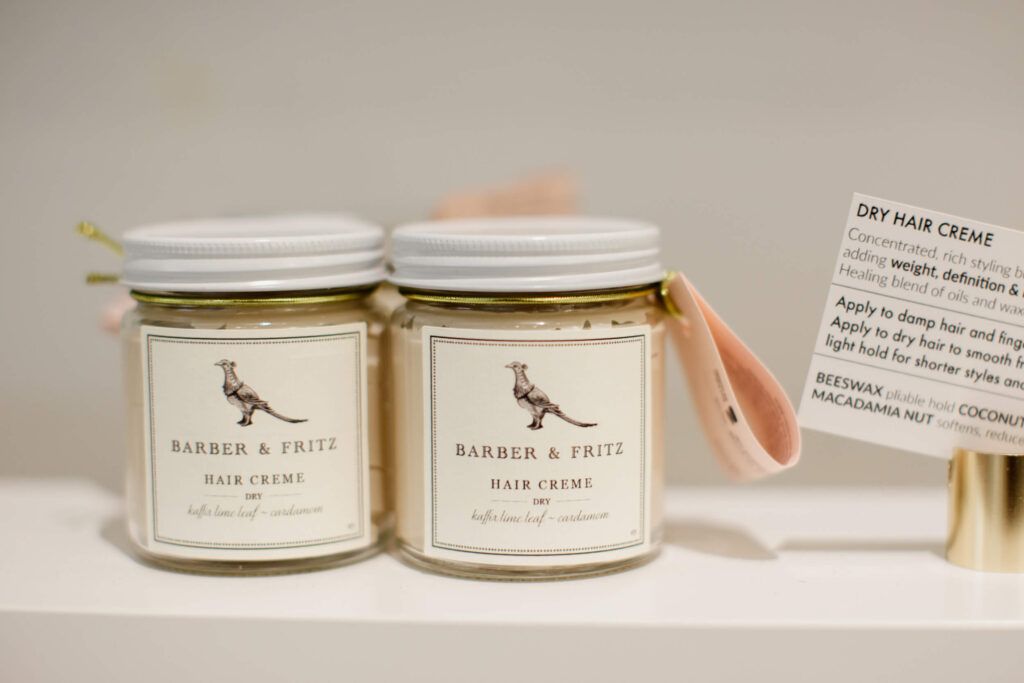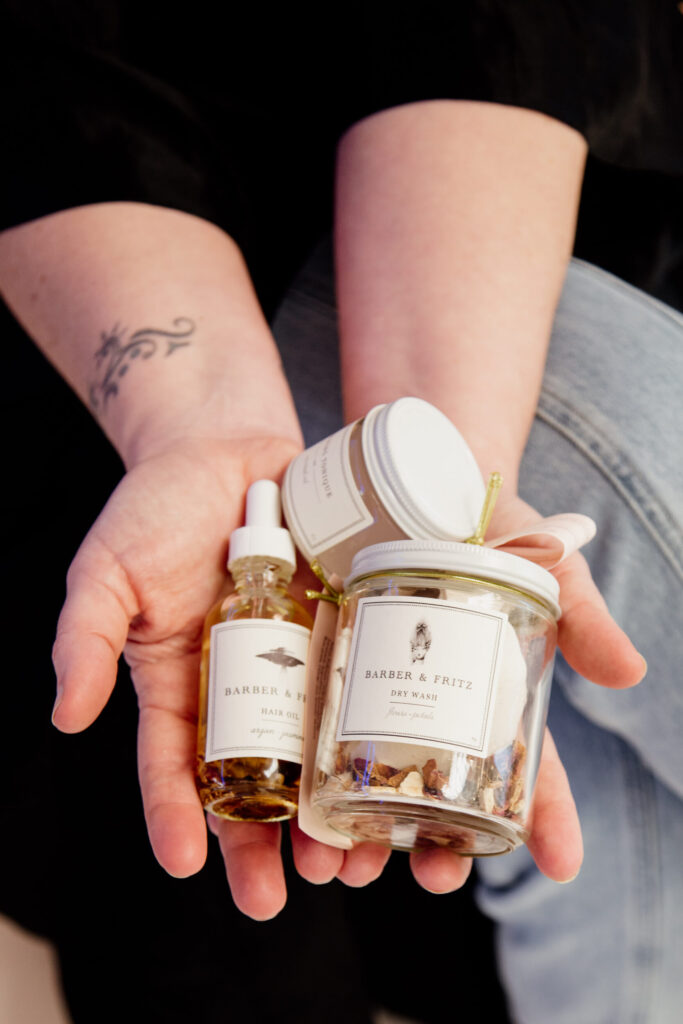 How long have you owned your salon?
We finally opened the doors to Barber and Fritz on October 1, 2019. It was a long journey. We had initially signed a contract to take over a larger salon space on Johnson Street, but that person breached the contract and backed out after months into the project. We had already purchased everything, we had designed the space, and it was an epic defeat at the time. I almost gave up then, but as it needs to go in business, I mourned for the loss and then I pulled up my socks and started looking for a new space. Stephanie from Open House was looking at the same time and she passed on the unit that we now have. [Her shop is now next door.] It was an absolute relief to find a beautiful space in the same area that our initial space was supposed to be, and I am actually so grateful now that that person backed out and we ended up with the space that we have today. If we had taken that street-front space, the Covid shut-downs would've ended our business as we could not have taken on that kind of debt for months on end, so thank gawd to her.
What do you look for when you hire a hair stylist and staff?
I know as soon as somebody walks through the door if they're going to be somebody that I want to work with. That might sound awful but I've been doing it a long time; I look for confidence, I look for somebody who is socially comfortable and I look for somebody who has a sick style — it doesn't have to be a trendy style or an expensive style but somebody who tells a story through how they look.
I don't call my team "staff" because they're all their own independent contractors. We lease out … but not chairs like in a chair rental situation, more like a cooperative for owners who want to work in a community of stylists in a really cool spot. After years of having salon staff, I realized that kind of management was not in my wheelhouse and it was not something that I love to do. Paul Da Costa felt the same way as me. I wanted to create a new model. I felt the stressors in running a hair salon could be removed in this technology-filled age. For example, 50% of running a salon is the front desk — they take so much energy, so much organization. It's difficult to find good receptionists because salon reception is a really difficult job — organizing everybody's clients, organizing all the staff, it's just a lot of work and we wanted to eliminate that. So all of our stylists do their own bookings and communicate directly with their own clients. If stylists want to be the free artist they are and take off last-minute and go for a vacation or stay late or start early they can do that, as they're autonomous individuals who can choose how they want to build and work their careers. It's not up to me to dictate how that goes and I am more than relieved to not have that job. This space is for the advanced stylist, the professional, the owner who doesn't want to take on the responsibility of signing a lease and building a studio; this is for the independent professional stylist. It's a new business model that is next level and it is all that I had hoped it would be.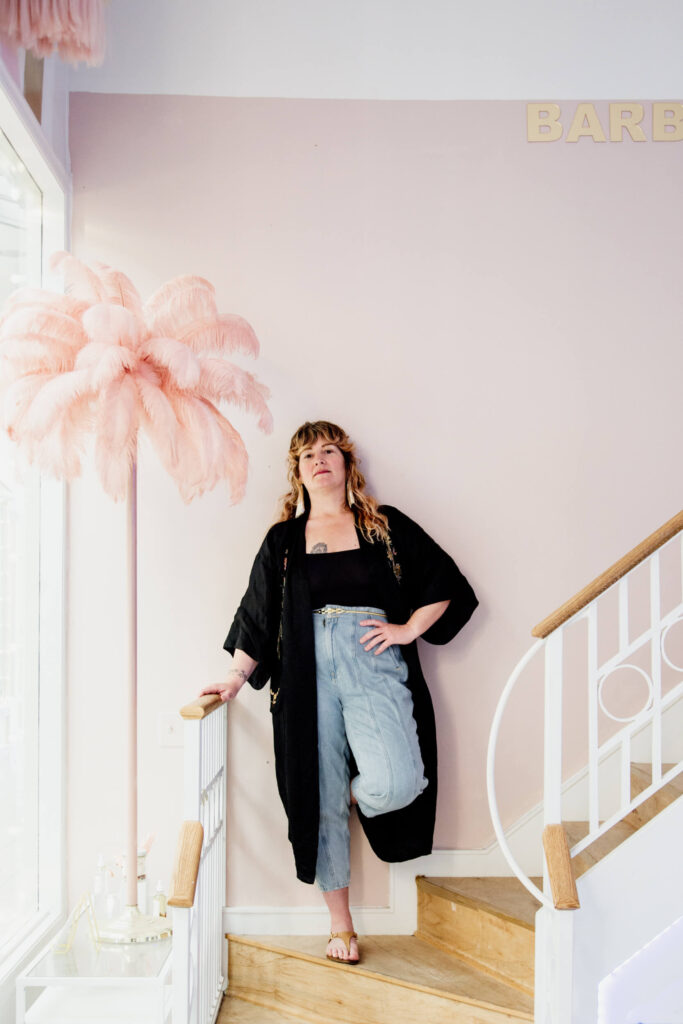 Can you tell us a bit about your personal style and aesthetic? What influences you in your choices?
My personal aesthetic is always changing although in some ways it's been the same, like my love for gold and lace. I relish in finding unique products that have maybe never been seen before, things that are fresh but classic, things that are of course beautiful — I am a fan of the beauty in inanimate objects. I like things that tell a story, that have a soul and a purpose that I can stand behind.
Where do you find inspiration? What or who inspires you?
Every single thing inspires me. I have a colourful, vibrant, never-ending imagination filled with rainbows and unicorns and make-believe. I rarely find inspiration from the industry I'm working within. I never look to other hair care companies or other salons for inspiration — if you do that you're just sort of regurgitating rather than inventing. I find inspiration in things like a little old lady walking down the street with the coolest hat I've ever seen from some thrift store and it sends my brain off to some idea for a new photo shoot, or I find inspiration in old movies, especially from the 40s through to the 80s. I find inspiration in music, I find inspiration in people, I find inspiration in weird things I find in the thrift store — I find it everywhere and it can just be one little thing that sparks something and sends you on a whole new path. I enjoy the process of creativity, of creating things out of something that never was, of bringing new ideas into the world — I live to give birth to beautiful things.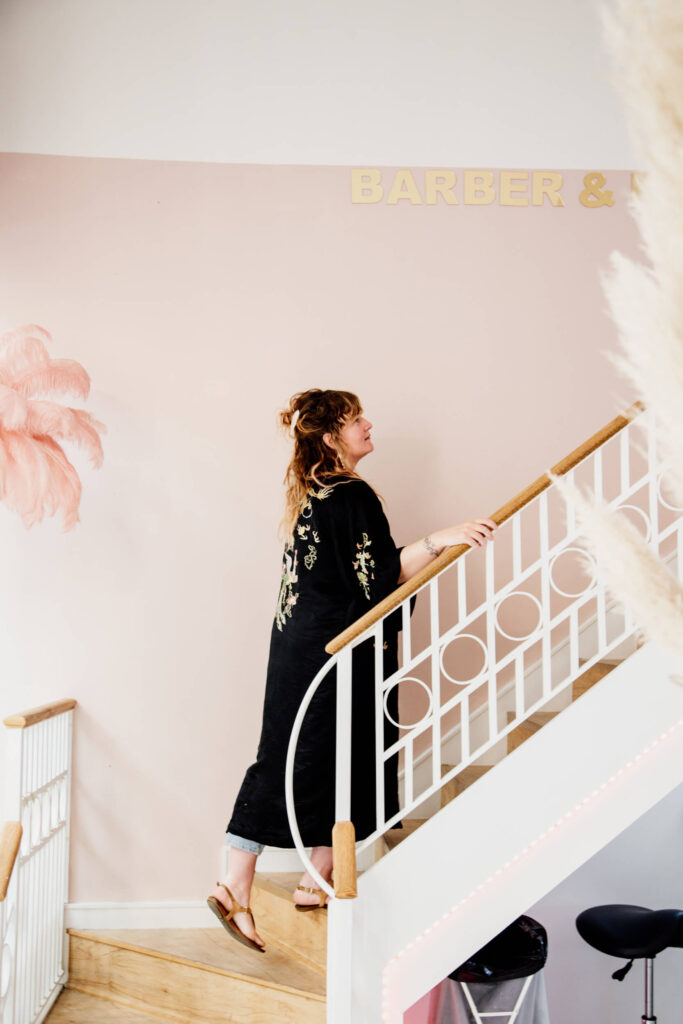 Each season represents new trends. Any new hair trends that we should be aware of?
I'm hesitant to talk about hair trends because I try not to get you into the trendy cut or the trendy colour; it just tends to get really monotonous in a small city. A trend will just sweep through everybody and then that trend quickly becomes mainstream. I've always been a big fan of a loosely-sculpted, shaggy, lived-in haircut. I am elated to see that that's a trend right now just because I love doing it and I think it looks great. As far as colour goes, I've always been into fairly natural colours that are easy to maintain; I've never been into fussy high maintenance looks just because that's not who I am. I think as stylists we impart our own sense of style and clients will seek us out for those individual skills and aesthetic. But for me, a natural, workable, easy beauty is always what I strive to give people. I'm not into updos and wedding hair and fussy looks — it's just not my thing.
Starting a business can be challenging. What are some of the hardest lessons you've had starting your business? How have you overcome them?
Oh geez … I'll try to keep this one quick! What have I learned, in a nutshell? Failure is part of the process; you can't be afraid of it, you have to embrace it. I think the one thing that's followed me through all the times I've opened businesses and all the years of running them is that you have to flow with change. You have to be adaptable and ready to shift gears. Things that you plan on don't work out, so you can't get fixated on your initial idea, you have to accept change and failure. People often assume that I open all these businesses because I'm fearless but that's not true — I'm afraid of everything! I am afraid of the idea not working out, I'm afraid of my design concept not being executed, I'm afraid that nobody will come and want to work at our salon, I am afraid of it all, but I think the difference between entrepreneurs is that we're willing to walk through that fear over and over and over again. I'm OK with being afraid and I'm OK with failing because the process of building and creating and being my own boss outweighs all the rest. I would also say though, on a side note, that one of the hardest things for me as a creative person is all the admin and the red tape — I find that overwhelming. I have spent years teaching myself the ins and outs of bureaucracy. It's something that I loathe to this day but it's part of the price you pay. I would also say that dealing with people, staff and clients — the emotional part of the relationships, of running and being part of teams — that was a real learning process for me as well. I've always been my own boss from the time I was really young. I'm pretty controlling in some ways, but all these years have taught me to listen and to treat people with dignity, and sometimes that's been a tough lesson.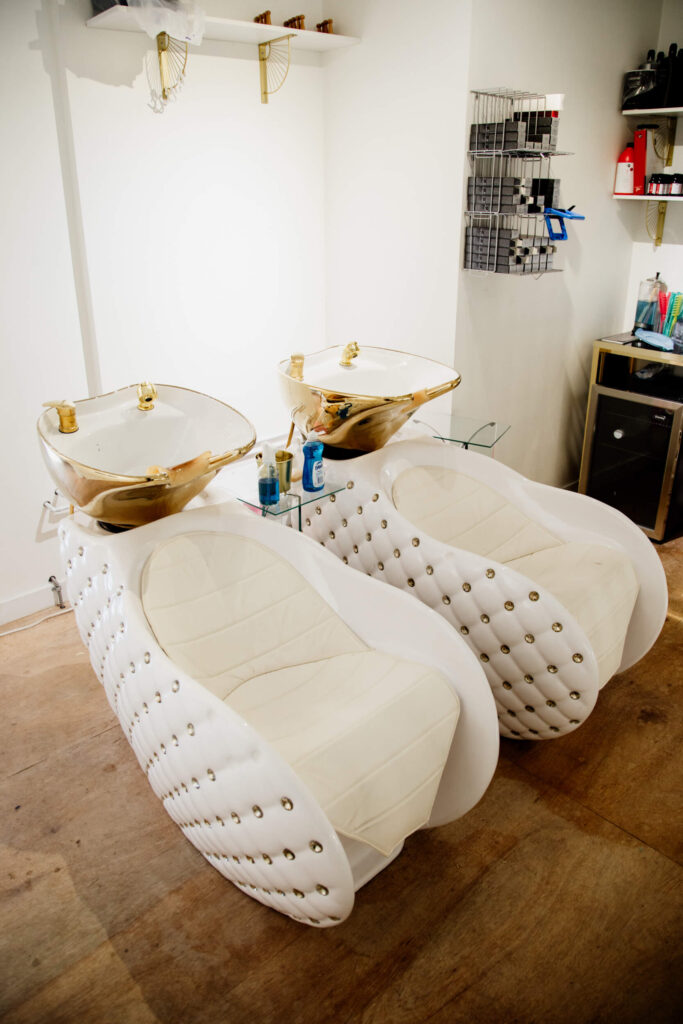 What advice would you give to someone wanting to open up a salon?
If it's your first time opening a salon, expect that you're going to do a lot of motivating, a lot of people management and a lot of personal relations. I think that part of the business goes unsaid and understated a lot of the time. If you're going to have a staff that works for you, then part of what you do to help them build their careers, maintain and grow their clientele, and stay on track. That's a full-time job in itself. You should probably have a pretty good relationship with social media in this day and age — it's sort of everything. And if it's a bigger salon you need to be prepared to work 24/7 as you're not only going to be managing social media, front desk, staff motivation, but you're going to be dealing with the government and remittance and advertising and leases. I think a lot of us go into it because it is so fun and maybe we don't expect that it really is a totally consuming career choice. I think you really need to love it deeply and be prepared to give it your everything or it just probably won't work out, unless, of course, you have endless money to hire people to do all those things. And when you get knocked down — which you will — you need to recalibrate, sit down, make a new plan for your new set of circumstances, reevaluate, and adapt constantly.
Have you made any hard decisions to get you through this difficult time?
Aside from the stress that finances have presented, obviously we're lucky that we haven't had to make any really tough business-changing decisions, such as we haven't had to close any stores, we haven't necessarily had to lay anybody off. We were lucky that our business model was really progressive. Before Covid, I saw that salons were moving towards smaller locations with fewer chairs and more intimate one-on-one settings, so our business model has proven to be exactly what the future needs.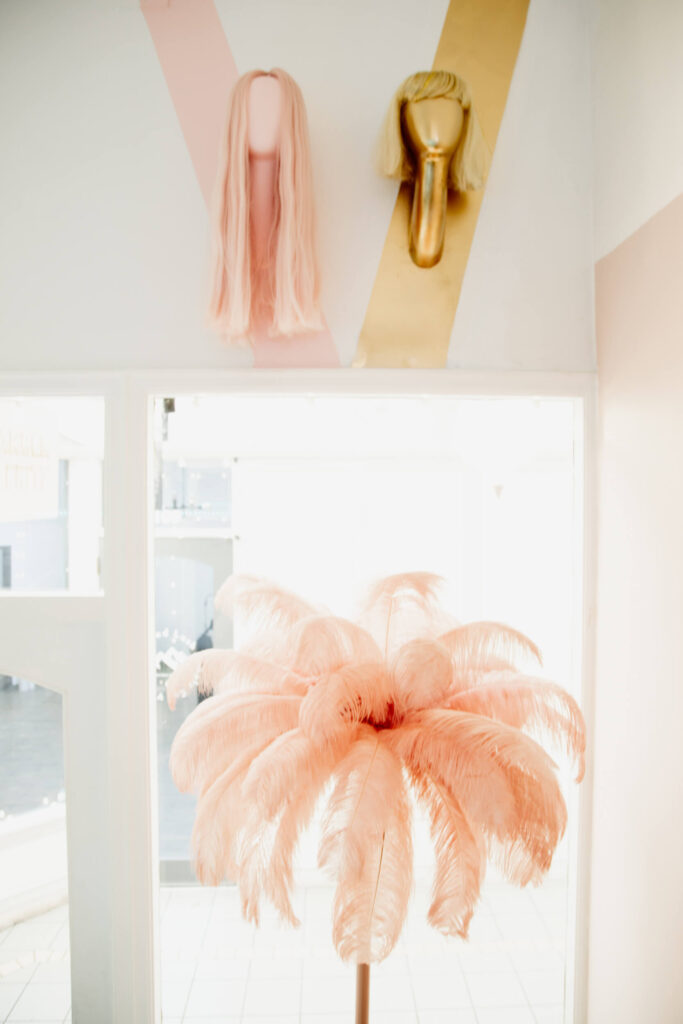 The pandemic and its effects have been overwhelming and we're all trying to cope as best as we can. How are you coping these days? What's been working for you?
You know, on a personal level I realize that Covid has really affected me in a lot of ways. For one, I actually contracted Covid on my last day of working at the salon right before the closures and so I was super sick for about two weeks which really put me behind the eight ball in being able to operate the business during that time. With my illness, I really couldn't reinvent my business and do the curbside pick-ups etc. Also being in the beauty industry, we were all hit really hard in that we all just had to completely close and walk away. It was a pretty scary unknown for a while there, but again, our business model has really proven to weather storms like Covid, and we now are able to pretty much continue business as usual. That being said, of course, there are fears working so closely with people. We're taking all the necessary measures to be extremely safe. We don't know what the future holds … I mean, we can get shut down again as this virus here for a while and it's going to change many industries on a lot of levels. I really feel for larger salons and restaurants that are going to have to go back to operating at a smaller capacity. What does the future of personal services and hospitality look like? I don't know, but I do know that as an individual I've mastered being adaptable and I am prepared to take on whatever challenges the future holds.
As we navigate our new reality, what advice would you give to your fellow stylists and salon owners on what keeps you moving forward? Any helpful tips?
Again I think to just expect that you're going to have to change your business model and the way you do business over and over and over throughout the span of your salon career, whether it's a global pandemic or a bunch of your staff just left to go work somewhere else or you've lost your lease, etc. There's going to be a lot of hardships in running a small business and we really just have to be smart and adaptable and be constant change-makers and visionaries. Honestly, I think what I might like most about this career is that because it's tough and competitive and hard and you have to be creative and bright and strong, when everything comes together and actually works, it's just such an incredible feeling of accomplishment.
If you were looking back to this moment in time, what do you hope to gain in personal and business growth?
In a business sense, I really see Covid as just another stumbling block. I feel differently about it on a global and personal health note, but for me right now it just presents a bunch of new challenges that I'm willing to take on. Although Covid has been absolutely devastating on so many levels, it's also a really interesting time to be part of this world. There's so much art and creativity that comes from hardships, especially an unseen global one and I am looking forward to seeing the new world and how we adapt. It's exciting, it's challenging, we're all stepping into the unknown and we're all doing it together — there's a lot of opportunity to grow in the hard times.