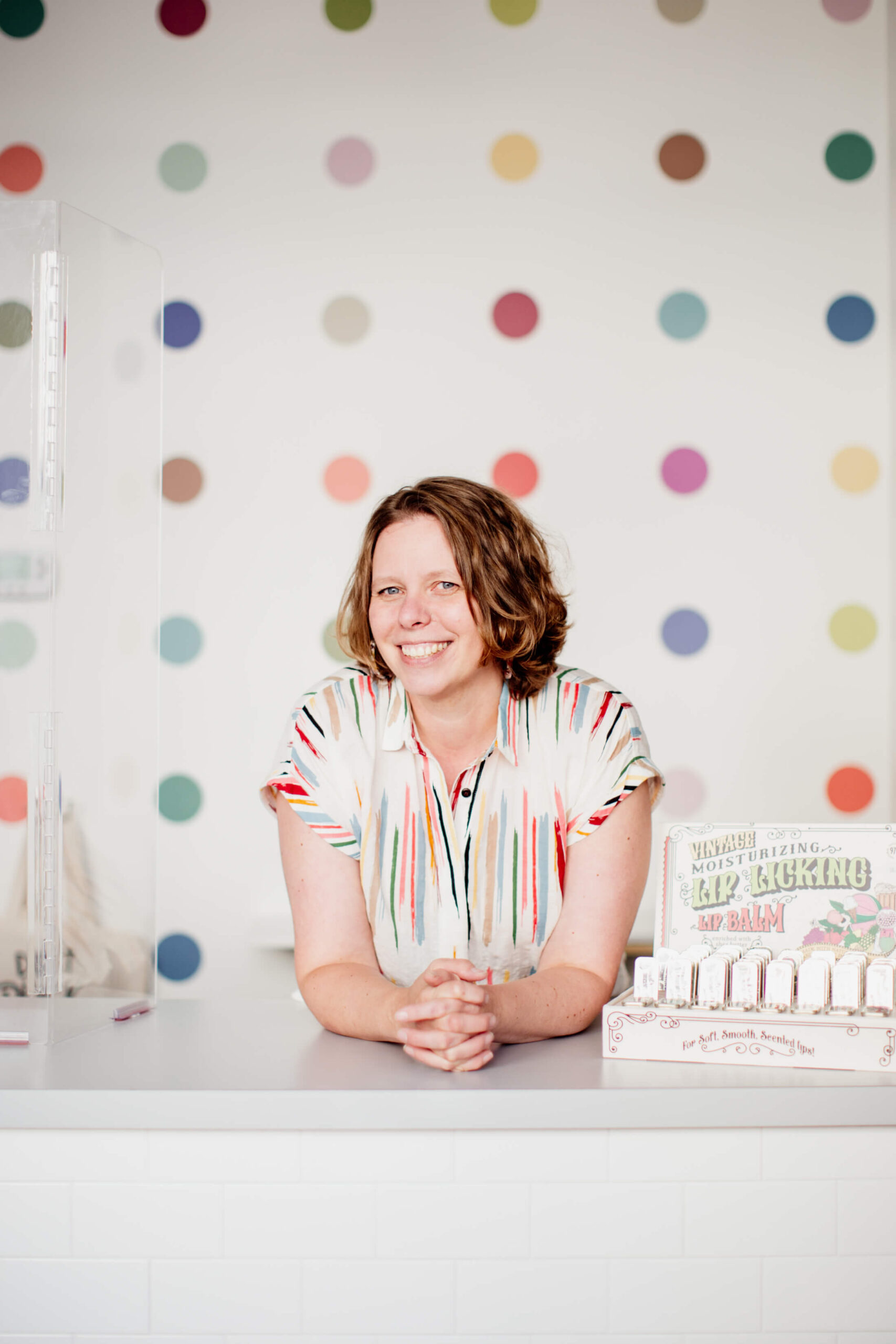 In Conversation with Jeanette // Tout de Sweet
What is Tout de Sweet?
Tout de Sweet is both a brand of organic candy that I handcraft here in Victoria (and wholesale to other retailers across Canada) and a flagship retail store in downtown Victoria.
What makes our Tout de Sweet candy unique is that it is allergy-friendly – nut-free, peanut-free, gluten-free (celiac friendly) as well as all-natural with no artificial colours or flavours. The flagship retail store downtown on Store Street is our retail hub where we sell other Canadian-made snacks, sips (drinks), sweets and gift items that are in line with the all-natural, organic, allergy-aware philosophy that is the core of Tout de Sweet.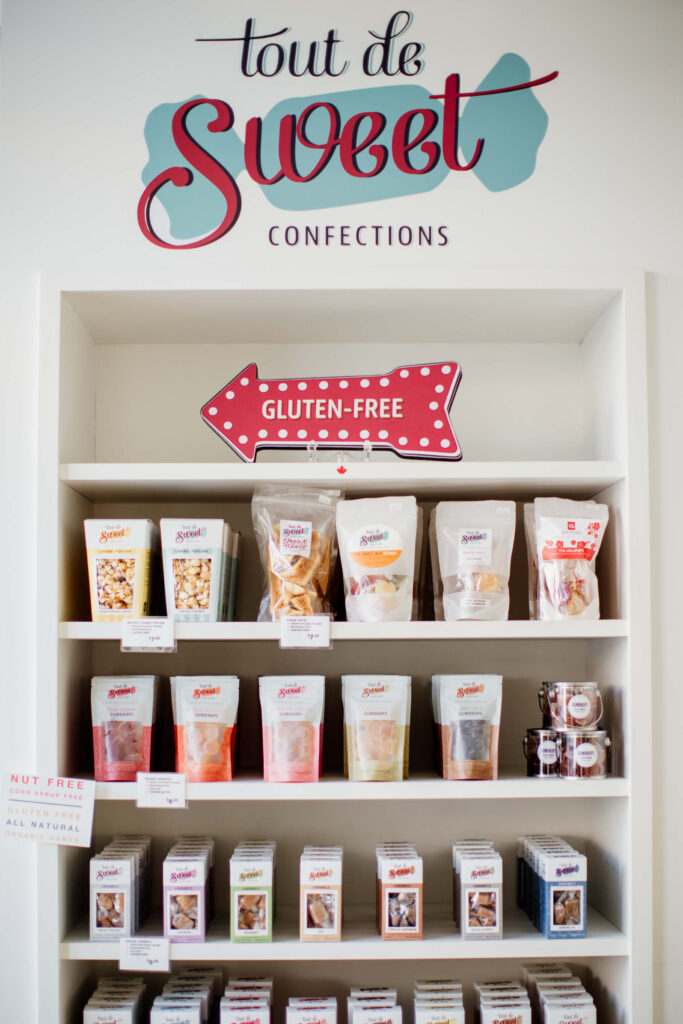 Can you tell us about your background? Did you have any retail experience before opening Tout de Sweet?
Prior to starting Tout de Sweet, I had a 20-year career in PR and marketing. I have a pretty wide range of experience from branding packaged goods, developing nation-wide marketing and PR campaigns to managing websites, developing print materials and conducting social media training.
For the last 11 years of my career I worked as an independent contractor (from here in Victoria) and had a variety of clients across Canada, including my last one which was with the Vancouver International Children's Festival, where I discovered organic cotton candy at a time when I was trying to find something new to do. When people ask me how I got into candy making, I always point to this as the inspiration. There's a lot more to it than that, but basically learning that cotton candy can be organic set me on a path to learn more about sugar and candy making.
I worked in retail in my late teens and early 20s in a number of positions ranging from supervisor and store manager. So I wasn't ignorant of what retail looks like from an operational perspective but I definitely didn't think it would be as hard as it is to try and make it a profitable side to my overall Tout de Sweet business concept.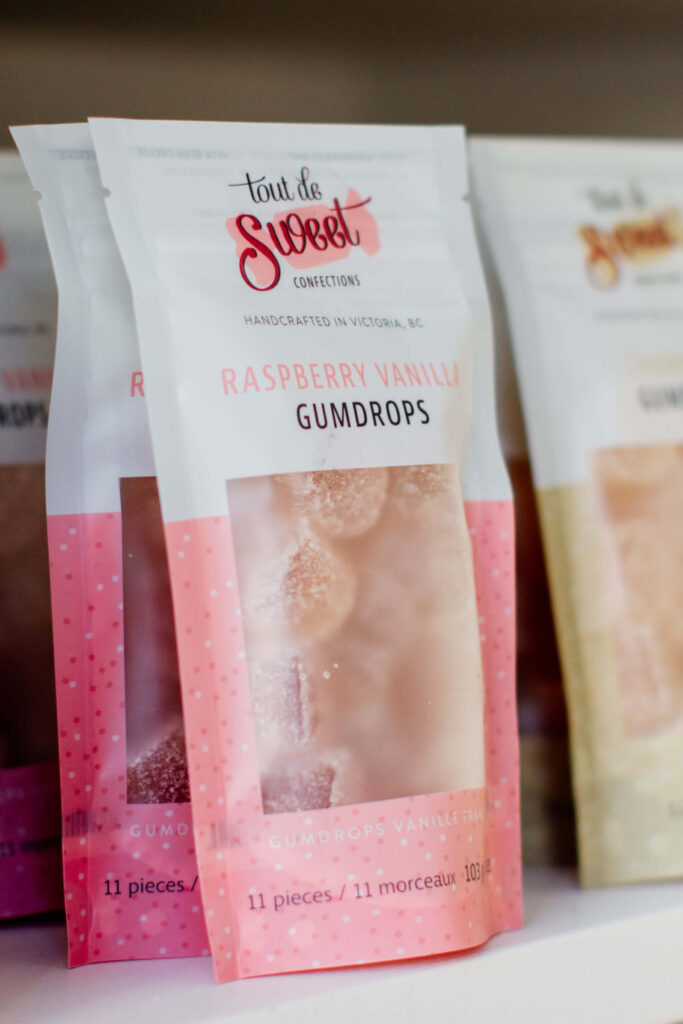 Have you always wanted to run your own business? How long did it take you to make your business a reality?  
Well, aside from two different marketing and PR manager job-jobs (2 and 3 year stints), I have always been part of the gig economy. I went from contract to contract (I worked for film festivals, as an example) and was always in a "generate more work" and "execute the campaign mode" simultaneously. I always had to plan around that precarious financial instability to support myself.
I'm a very self-motivated person and have always had a "maker" mentality. I believe in making opportunities for yourself rather than waiting for them to happen to you. For instance, when work was a little slow In 2004, a friend and I developed a shopping event (or craft show) here in Victoria called Splurge and accompanying monthly e-newsletter that we ran until 2008. I also refocused my own PR consultancy in 2008 to specialize in marketing to moms, which created whole new contract opportunities and expanded my knowledge of a powerful niche demographic. I'm pretty fearless when it comes to doing something new.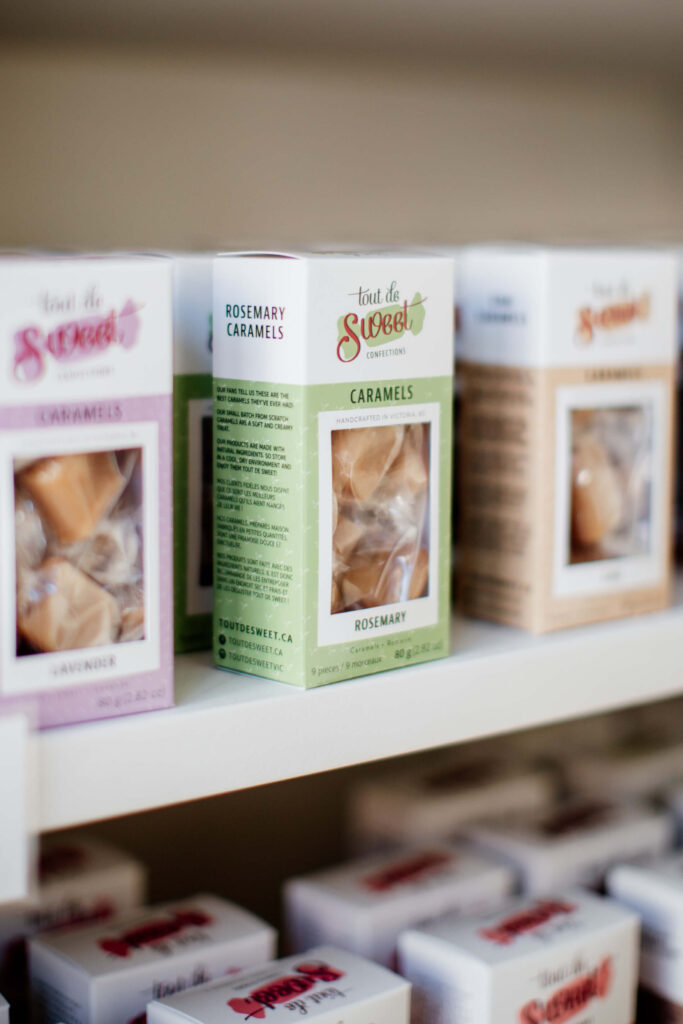 In 2013 I felt the need for a major change in career. I knew I wanted to stop selling a service and wanted to sell a product that I could make with my hands. I also wanted something that would help me connect better with Victoria as I had been travelling off-Island for work for 11 years. I researched and started (what my husband calls) my "test kitchen" period, which took place in our house over the course of a year. I played with all sorts of ideas from apple chips to simple syrups. The first Tout de Sweet product I made was marshmallows. Then I made caramels. Then lollipops. I delved deep into understanding how sugar chemistry works and am completely self-taught (and now have a huge candy recipe book collection). It was all about trial and error and reading A LOT about the effects of weather, temperature, humidity. It all makes a huge difference in candy making, which is frustrating but also keeps me challenged.
I gave some caramels to a friend who was part of the food committee at Moss Street Market and he encouraged me to apply the following Spring in 2014. I figured I would sell candy for the Spring-Summer season to see if it was a viable business, while continuing to do PR/Marketing client work. After a full market season I was hooked and plans started to find a commercial kitchen. I signed a lease on my commercial kitchen Feb 14, 2015 and I opened the downtown retail shop on February 15, 2018. So yeah, Valentine's Day is a pretty sweet anniversary date for me.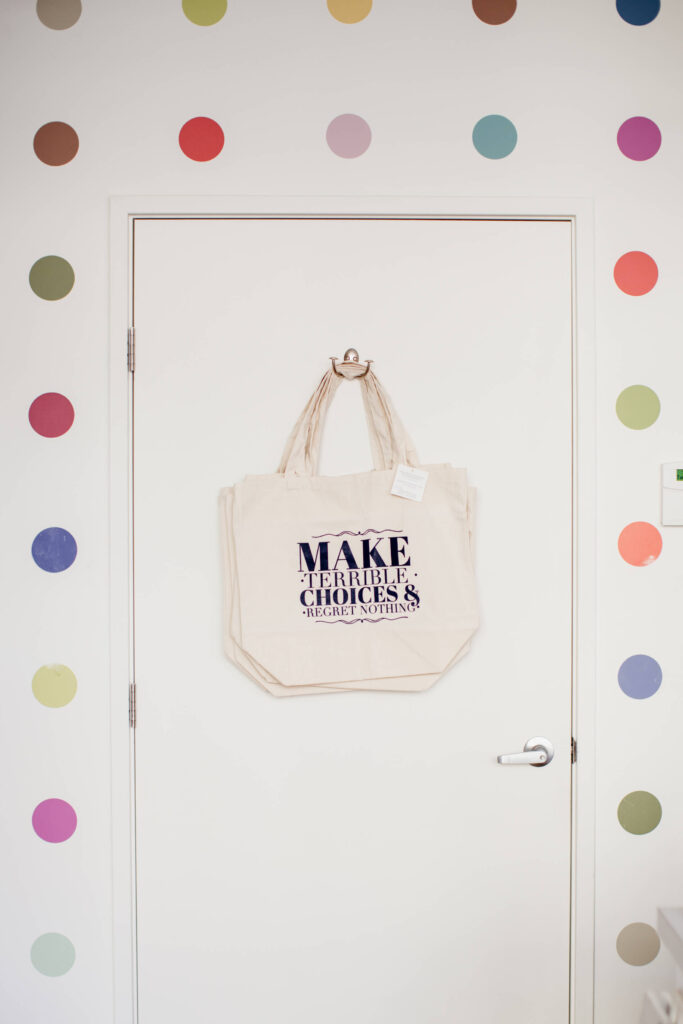 If you had to describe your shop to someone who hasn't seen it, how would you describe it? What makes it different from other candy shops?
People call it the "sweetest sweet shop" because it is so darn cute and small — like micro-small. The front end is less than 250 square feet. But the space is light and bright, fun and colourful and there is a lot to look at. I carefully curate every single brand and product in the store – trying to carry items that are Canadian (first) and hard to find (second).
I see it as a grown-up candy store for the kid in all of us. It's definitely a little more upscale than a typical candy store and is meant as a place to find quality gifts that people will love to eat up. You won't find a lot under $5, for instance.
Inspiration is all around us. Can you tell us who or what inspires you?
I find people within the food production arena so incredibly inspiring. Whether they are producing jam or tea or candy or crackers or whatever – they have put their faith into an industry that is unbelievably grueling. I have always worked very hard – super long hours and for huge stints in a row but I have never worked as hard as I do now because that is what it takes to just take a few steps forward in this industry. So when I see other people taking this leap I tip my hat.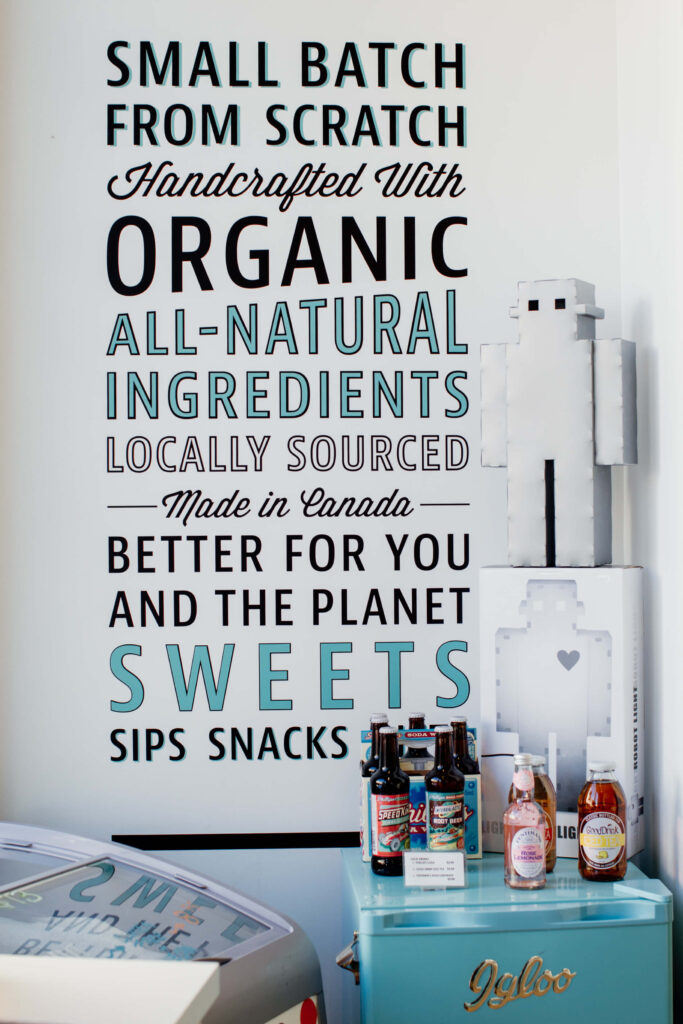 You not only sell all these lovely sweets, but you make many of them too. Tell us a little about your creative and manufacturing process.
I make all the sweets under the Tout de Sweet brand in a tiny (360 square foot) commercial kitchen space in Fairfield. I use everyday tools like a home-sized stove top and pots, and I have other fun tools like candy thermometers and purple gumdrop moulds. The space is located in the basement of a house close to the four corners of Fairfield and Moss Street, with The Cottage Bakery and Café being our neighbour in the space next door. It's another "sweet" spot that I love and consider it like an artist's studio because it is light and bright and all mine to play around in.
I can't share a kitchen space with anyone else because I need to keep it free from allergens like gluten, nuts, and peanuts. I also don't use corn syrup and mix organic icing sugar with organic tapioca starch so many of my candies are corn-free as well. Making my candy allergy-friendly is something I set out to do fairly early in the process of building my business. It's a positive aspect in that I have a solid fan base of customers (over 50%) that have major allergies and I adore that I can make something safe for them to eat. It's a negative in that the cost of having my own kitchen is super expensive and has been a very costly way to start a business.
Candy in itself has a long tradition as something our mothers and grandmothers did in their kitchen. I set out to make candy making accessible to those who may not have been exposed to its simplicity. It's not as hard as people think. My kitchen allows people to see what I do (although sometimes it's not very exciting to watch) and I carry things like recipe books and candy making kits in my retail store downtown. I want people to know how easy it is to make their own candy at home.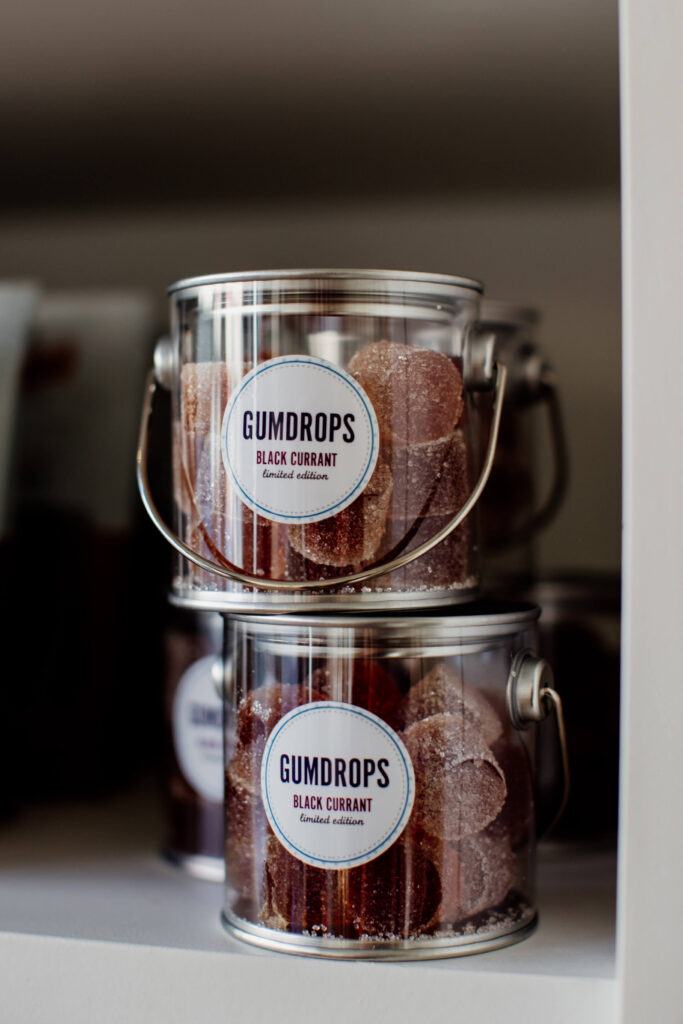 What is the best-selling item in your shop? Which is your favourite to make?
I am best known for my soft caramels. I have 7 flavours always on the go. That by far is my best selling product line. After that is my gumdrops, which is by far MY favourite candy to make and eat and package.
Ugh, wrapping caramels is the bane of my existence! People will be shocked to hear that we hand-cut and hand-wrap close to 7,000 caramels a month, with that number sometimes doubling in peak periods, like right now (Aug to Oct).
Your fun and colourful shop was used recently in a movie … can you tell us a bit about that? 
HA – yes, Tout de Sweet will be starring in a Hallmark Christmas movie that was just filmed here. The Quebec-based director loved the space and name so much that they decided to keep the layout as is, my product on the shelves and even use the name of the shop! So yeah, it will be a location where I guess people find love.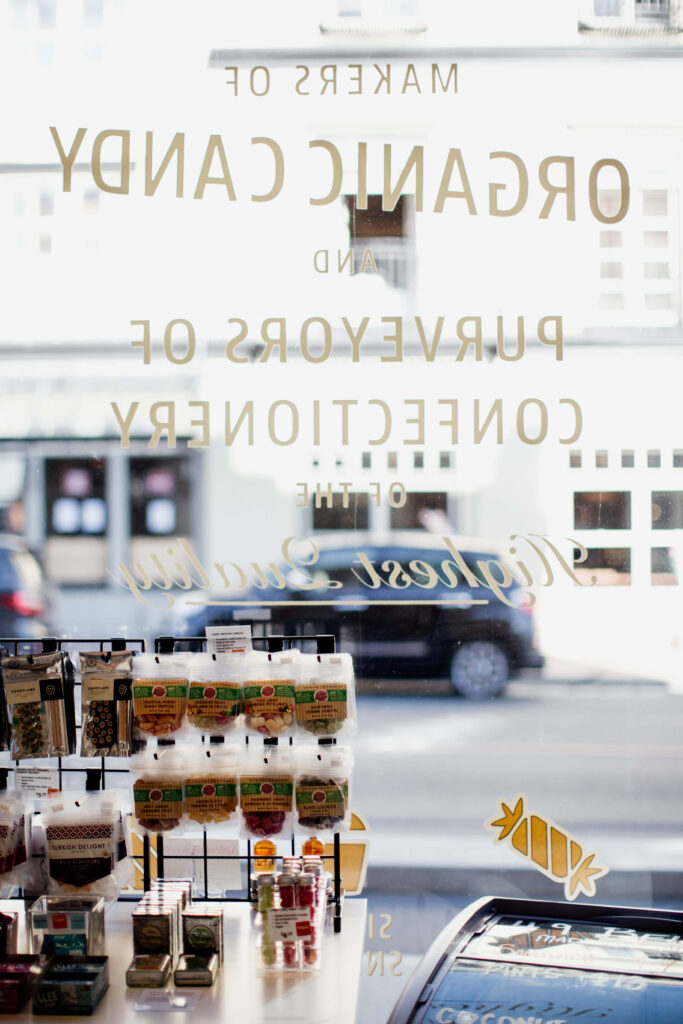 What are some of the hardest lessons you've had starting your business? How have you overcome them?
Phew – SO many lessons, especially in these past few months. I would say the biggest has been patience. Nothing has happened as quickly as I wanted it to which means a lot of money has been spent in the process of waiting for things to take their course.
Last year I was seriously ready to bail on everything (unfortunately it's not as easy as I thought as there are a lot of loose ends that can't be tied off in a nice and easy fashion) but after a month of a lot of crying and a downward spiral of negativity, I made a conscious decision to stop worrying about what wasn't happening and be grateful for what was happening in the moment. For me, I absolutely love making and selling candy. I go to work happy every single day. Once I made that positive mental shift, great things started to happen. I had my best wholesale season ever last winter.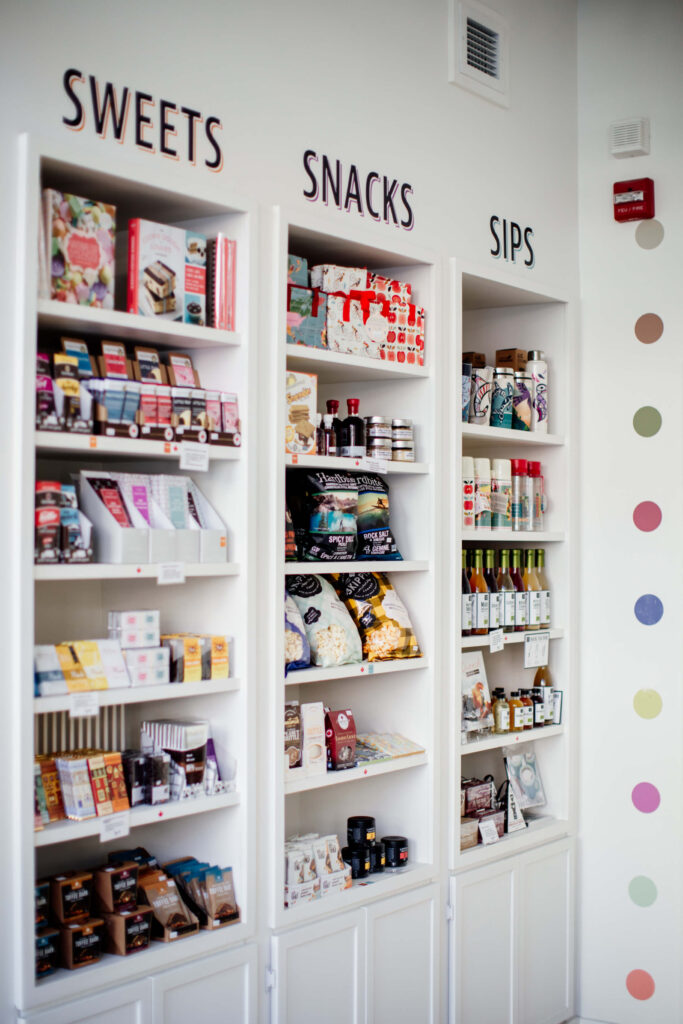 Do you do business online? What are the differences for you between your online shop and your brick-and-mortar?
Most definitely I have an online store. I've had it since I started in 2015. Again, having a background in PR and marketing has helped a lot as that was one of the first things I created (I built it and maintain it on my own). But I quickly discovered that people weren't really buying food online in Canada like they do in the USA. So for the last five years, I would get maybe a handful of online sales a month, but it was seriously nothing significant. But then COVID hit and I went from doing like 48 sales a year to 48 sales in 24 hours (thanks to offering home delivery). So having an online store already in place seriously saved me this year.
The online store has evolved over the years. When I first started it was just my own candy product but then I added other products; however, I didn't have the uptick in sales for other people's products and shelf life became an issue. Once I opened downtown, I went back to focusing on selling mostly my own product online with a few others that weren't heavy to ship or had a good shelf life and, most importantly, had a good-enough margin that I wouldn't lose all profit to shipping costs.
But now, since COVID hit, I put everything online. I want people to have the same experience and selection as to what they would have in my actual store, and I need the repeat sales from customers, so adding new things online has a huge impact. It also might be that I go back to doing local deliveries closer to Christmas so I want people to have that full selection. And bluntly, I also need that cash flow to stay alive.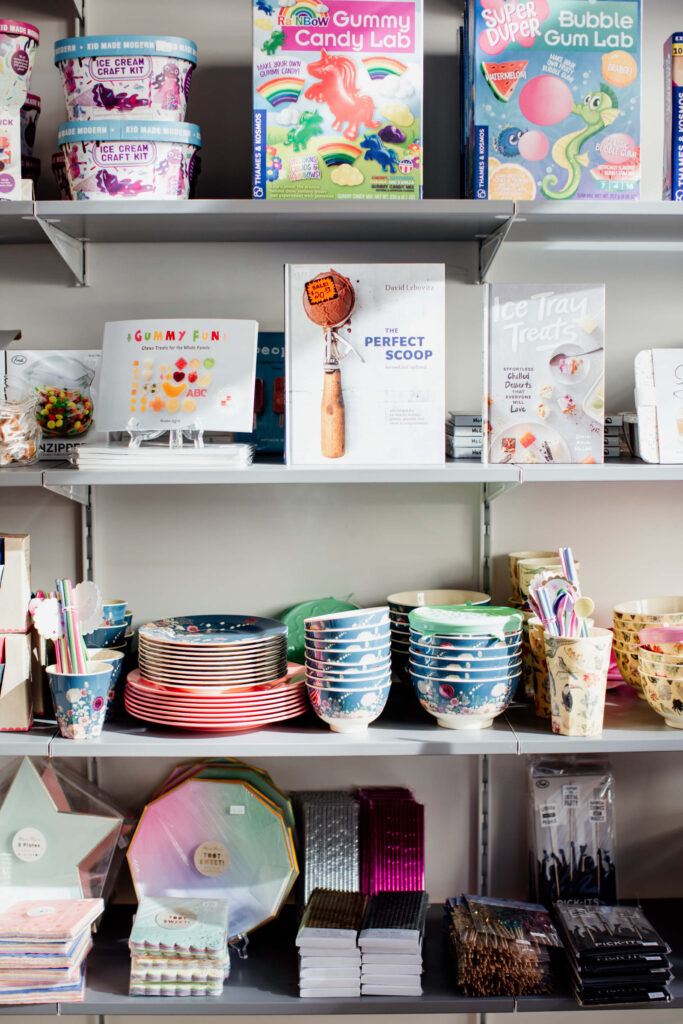 Have you made any hard decisions to get you through the ongoing challenges of COVID?
Permanently laying off staff was super hard. And only hiring someone on a part-time (rather than full-time) basis to help me in my production is stressful as I am ramping up huge as we go into Christmas. But the future is so uncertain and I need to keep everything as lean as possible to ensure I don't overextend and build a bigger hole.
What advice would you give to someone wanting to open up a shop?
I can't say enough about knowing your landlord (have you shook their hand and you do know their kid's name kind of knowing), and understanding how triple-net lease agreements work. As entrepreneurs we fall in love with spaces and have a tendency to be a little too optimistic (or blind!) to the realities of the marketplace.
If I were to sign a new lease today I would fight tooth and nail not to sign a triple net lease (or do A LOT of amendments to the standard lease agreement). I would talk to other tenants who have dealt with that same landlord (and today find out how the landlord responded to the COVID crisis).
I think or hope that in a COVID world, tenants have the opportunity for the upper hand. Ideally, I would like to see major reform in the commercial leasing industry. There are and will be a lot more spaces available. Do not accept what you are told is "current market rate" and a "standard lease agreement." Negotiate hard because your life and assets are on the line.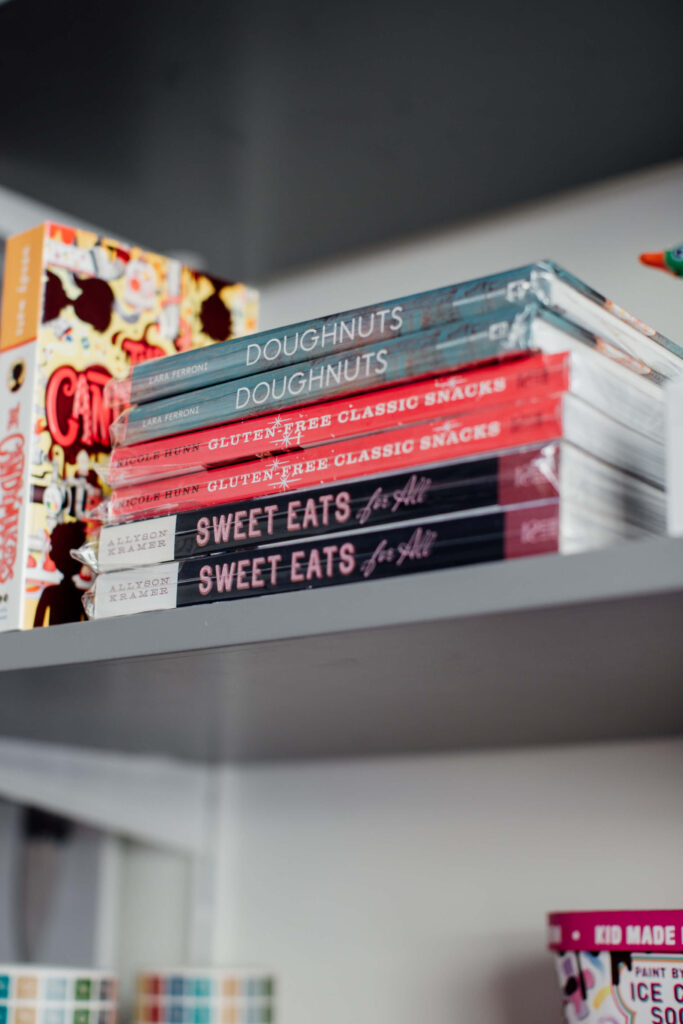 As you look back on this time, what do you hope to gain in terms of personal and/or business growth?
I will always come back to a growth in patience and gratitude. I don't have any regrets and see everything as a lesson that we can take to our next jumping off point.