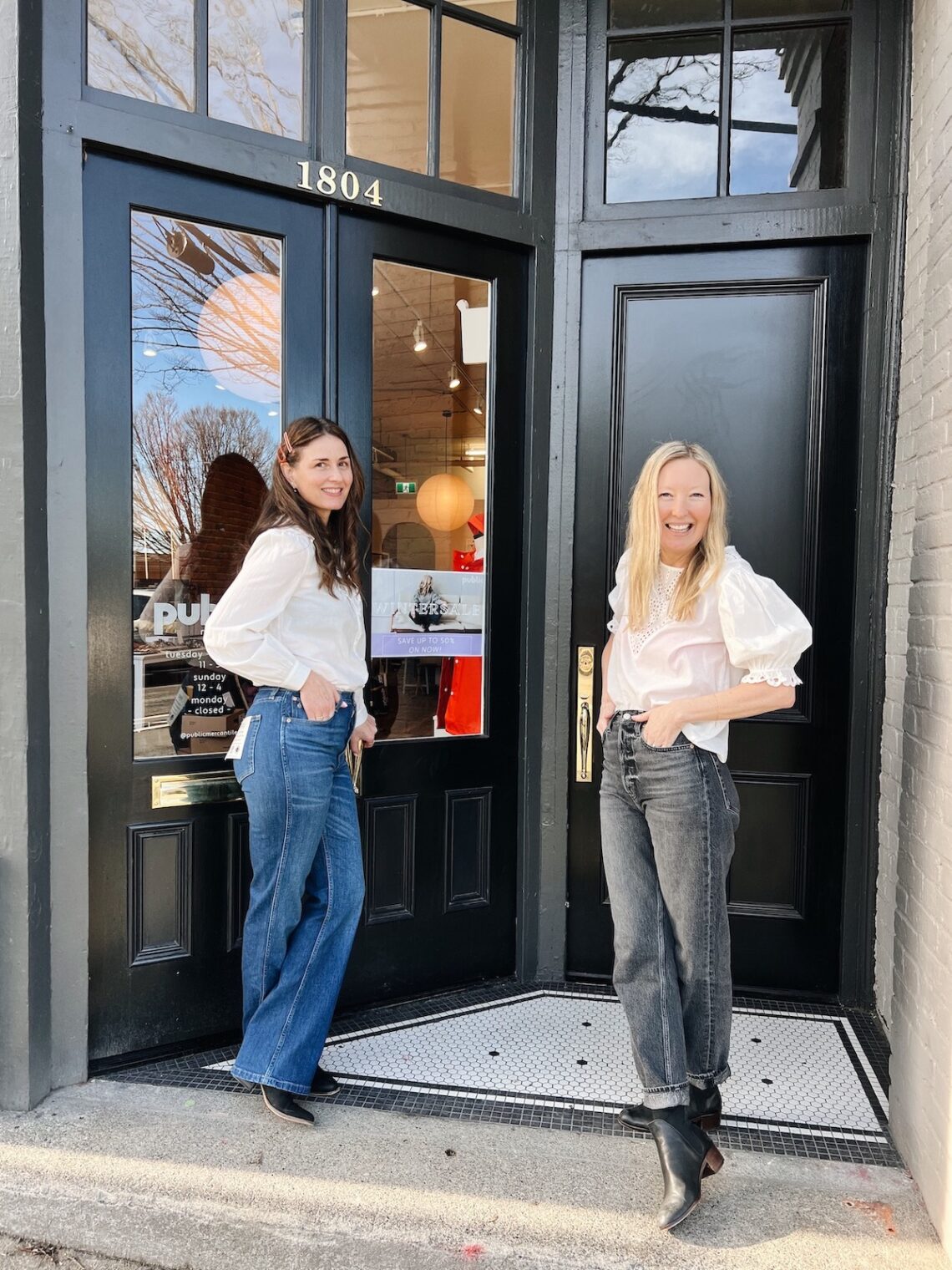 In Conversation with Michelle & Metka // Public Mercantile
Name: Michelle Ardiel & Metka Lazar
Address: 1804 Government St, Victoria BC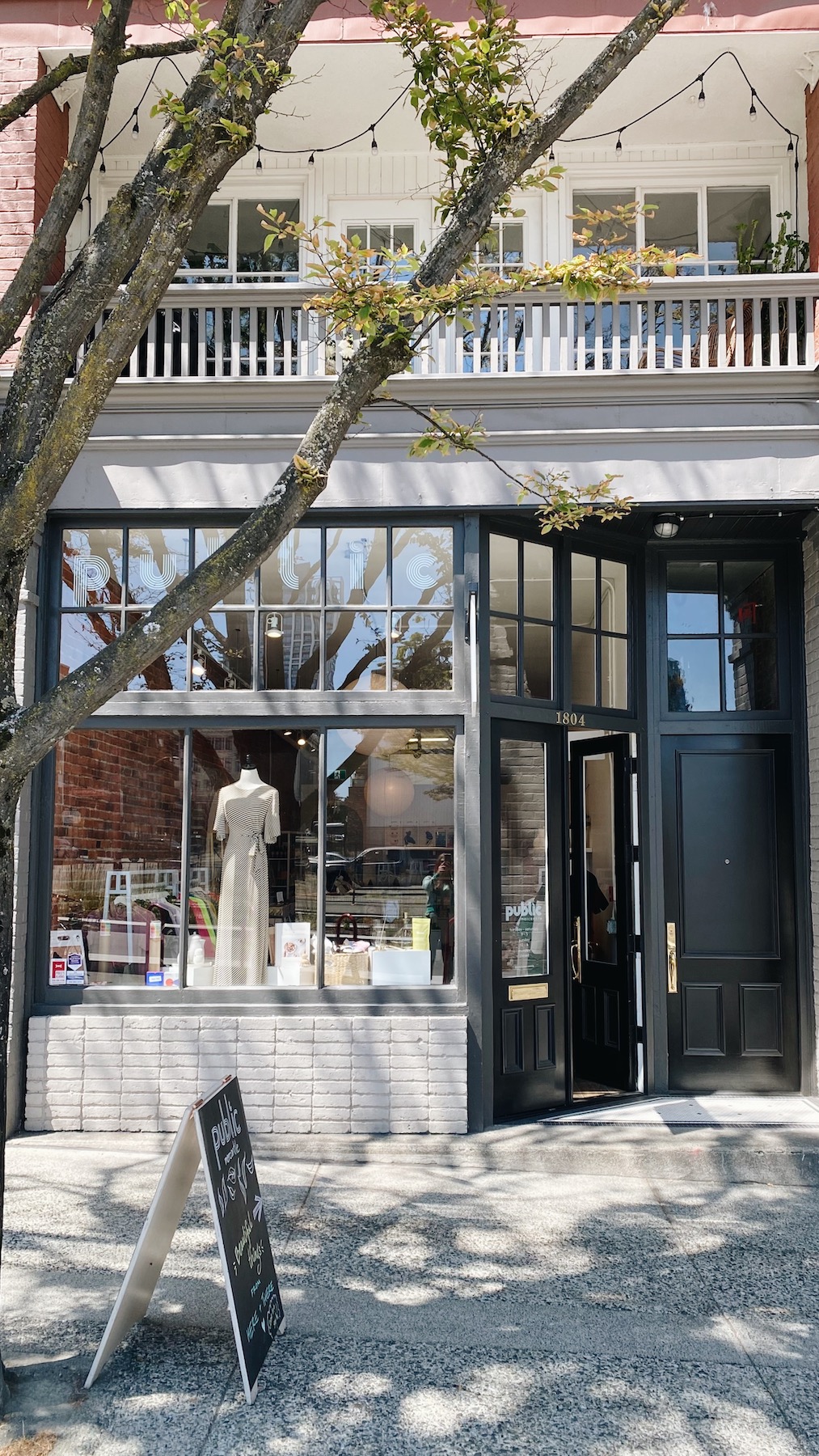 Can you describe Public Mercantile?
Our shop is lovingly curated by Michelle and Metka — every piece that is in the shop went through a lot of thought. Our shop is full of delights, from fashion to books to skincare to homewares to gifts. Lots of people tell us we are the best gift shop in Victoria, the best place to find special things to give to others (and yourself!). We wanted to offer a different kind of retail experience in Victoria, one in which the brand and the items within our walls aren't found in other shops in the city. For some brands, we even have exclusivity for all of Vancouver Island!
Tell us a little about your business name. Any significance? 
Metka used to have a small shop in Oak Bay called Public which has been closed now for several years. When it came time to pick a name, we ran through a huge list, but in the end, we came back to Public since it already had some history and credibility as a shop in Victoria and because we liked the symbolism of the word "public" — our shop is open to everybody.
What influences your product choices? 
In a nutshell and at its most basic level, it simply comes down to things we like. Do we want this product for ourselves? Then yes, it can come into the shop! Of course, we do consider whether other people would like it too, but the first pass is our own desires. We both have very similar tastes and positive outlooks, which translates onto the shop floor and makes it easy (and fun!) when it comes time for us to buy.
We also look for products that have a story, either as a brand or as a founder. We even put out little cards on some of the products telling you the story so you know the significance of what you are buying.
Other than some of our bigger heritage fashion labels, like Fred Perry or Tretorn (which both have great stories, by the way!), we seek out other small businesses, especially if they are female-owned, are sustainable/organic in some way, and/or are local or Canadian. We also try to make sure products work for all genders and ages … it is important to us that everyone feels included and engaged in our shop.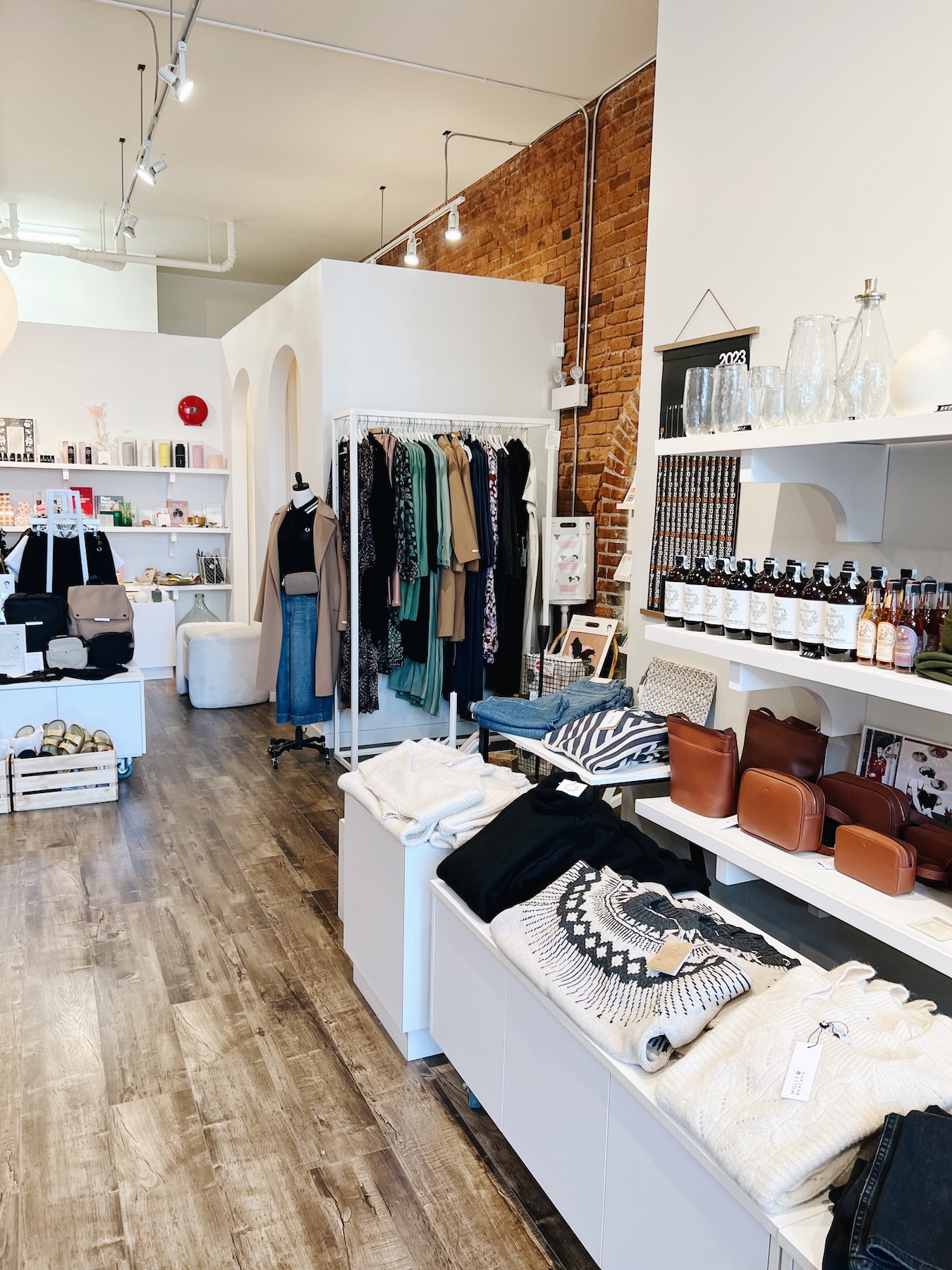 How did you get started in your partnership? 
We got started during the pandemic. We had known each other for years as Michelle went to high school with Metka's husband and knew each other through that connection, and then in 2019, Metka started working at the same local startup as Michelle. In February 2020, we started our first project together where Metka organized a fashion market with Michelle photographing the shops and products. When Covid hit, we were both temporarily laid off, and so after needing to keep busy, we started Talking Shop, telling stories through photos and interviews of the local retailers who were struggling to keep their doors open. We then parlayed that experience to another business called Table Creative, building websites and offering photo sessions to small businesses, which eventually helped us fund our own retail shop. In between all that, we also started our own natural skincare line, We Say Oui. (p.s. It's really the most amazing stuff, full of nourishing shea butter and organic ingredients, and you can get it at Public!)
It's kind of an unintentional full circle moment: when we started Talking Shop and were talking to all the retailers, we didn't have it in our heads at the time that that was what we wanted to do — opening our own space came about afterwards, after Table Creative had been in full swing. Since Metka had retail experience under her belt, it felt like a natural next step. We opened the doors of Public Mercantile in October 2021 in the Upper Fort neighbourhood. It was a space that we occupied for a year as a trial run, knowing it would be temporary (it was slated for construction); we moved into our beautiful "forever" home on Government Street in September 2022.
Our partnership works well because we each have strengths that are complementary as well as congruous. Fun facts about our backgrounds: Michelle went to art school, Metka almost went to art school, and we are both Leos, born 2 days apart. You would think that could be a recipe for disaster, two strong artistic lions butting heads in a creative space … but we actually see eye to eye most of the time! When we need to challenge each other, we do, but we are great friends in addition to being partners so any disagreements are managed respectfully and efficiently.
What fuels your fire? 
We are both big believers in the power of community and supporting your neighbours. We have such great artists, makers, business owners, and people doing cool things in this town, we feel there is no reason to start your economic search at a big-box or monolithic online store. Start here, in your city, seek out what you want, and if you can't find it here in Victoria or on the Island, how about Vancouver or Kelowna etc? Supporting with your dollars is everything to a business, it's how we keep our doors open and how we maintain relationships. Come down to our block, we will send you to Gallery Merrick and to End Dive, our next-door business neighbours, because we also support them and want them to thrive. Downtown Victoria has been getting a bad rap lately but it needs people to come down and animate the streets and spaces to allow it to reach its potential. If we don't have a functioning downtown that people spend time, energy and money in, what do we have left? We have so many incredible places downtown to shop, eat and explore … whether you live in Oak Bay, Saanich or View Royal, this city is all of ours to contribute to. Ok, down off the soapbox now!
What fuels us is meeting all the fantastic customers who come through our door, all the genuinely great people who stop and chat for a few minutes and let us know what's on their minds or what they think of our shop. It means so much to us that we can offer a space in Victoria for people looking for cool things who want to connect with our shop and by extension, us. Thank you to everyone, from the bottom of our hearts, who has done this!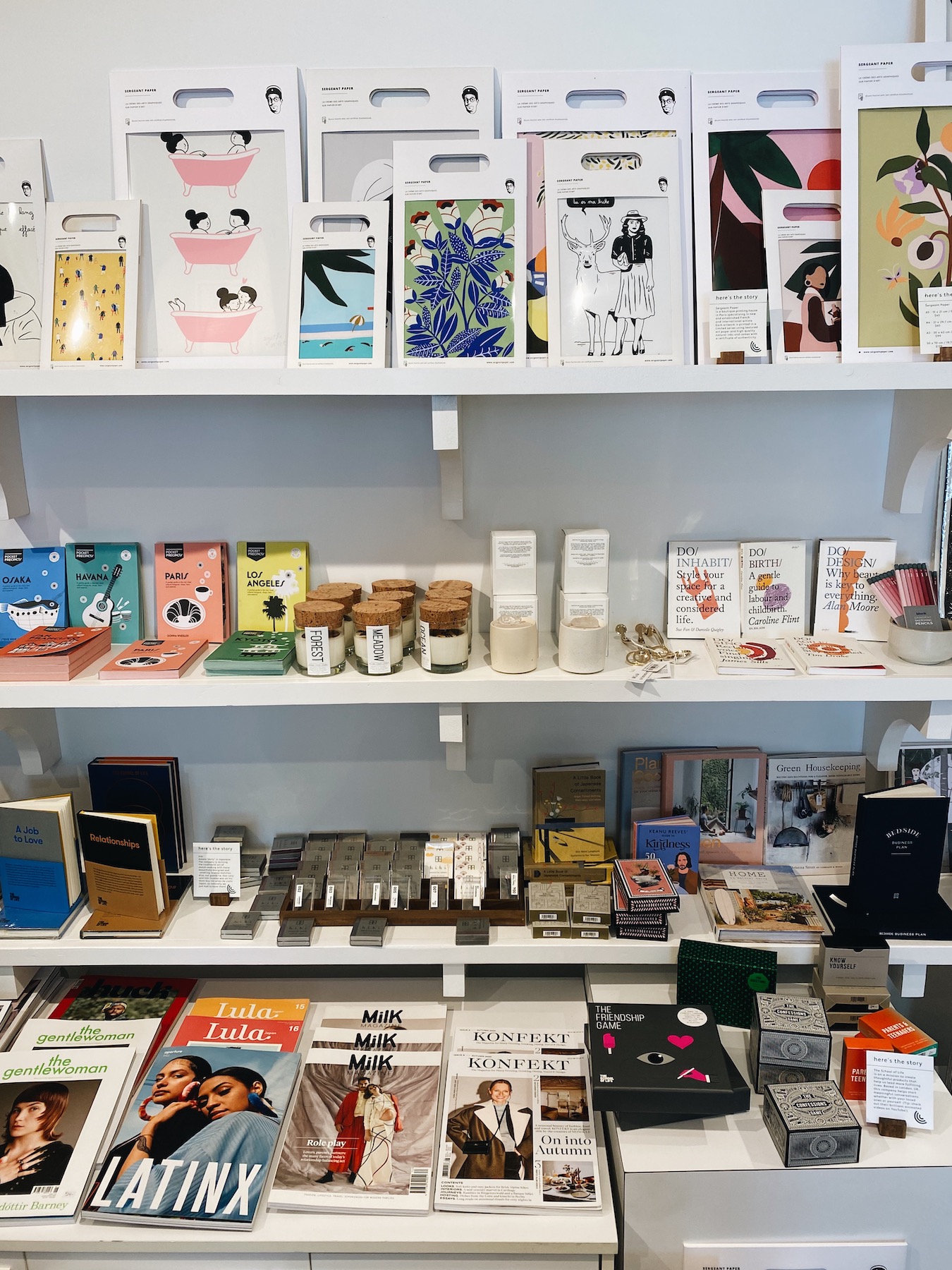 What advice would you give anyone looking to open a shop? 
It truly is a magical thing, creating something and continuing to build on it every day, so if this is your dream, go for it! Running your own business, no matter what it is, is a lot of work so please have perimeters in place to manage your time so it doesn't consume you, as well as a support system when you need a break.
The other thing that is important is having great staff, people who love being there and who you can 100% trust to give customers the same level of care as you would when you're not there.
Also if you are going in with a partner/s, making sure they are good people is crucial — working this closely and tying your money up with others is a marriage of sorts, so be absolutely sure you can work with this person before jumping in.
Lastly, opening a business in Victoria is a special sort of adventure … don't get us wrong, we love our city and wouldn't want to be anywhere else, but Vic definitely has its quirks and its market challenges. We always joke, forget New York, if you can make it in Victoria, you can make it anywhere!