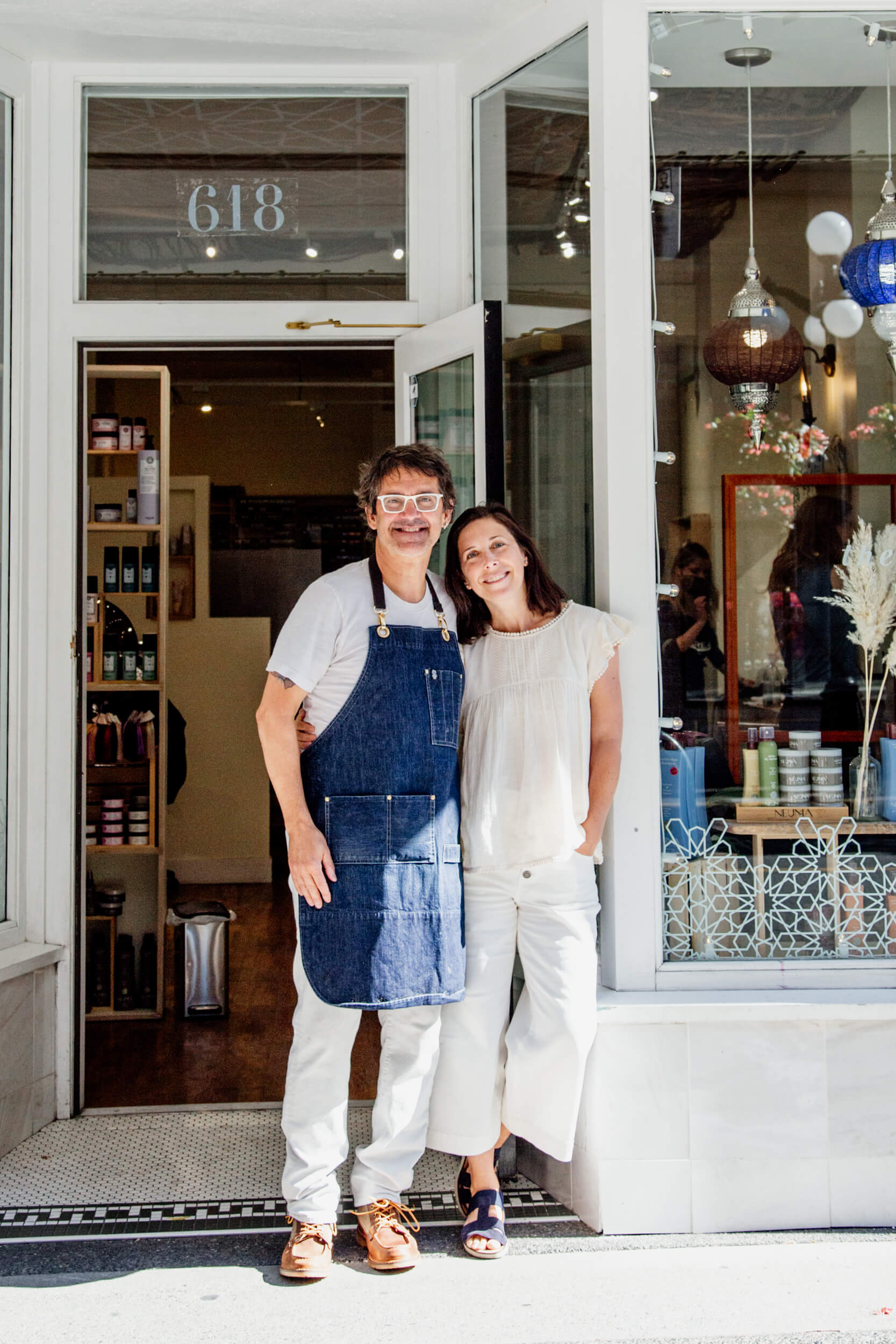 In Conversation with Natalie // The Natural Hair Salon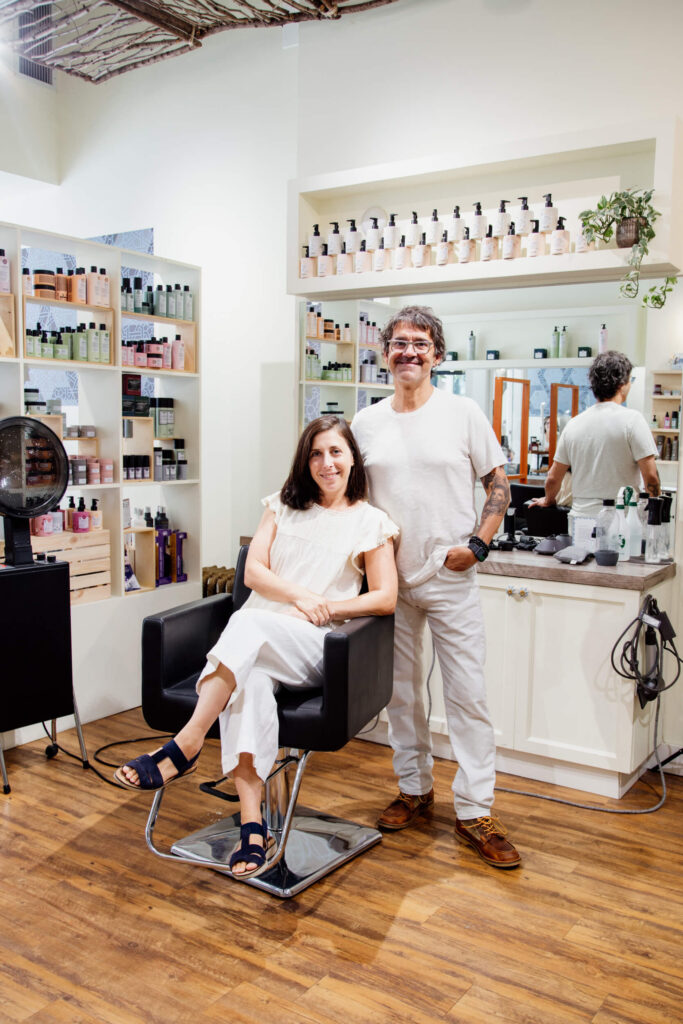 Talk to us about your beautiful salon.
My husband, Philip Ferreira, co-owns the salon and is the master stylist with a vast and varied career of over 30 years in hair. I'm the other owner and the general manager. I'm so grateful we both have complementary skills; we are the "dynamic duo," as my staff says. I used to be a school teacher and I also founded PantybyPost.com, which I recently sold.
If you had to describe your salon to someone who hasn't seen it, how would you describe it?
The salon decor is inspired by the Middle East. If someone was walking by, they would notice the logo — it's like a camera aperture and also resembles the Magen David, a Jewish symbol or the Jewish Star; King David had the symbol of the Jewish star on his shield. They would peer in and see colourful lamps, well-designed products, beautiful handmade wood displays, an incredible awning inside the salon and green plants artfully placed.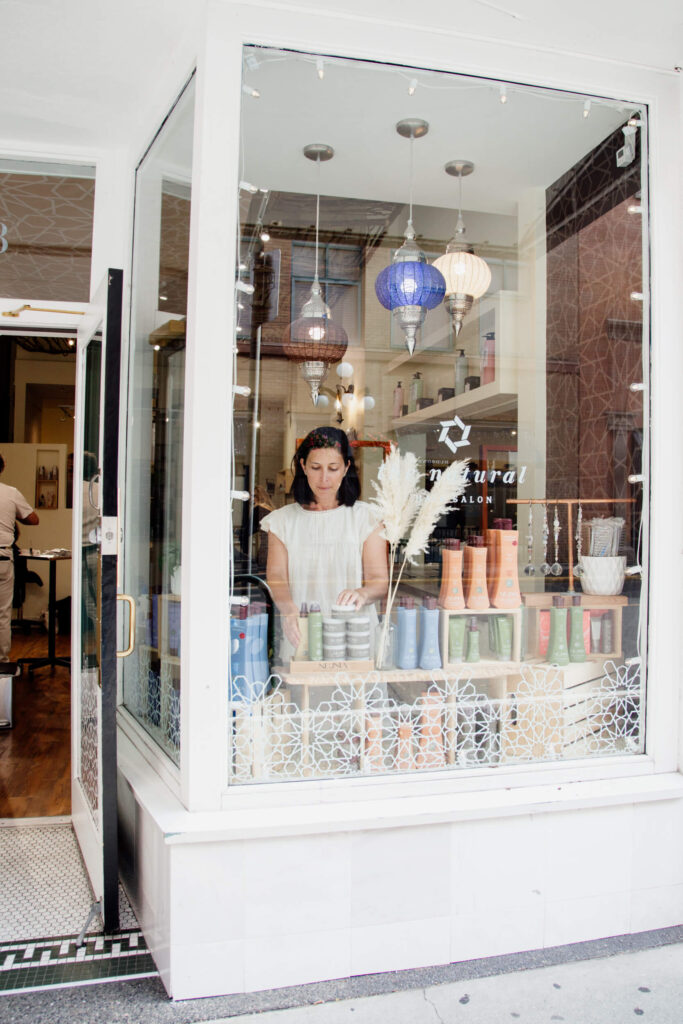 Can you tell us a little bit about the line of hair products you carry?
We exclusively carry Maria Nila from Stockholm and Neuma, which is made in the USA. These boutique lines are unique to us and they are divine. Not only do they perform well and look nice in your bathroom, but both companies exceed standards for being green!
What would you say is your personal style and aesthetic?
Our home is colourful and somewhat minimal, since it's a cozy home, not too big. I am drawn to bright colours, handmade and unique items. I have a few special pieces of original art and I love to mix and match throw pillows. I like to think of our house as artful but functional too. We have a toddler, so there's only so many ways you can use a throw to cover up pen marks! Philip can wear anything, he's the easiest person to shop for. I always think of his style as New York City really, he's so effortlessly fashionable. I love summer, where I can get away with wearing dresses to put myself together. Philip and I have travelled a good amount, so I would say our fashion choices, our salon and our home reflect an eclectic aesthetic.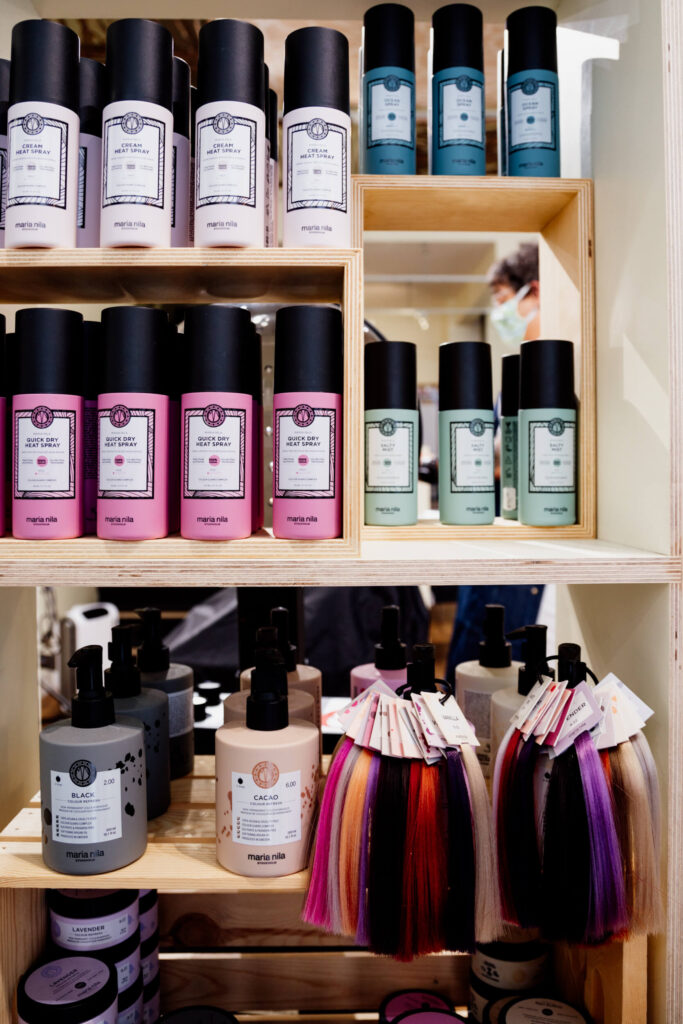 Inspiration is all around us. What or who inspires you?
I love to follow hairstylists everywhere, from Vancouver to LA. Marketing hair nowadays is not just about sharing your work, it's about sharing what you love and what you're drawn to. Food is also a big passion in our house. Philip and I read cookbooks and pour over great food photos and TV shows about food and travel.
Each season represents new hair trends. Do you follow trends? How do you incorporate those trends into your business?
I have to say Philip is always in the know when it comes to trends. I love to see what's happening in Europe, since they are still ahead of the game when it comes to fashion, but not always with hair. Philip and I like to geek out over hair education videos and decide what we like and what we are not so into. Philip can create Sassoon looks where he does a haircut that can be worn three ways and look completely different — he's a genius! The trends for our business are fun to bring in when it comes to colour, especially our Maria Nila Colour Refresh masques. It's temporary colour in several shades, even pink, so you don't need to commit!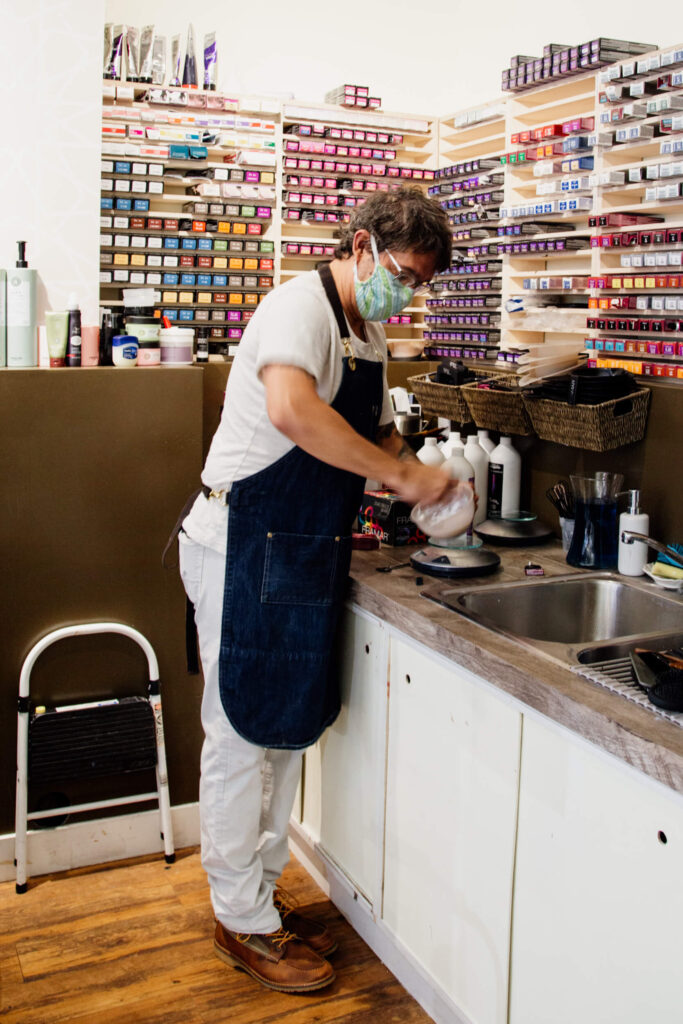 How has COVID-19 affected your business? What changes have you made?
We were so upset and worried when we were forced to close. We let ourselves feel that pain for a day or so, and then we sprang into action. We are lucky to have each other, so the challenge didn't feel too heavy — my husband and I are a good team. We decided to launch an online business and Philip went to the salon every day to meet clients (from a distance using our child's trolley, it was very cute) and make sure they had much-needed root coverage supplies with our colour kits. It was hard, but we managed to pay our rent and stay busy.
What are some of the hardest lessons you've had starting your business? How have you overcome them?
I've never managed staff before and it's an absolute art! There's so much that goes into creating a team and I've learned more about the best approach to getting the most out of staff. We put a lot of energy into helping them reach their goals. My hope each day is that staff will leave our salon feeling fulfilled and appreciated. I've also learned that having a bookkeeper is an absolute must. I've had mine for over 13 years and without her, our business wouldn't be as organized!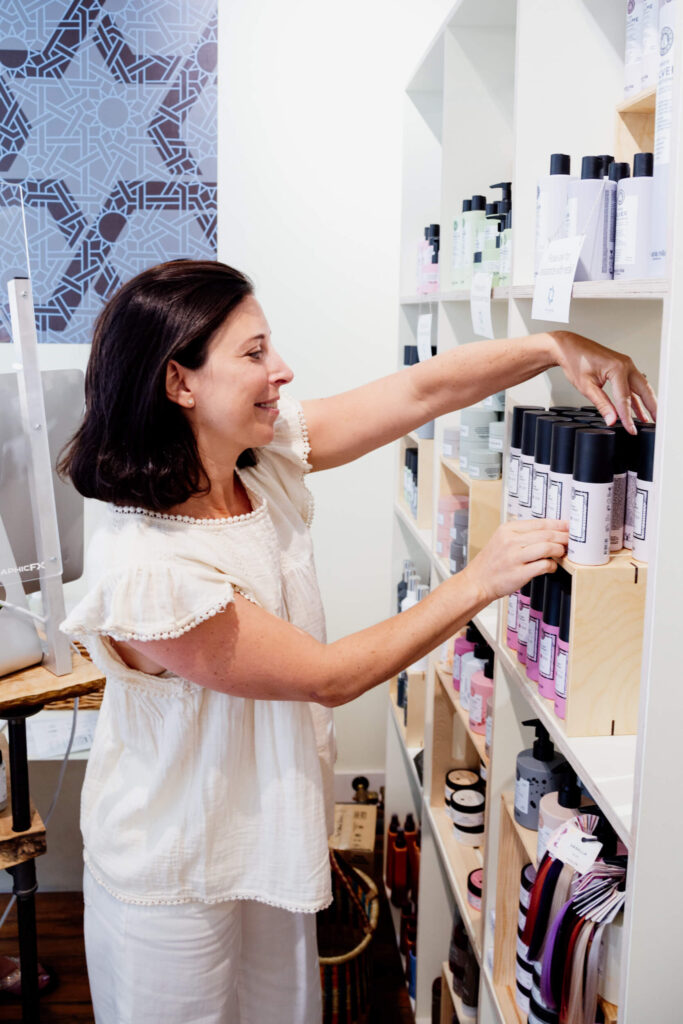 What advice would you give to someone wanting to open up a hair salon?
Make sure you like working 24/7! Put energy into finding hard-working staff, express your passion, and your energy will set the tone. Be kind and generous!
Have you made any hard decisions in the last few months? Can you share some of those decisions?
Letting staff go has always been the hardest part of the business. We become very close, like family, and when it's not working for some reason, even then it's hard to say goodbye. There's a grieving process, but letting someone go who isn't a fit is always best.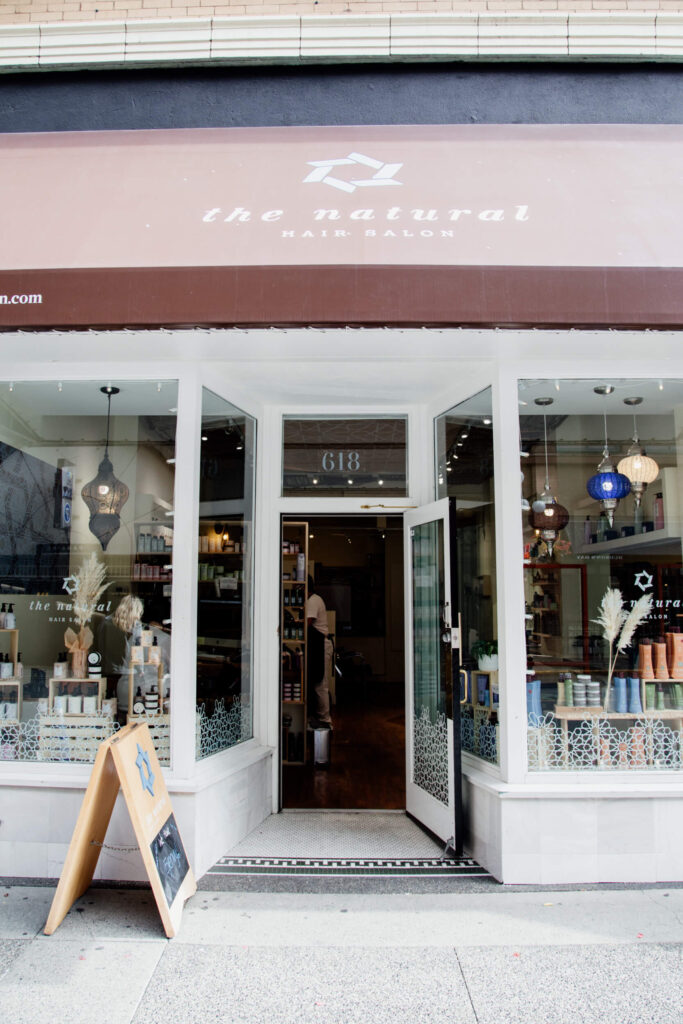 As we navigate our new reality, what advice would you give to your fellow business owners? Any helpful tips?
Be flexible, try new things, and reach out for support from others. My tip for entrepreneurs is always the same: work hard, press on, take your losses on the chin and stay positive.
If you were looking back to this moment in time, what do you hope to gain in personal and business growth?
I am always learning and working on the next project. It's who I am, same with Philip. We are people that take on everything all at once, we just can't help ourselves. Both Philip and I were raised by immigrants, and the work ethic and values we bring to the table are deeply rooted in our culture and upbringing.
What 3 words best describe what you're feeling today?
Energized, proud and bold.